'Two And A Half Men' Train Wreck? Fans React To Ashton Kutcher's Debut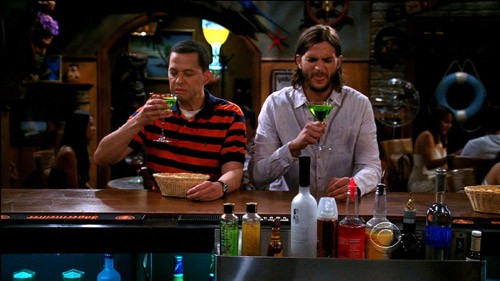 Droves of fans are expressing their opinions about the new season of "Two And A Half Men." The ninth season kicked off on Monday night with the death of Charlie Harper courtesy of a Paris subway train. Over 28 million viewers tuned in.

While several fans stuck up for new guy Ashton Kutcher, many fans were disappointed by Charlie Sheen's exit. Still others were turned off by the nudity.
Starpulse commenters had this to say about the new season: (Read review and all comments here!)
Negative Reactions
"The premiere of Two and a half men was very disappointing. Ashton Kutcher is gorgeous but offering eye candy as a substitute for Charlie Sheen's character in this show is poor judgement."

"Of all the people they could have chosen to replace Charlie why in the world did they pick Ashton Kutcher!!??  Not funny, boring, and I just do not see this being a hit. BRING BACK CHARLIE!"

"Watched last night just to see the outcome....It absolutley SUCKED without Charlie."
"The episode was in very bad taste.  If the producers hate Charlie, that's fine, but don't drag us viewers into it.  We liked him - we were watching, remember?  Hello?  Is this thing on?"
"Nobody will have the on-screen chemistry that John Cryer and Charlie had."

"Ashton Kutcher isn't funny."
"I turned if off soon after Ashton Kutcher appeared -- what a disappointment."

"Worst episode of two and a half men ever."
"All good things must come to an end and I believe last night's episode heralded the end to Two and Half Men."

"This show is dead, dead, and dead."
Reactions from Starpulse on Facebook:
"I thought it stunk."

"A little tacky - but will probably watch."

"Charlie can not be replaced, however Ashton did a great nude scene lol."
Positive Reactions
On the other hand, some fans liked the new blood on the show:

"I thought Ashton did a great job and all the regular cast were as great as they always have been."  

"Watched the premiere and it was GREAT!!!!  Charlie Sheen will not be missed."

"Loved it!  If the show keeps up with the pace shown last night they won't miss a beat without Charlie Sheen."
"The Charlie Harper character was a despicable, predatory slug. We have yet to see how Walden evolves. Ashton Kutcher was a great choice as a replacement."
"I think it could work very, very well, in fact.  Can't wait to see what happens next."
What did you think of the season premiere?