'Two And A Half Men' - Season 9 Episode 4 - 'Nine Magic Fingers'
This week on 'Two and A Half Men': Berta has a new lease on life, enjoying the beach house, and the Malibu sands. She's even having a morning run – with or without Walden. Alan is in a good mood, because he's going to have a second chance with old girlfriend, Lyndsey. Walden, however, can't get over Bridget, and is dealing with his loneliness by 'curling up in a ball."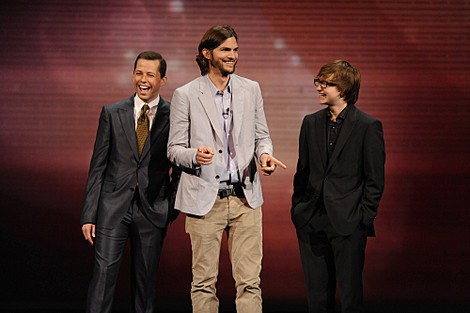 After a nice dinner with Lyndsey, Alan brings her home, to find Walden in a deep funk. Berta's got her own date – she's upstairs with Big Daddy, beer, a bucket of chicken and Big Daddy's 'nine magic fingers.' Walden, skyping Bridget, locates her at a party where the guests all appear to be masked – and naked. Bridget tells Walden he's got to move on from her.  
Lyndsey's pep talk gets Walden off the couch, and out to a local bar, looking for someone to replace Bridget in his heart. He returns with 'Ms Right' -  Courtney, who almost married Charlie, and who went to jail for being a con artist. Lyndsey thinks Alan should warn Walden, but it may already be too late.
The next morning, Alan finds Courtney and Walden enjoying a very sexy breakfast. Walden invites Alan and Lyndsey to dinner with him and Courtney. Alan tries to warn Courtney away from Walden, but she's adamant that she's not going anywhere. At dinner, Walden asks Courtney to move in with him. When it's right, it's right. What about Alan? Well, Alan's looking for a new place to live, so it shouldn't be a problem.
At breakfast the next morning, Alan and Courtney square off, with Courtney certain that she has the upper hand, and that Alan will be leaving the beach house. When the doorbell rings, it's Bridget, responding to Alan's emergency call. Despite her inability to live with Walden, she still cares about him, and has no intention of letting 'Botox Barbie' get her claws into him. Walden is torn – he wants Bridget, but Courtney appeals to his sexuality.  Bridget, however, has another card to play; she has a check for $50,000.00 for Courtney, if she leaves town. And she's bringing information as well. Turns  out Courtney's real name is Sylvia Fishman, and she's wanted in three states for fraud, forgery and money laundering.
Courtney tells Walden it's been fun, as she grabs the check, and leaves. Alan tries to comfort Walden, and in the process, gets an invitation to stay at the beach house for as long as he wants. On hearing this, Berta decides she's moving out, and Alan can have his old room back. As Walden leaves, Alan, gloating over how things are finally working out for him, chokes on some popcorn.
We're now four episodes in to 'Two and A Half Men 2.0' Have the new adventures at the beach house appealed to you? Are you a little surprised that so many characters are being brought back to the show?
Are you still missing Charlie, or have you taken to Walden? I'm still resisting Ashton Kutcher's portrayal of Walden's 'chiseled good looks, youthful stamina and freakishly large penis' as I can't see past his face foliage, childish behavior and gloomy persona. Is Walden's character pulling your maternal heart strings, or are you still pining for Charlie? Let us know!