'Two And A Half Men' Recap: Mary Poppins Enjoys A Brownie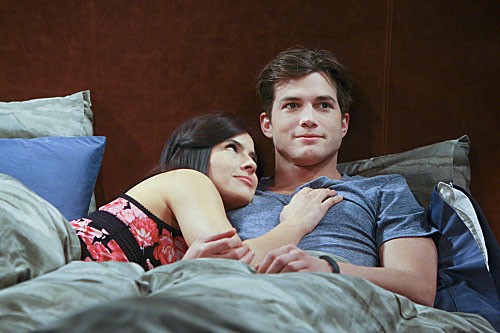 It's a single mother's nightmare moment for Zoey when she wakes up next to Walden, just moments before daughter Ava rushes in for a morning cuddle. Zoey's not yet ready for Ava and Walden to meet, so he hides until the coast is clear.
Back at the Beach House, Jake and Alan are sharing a leisurely breakfast. Jake wants to clarify that Alan is indeed again dating his friend Eldridge's mom. Jake thinks that if Alan marries Lyndsey, he and Eldridge could switch places and fool people. Alan reminds Jake that that would only work if the two boys were twins, but the explanation whizzes over Jake's head.
Walden wanders in, and over coffee, Alan and Walden talk about Walden and Zoey's relationship. Beyond the fact that she is reluctant to introduce Walden to her daughter, Walden feels that Zoey might be losing interest in sex. Alan thinks Walden should confront Zoey about the issue.
Zoey confirms that she can spend the night at Walden's, since her daughter will be staying with her father for the weekend. During a video conversation with Zoey, Walden tries to bring up the subject of sex, but she cuts him off, unable to talk to him freely. She admits to being very uncomfortable talking about sex. He remarks that she also seems uncomfortable having sex,  and says there may be things that they could try, like role playing, that would make her more at ease. But she's so prissy, she can't even say the word 'sex' and instead uses the term 'carnal interludes.'
Of course Berta was eavesdropping – otherwise, she'd have nothing to tweet about - and she asks Walden how "Mary Poppins" is doing. Berta thinks the problem is that Zoey is English. He'd be better off with a nice Polish girl. If he wants to loosen up the 'Duchess of Dull-In-Sack" he should slip her one of Berta's 'special' brownies.   He doesn't think that would be right.
However, in bed that night, after yet another Hugh Grant chick flick, Walden's having second thoughts. Zoey's wondering why he's not getting 'frisky' or 'randy' as usual. He's definitely off his stride, and says he's not interested in having sex if she's not interested. Zoey tries to arouse him by role-playing, but she's so awkward, he can't get into it. Zoey settles in for sleep instead, until Walden asks her if she likes brownies.
Zoey sees no harm in trying one of the pot brownies. After all, she tried it once in university, and had a bit of a giggle. However, Berta's must be of a stronger variety, because Zoey goes into full blown paranoia, convinced the French police are coming to get her. She races out of the house, past Jake and Eldridge, who have also eaten the brownies, and are drowsing on lawn chairs on the deck.