'Two And A Half Men' Recap – A Straw In My Donut Hole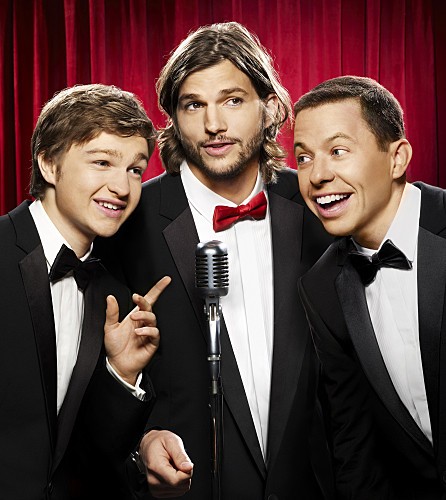 This must be a dream. Alan's returned from hospital to find a 'Welcome Home' greeting from his friends and family at the Beach House. Surely, we're looking at a Two and A Half Men apocalypse.
In the last episode, Alan reacted to Walden's decision to have Zoey and Anna stay at the Beach House by having a minor heart attack. Walden felt so guilty that he paid for Alan's hospital stay, and allowed him to live with him for as long as he needed.  
This week, Walden is being very solicitous of Alan, carrying his bags, and worrying about Alan's health. When they return home from Alan's second trip to the hospital, he's greeted with a surprise welcome party, and immediately has another heart attack. Except that he's just joking – which starts Zoey wondering about his other attacks. She's not at all happy that he's back.
Berta's so pleased to see him that she calls him 'Alan' instead of 'Zippy.' She says she never makes fun of someone who could come back and haunt her. Lyndsey treats him with tender care, and Jake says that he aced all of his final exams. Oops, that wasn't true, but it was a nice try.
He's grateful for the attention, but just wants to lie down. Walden walks him to his room, where Walden's bought him a new adjustable bed, and a big screen TV, complete with satellite channels and a full sports package. Alan hints that he'd like the movie package added. Oh, and the adult channel package as well.
Walden insists that Alan needs to rest, even if he's not tired. Walden's had several family members meet nasty ends, right after saying that they were 'fine.' He's promised himself that no one else dies on his watch. So he's being very good to Alan. Alan realizes that Walden is carrying a lot of guilt – and he can exploit that.
Zoey doesn't understand Walden's concerns for Alan; she thinks he'll outlive them all, like a cockroach. Walden doesn't find her attitude attractive, but she says she seed this kind of scam pulled all the time, and thinks Alan's taking advantage.
At that moment, Alan calls out from his bedroom. He's hungry, and Berta's got his dinner ready. Zoey can't believe that Alan's even getting room service.
Alan relaxes on his custom bed, enjoying dinner on a tray while watching TV. Berta arrives with his favorite dessert. Ex-wife Judith drops by to say that he needn't continue with child support payments, and to offer him use of her condo in Palm Springs. She even apologizes for treating him so badly in the past.
Later, as he enjoys dessert and porn, Lyndsey arrives to comfort him. All he has to do is lie back. She'll do all the work. It's the best day of his life.
So, of course, this state of affairs is bound to end. At his doctor's (guest star Jason Alexander) office, Alan is told that he's in good shape. It's like the heart attack never even happened. He tells his doctor that he's been showered with love and attention since his illness, and he doesn't want it to end. The doctor, who's sleeping with his receptionist and two pharmaceutical reps, says Alan would be an idiot to tell people the truth about his health. Alan agrees.
He starts by telling his mother, who's taken him to the appointment, that he's had bad news. She responds by taking him shopping to cheer him up.
At home, Walden's installed an electric stair chair to take Alan upstairs in comfort, despite the fact that he never goes upstairs. Walden thinks Alan should have use of his upstairs whirlpool tub, to help with his circulation and bed sores. Zoey can't believe how far Walden is going, and thinks he should tell Alan to get out of bed.
Alan arrives home in a new suit, bolo tie and cowboy hat. He tells Walden that the news from his doctor is not good, and he may need a transplant. Alan gets onto the stair chair, saying that he'll just have a whirlpool before his masseuse arrives. Walden's hired a masseuse for Alan, to help prevent blood clots.
As Alan enjoys a massage, Zoey brings him a banana smoothie. She tells him that he may have everyone else fooled, but she knows he's faking it. What he does with his family and girlfriend is one thing, but he must stop taking advantage of Walden. He's been warned. When she leaves, Alan says "that bitch has got to go."
Soon, Alan is again greeted by friends and family, but this time, no one's smiling. Zoey had one of the private investigators from her firm follow him for a few days.  She has videos of his 'therapeutic walk on the beach,' which actually involved him playing a highly energetic game of beach volleyball with several bikinied women. He struggles to find an explanation for his behavior, but, surrounded by angry faces, sees no option but to fake another heart attack. This time, however, no one buys it. Even Walden just steps over his body, and leads everyone into the kitchen for dessert.
Much later, as Walden prepares to go to bed, he finds Alan still lying on the floor. Alan intends to stay there until the shame passes. Walden rides the electric stair chair upstairs, as Alan sings "Memories" from his position on the floor.