'Two And A Half Men' Creator Chuck Lorre Writing 'Tell-All Book'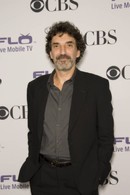 Two And A Half Men creator Chuck Lorre has hinted he is poised to tell all about his feud with Charlie Sheen in a revealing new book.

The troubled actor was fired from the hit sitcom earlier this year following months of bizarre antics including a highly-public war-of-words with Lorre, resulting in a legal battle over Sheen's dismissal.
The lawsuit, which also involved the Warner Bros. studio, was settled this week with Sheen reportedly set to land a $25 million payout and an estimated $100 million-plus in syndication profits.

Two and a Half Men has continued without Sheen, with Ashton Kutcher taking a lead role, and at the end of Monday night's episode, Lorre ran a 'vanity card' - a note in the closing credits - hinting he is now ready to tell his side of the story.

The note read, "Sometime last year I realized I had become the unwilling contestant in a reality show. I didn't understand the rules, wasn't sure if there even were any, and pretty much hated every second of it. For many months I kept hoping and praying that it would end. But it did not.

"Somewhere along the way, something inside me died. Anyway, now, suddenly, I'm being told that the reality show's been cancelled. Apparently, it was just one of those things that somehow got out of control. Sorry. Whoops. Live and learn. Moving on. Game over. And that's fine. I am so good with that. Yes, please, let's all move on. There's just one problem. That thing inside me that died? It walks at night.
"It's angry. It's hungry. And worst of all... it's writing a tell-all book."