Twista Invovled Legal Battle Over The Death Of Bodyguard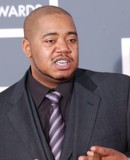 Rapper Twista has been hit with a lawsuit relating to his alleged involvement in the death of a bodyguard in 2004.

Arthur 'Butch' Dixon, 45, passed away of multiple injuries after Twista's cousin, Otis Bankhead, fell asleep at the wheel of a tour bus and crashed in Pennsylvania.

And now Dixon's family members have launched a legal battle against the hip-hop star, his record labels and promotional team for failing to stop tired Bankhead, who had a suspended license at the time of the accident, from driving.

Dixon's widow and three children filed a similar suit against the Hope hit-maker back in 2006 but the case was dropped by lawyers last year, according to the Chicago Tribune.

The bodyguard and accomplished jazz pianist was the son of legendary blues singer Willie Dixon.