'Twilight' Stars Surprise Fans Camped Out At Comic-Con
Some fans lined up since Monday to get into Hall H of the San Diego Convention Center for today's Twilight Saga: Breaking Dawn panel. The stars of the film surprised them at 6 AM this morning to greet them in person.
"We did panels and stuff like that [before] but this definitely started off a lot more interesting, to have interaction with the fans bright and early this morning," said Ashley Greene, who plays Alice Cullen. "I think we feel a really large amount of respect for our fans. It's kind of amazing they found something they're so passionate about, and it happens to be something we put all our heart and soul into."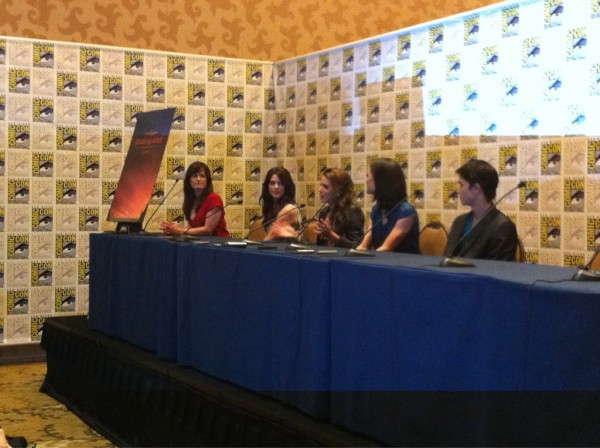 Photo: Twitpic/Twilight: Elizabeth Reaser, Ashley Greene, Nikki Reed, Julia Jones and Booboo Stewart
New to Comic-Con, Twilight cast members Julia Jones and Booboo Stewart got their fan introduction at the height of their Comic-Con intensity. "This is my first time in San Diego and I kind of this sense that we're in for a lot," Jones said. "I don't know exactly what it is, although yesterday I was walking around and saw people dressed as all kinds of things, like fruit ninjas."
This morning was a good experience for the fans and the stars. Sometimes it can be awkward. "I remember one time, I forgot where it was, but I was doing pictures and there was a lady," Stewart shared. "She was around 40 or so. After the picture she turned to me and asked if I wanted to make out. I was just in shock. He awkwardly just walked away, blanked out."
Elizabeth Reaser has experienced that too. "The weirdest encounters I have are when people are asking me about the young men's bodies," Reaser said. "When Taylor [Lautner] was still a boy and much older ladies would be talking to me about his body, it was just really inappropriate."
Usually the fans are really passionate and creative. Jones has already seen elaborate costumes. "My favorite fan sighting/encounter, I saw a woman once who had a nightgown on and she glued cotton and feathers to her skin and also painted bruises all over her," Jones said. "Her hair was all messed up. I realized that she was dressed as Bella post-Brazil. Creative."
The Twilight Saga: Breaking Dawn Part 1 is in theaters November 18.