'Twilight' Stars Dominate The 2011 MTV Movie Awards (See List of Winners)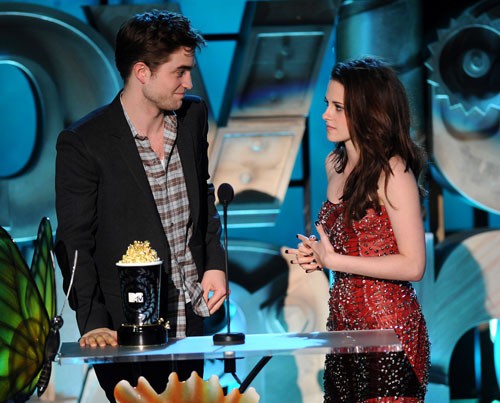 The vampires from Twilight overpowered the magical Harry Potter kids at the MTV Movie Awards in Los Angeles on Sunday night, taking home five golden popcorn prizes to their film franchise rival cast's one.

It was a shocking night for the Twilighters in more ways than one - Robert Pattinson stunned the audience and TV viewers on the east coast of the U.S. when he uttered the 'F' word while paying tribute to his Water For Elephants co-star Reese Witherspoon, the MTV Generation Award recipient.

Pattinson scored the Best Male Performance award and shared the Best Fight and Best Kiss honors for the Twilight sequel, while Kristen Stewart took home the Best Female Performance.
The film also picked up the Best Movie honor ahead of Potter's Deathly Hallows, and the cast took to the stage to introduce an exclusive clip of their upcoming film The Twilight Saga: Breaking Dawn Part 1.

The sole winner for Team Potter was young Brit Tom Felton, who picked up the Best Villain prize for his portrayal of Draco Malfoy.

The Twilight cast members weren't the night's only multiple winners - Chloe Moretz picked up two awards for her break-out performance as a child vigilante in Kick-Ass.

The winners list is:
 
MTV Generation Award - Reese Witherspoon
Best Male Performance - Robert Pattinson (The Twilight Saga: Eclipse)
Best Villain - Tom Felton (Harry Potter & The Deathly Hallows)
Best Jaw-Dropping Moment - Justin Bieber (Never Say Never)
Best Breakout Star - Chloe Moretz (Kick-Ass)
Biggest Bada** Star - Chloe Moretz (Kick-Ass)
Best Fight - Robert Pattinson, Bryce Dallas Howard & Xavier Samuel (The Twilight Saga: Eclipse)
Best Kiss - Kristen Stewart & Robert Pattinson (The Twilight Saga: Eclipse)
Best Line From A Movie - "I wanna get chocolate wasted!" by Alexys Nycole Sanchez (Grown Ups)
Best Scared as S**t Performance - Ellen Page (Inception)
Best Female Performance - Kristen Stewart (The Twilight Saga: Eclipse)
Best Comedic Performance - Emma Stone (Easy A)
Best Movie - The Twilight Saga: Eclipse