Tweet TV - Is Twitter Taking Over Primetime TV?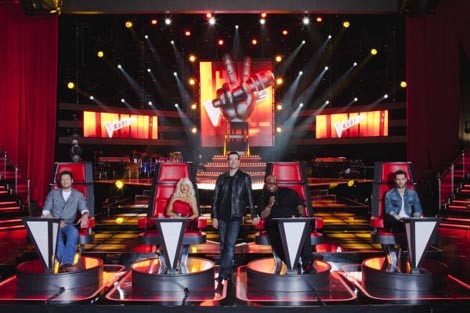 While watching The Voice I couldn't help but notice the judges and Carson Daly's tweets "news" flashing at the bottom of the screen, and you know what ..... I loved it!  I immediately jumped on twitter and started using #TheVoice hashtag and retweeting @blakeshelton and @adamlevine - these two guys are hilarious!
NBC's The Voice is the first show to really attack its audience social media radars and encourage them to participate and live tweet during the show.  Yes while watching Glee you'll notice the #Glee at the bottom right hand screen and the "Gleek of the Week" and of course you can live tweet with Jeff Probst during Survivor, but The Voice is taking it to another level!  And quite frankly, I can't wait to see what they have in store for us social media nerds in the twitterverse in the weeks to come!
P.S. I will give an honorable mention to American Idol this season for rolling out social media pages on the "Top 13" - and has anyone else been noticing the correlation of twitter followers to who is eliminated each week??  
P.P.S. If you're not watching The Voice then you should be!!  Watch the promo below - it's genius!  I can't wait to see the judges/mentors really duke it out!