TV's Real Hero: 'Dancing With The Stars' Favorite J.R. Martinez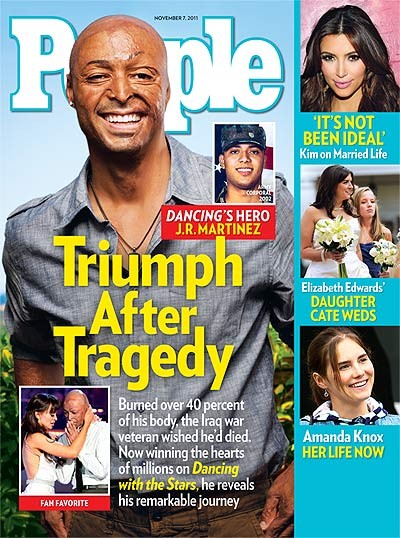 Eight years after surviving an explosion as a teenage soldier in Iraq, Army corporal turned actor J.R. Martinez can't stop smiling as he captures the hearts of millions on Dancing With The Stars. Although his extensive facial scars are a reminder of the near-death bombing Martinez and three fellow soldiers experienced in 2003 when the Humvee he was driving hit a land mine, he long ago learned how to handle those who are taken aback by his appearance.
"People don't know what to say because they are worried it will be offensive," the Shreveport, La. native says in this week's issue of PEOPLE. "So I just break the ice," which is sometimes a self-deprecating joke about his missing left ear or, more simply, a heavy dose of his infectious smile and optimistic personality. "Within 30 seconds of meeting him" says his girlfriend Diana Gonzalez-Jones, "people fall in love."

That has certainly been the case for the former All My Children actor, who was the furthest thing from a household name before signing on to DWTS. But soon after his debut, Martinez, 28, quickly won over fans thanks to solid performances and his personal story of overcoming obstacles. "I'm not just dancing with a star; I'm dancing with a hero," his pro partner Karina Smirnoff tells PEOPLE. Adds fellow contestant David Arquette: "He's such an inspiration. I want J.R. to win."

Martinez says that if not for the bombing he survived in Iraq, "my life would not be what it is today: full of joy, happiness and positivity." On his left wrist, he reveals a tattoo of a watch set to the date and time, April 5 at 2:30 pm that his life forever changed. With nearly half of his body severely burned, Martinez, in a medically induced coma, was flown to San Antonio to begin an arduous 34-month treatment and recovery process that included 32 surgeries, ranging from skin grafts to cosmetic procedures. The daily ritual of having his body's open wounds scrubbed clean "was a long process, and it was gruesome," he says. "There is no amount of medicine they can give you to take that pain away."

Trying to process what had happened and what lay ahead was difficult for the athletic, curly-haired teen, who dreamed of playing pro football and "did pushups all day long in the Army," he says. After five weeks in the hospital, he insisted on seeing himself in a mirror. The nurse hesitated, but Martinez reasoned, "I'm going to have to live with this for the rest of my life. I might as well start learning how to live with it now." He was not prepared for his reflection. "All my life I was told, 'You are handsome.' I slowly looked up, and I saw Freddy Krueger." His stunned reaction? "That's a freak. That's not me," he says. "I went into this anger and depression. I never did anything in my life that deserved this kind of punishment."

In the days that followed, Martinez lay in bed crying. "I didn't want to live," he confesses. "I knew we lived in a world where we are judged by what people see first." But a turning point came a week later when his mother, Maria Zavala, told her only son, "Whoever is going to be in your life is going to be there because of who you are as a person and not what you look like."

Shortly before being sent home in late 2003, Martinez had a 45-minute heart-to-heart with a young soldier whose wounds were much worse than his. "I called my mother and said, 'I think I was kept in this world to use my experience to help other people.'" After that, Martinez routinely returned to the hospital to talk with injured vets and visited military bases around the country, encouraging soldiers to live a full life.

"J.R. goes back to a place a lot of people wouldn't want to go back to," says Smirnoff. "He shares it with people, and he has turned it into a positive message." Whether or not he wins on DWTS, Martinez is confident great things are to come, including writing a book, more acting roles, and returning to Iraq "to encourage the men and women who are still there that great things are near."


*Also In This Week's 'People'*
-Kim Kardashian On Married Life: "It's Not Ideal"
-Cate Edwards' Wedding: "…It Was A Bitter-Sweet Day, But All I Saw Was Sweet"
-Amanda Knox Catching Up At Home: "I Think Amanda Will Go Back To Finish Her University Degree"
-Photos! Mariah Carey & Nick Cannon'S 6-Month-Old Twins, Moroccan And Monroe
-Demi Moore Under Pressure: "Demi Has Demons To Battle"


Read all this and more in the new issue of PEOPLE - on newsstands everywhere now!