Ah, the year has come to an end once more. Well, actually the decade has come to an end. But enough of all that end-of-the-decade nonsense. We still have a year in TV to discuss. A year that finally saw the networks once again deliver us some new shows worth watching, a year when several cable dramas took a massive step forward. A year when
Paula Abdul
wasn't the worst "Idol" Judge!
Yes, it was a strange year on the small screen, but a good one all the same. Here's the best, and some of the worst, of TV 2009.
Great Performances:
Jane Lynch in "Glee"
Sure, she's been hailed by everybody else under the sun, but why should that stop one more paragraph of praise?
When you really look at "Glee" you'll find a show that's a bit more ludicrous than its given credit. With the fake pregnancies, the real pregnancies, the silly engagements, and all other plot twists - this show could easily crumble. The foundation that allows it to hold steady his Lynch's delirously evil Sue Sylvester with lines delivered with the bit of a viper and the precision of an archer. She allows "Glee" to make whatever mistakes it wants to elsewhere because coming back to her will always raise the show to the status of the best on TV based only on her bits of snark.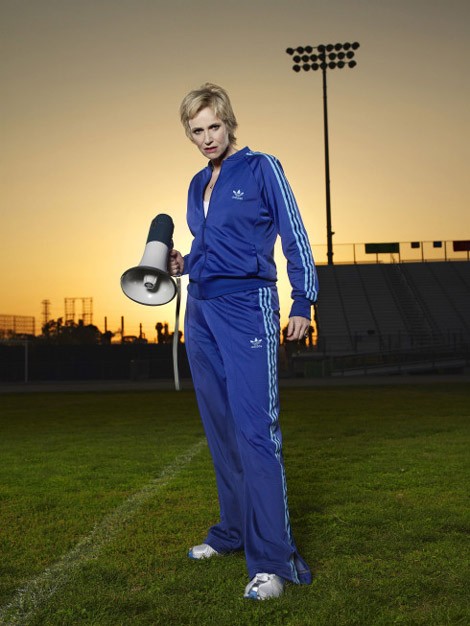 Image © Fox Broadcasting
Donald Glover in "Community"
Spoiler alert:
Spring Emmy columns will be mostly devoted to getting Glover a nomination for Outstanding Supporting Actor in a Comedy Series.
Why? Because his Troy Greene is a delicious comic creation. At the same time dreadfully insecure and supremely confident he plays Troy with a freewheeling goofiness that perfectly fits the tone of the year's best new comedies. The only problem with his performance? It isn't on screen enough.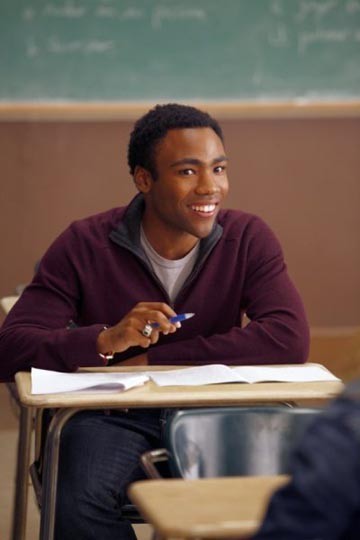 Image © NBC
Nick Offerman in "Parks and Recreation"
When "Parks and Recreation" debuted earlier in the year it was a very lame show, and Offerman was the only funny thing about it. Now, it's become an extremely funny show and Offerman has remained the funnies thing about it.
His Ron Swanson delights in his indifference as he muddles through his job pushing papers around a local government office. Offerman touches the right spots in his portrayal as Swanson never becomes too annoying (something always dangerous for a character who doesn't care about anything) and instead remains endearing.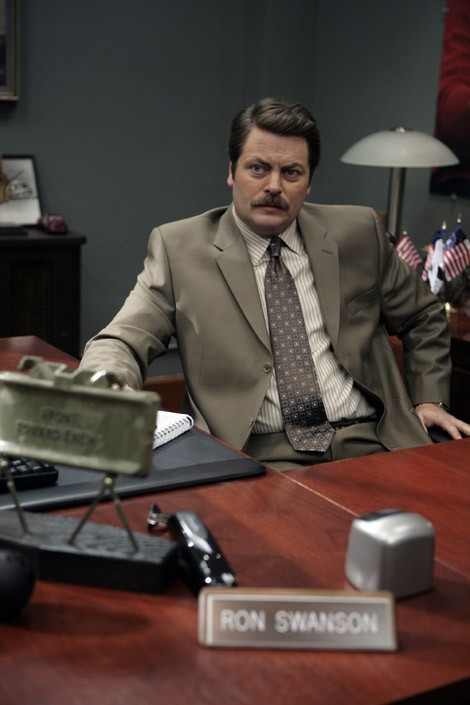 Image © NBC Universal, Inc.
John Lithgow and Michael C. Hall in "Dexter"
"Dexter" was an absolute joy to watch this season and nothing about the show was better than watching these two genius actors play a psychological cat and mouse game with one another that led into a real game of cat and mouse.
Hall has been blowing the doors off most other actors with role as Dexter Morgan for years, but he seemed to find even more to do with it this year as he was matched with John Lithgow, who did his best work since he played Rene Gallimard in "M. Butterfly" on Broadway. Their final scene together alone is enough to win them both Emmys.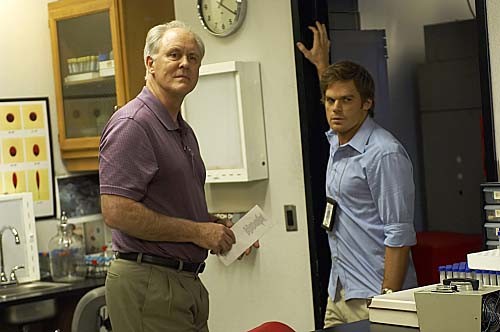 Image © CBS
Mike "The Situaton" Sorrentino in "Jersey Shore"
Really, there isn't anything about "Jersey Shore" that isn't transcendentally amazing. The hair, the use of the word "juiced", the thong-bearing sommersaults. It's all mind-boggling fun. But nothing about the show is better than "The Situaton."
"The Situaton" (as he refers to himself, often in the third person) is something of a genius. At the same time a lunkhead and perfectly charming he gives us the rare TV character with whom we are instantly fascinated and totally obsessed. Watching him deal with his pseudo-breakup from Sammi Sweetheart just might be the most sublimely surreal moment you'll see on TV this year.
Top Five Comedies:
5. "How I Met Your Mother"
Last year, HIMYM topped this list with a perfect blend of comedy and real chemistry between its cast that gave a sense of home. This year, the comedy was a little spottier while the chemistry remained intact. The show, also, at times seemed like it was trying a bit too hard to move into the surreal, and the romance between Barney and Robin never quite hit the right note at any point. But all that is just the reason it slid down a best-of list. "Mother" still delivered laughs as well as any show on TV, and there isn't a show that an ensemble we'd rather watch.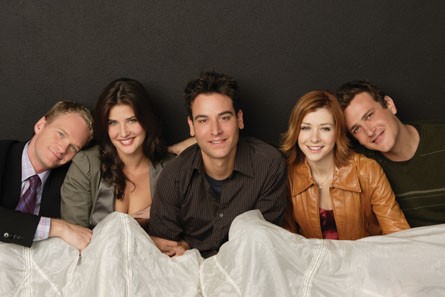 Image © Twentieth Century Fox
4. "Curb Your Enthusiasm"
It's been awhile since we got to
Larry David
skulk through Los Angeles, but after all the time the result was pretty, pretty good. As usual, David found himself taking a wrecking ball to social convention by doing everything from exploiting the benefits of dating the handicapped to urinating on Jesus. David continued to show fearlessness and an insightful eye for humor that we first started loving 20 years ago. Of course, there was also the "
Seinfeld
" reunion which served more as nostalgia than comic gold, but when the rest of the season was so good, we didn't need everything to work as well as the iToilet.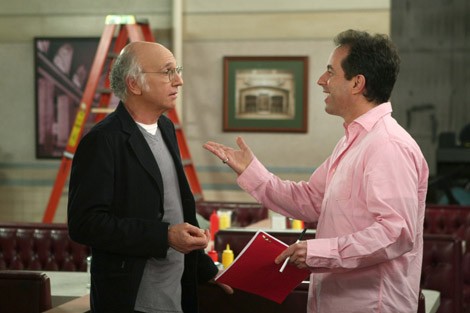 Image © Home Box Office
3. "It's Always Sunny in Philadelphia"
"Sunny" has always been slightly overrated. Funny, but never quite as funny as the hype surrounding it would have people believe. Well, this season it was that funny. Moving beyond the single-focus goal of previous seasons in which each episode would seek to desecrate something, one after another, the group expanded its comic focus to be offensive on a more universal level, and the result gave us the most twisted and funniest season yet of "Sunny".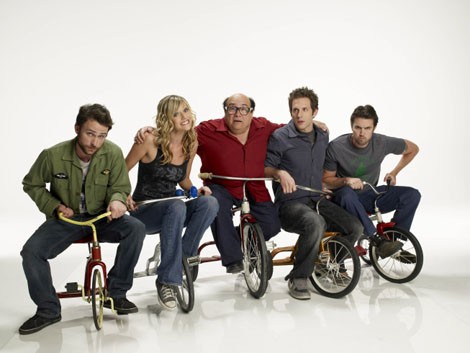 Image © Fox Broadcasting
2. "30 Rock"
For some reason, "30 Rock" has started to take some flak from critics who think it's become a bit tired. They must be watching a different show because "30 Rock" is still as funny as ever, as
Tina Fey
continues to allow her show about a show actually take place in a psychotic comedy funhouse where rules are eschewed in favor of laughs. Sure, there isn't much in the way of story on this show anymore and the characters have become so familiar that it's easy to tell what they're going to say next, but does any of that really matter when the show is this funny?
1. "Modern Family"
Not since "
Arrested Development
" has a show been so completely and perfectly formed right from the word go. "Modern Family" pulled off the rare feat thanks to a tone-perfect ensemble, impeccable writing from a pair of sitcom vets and a touch of warmth rarely seen on comedies these days. It's that warmth that sets "Modern Family" apart from other comedies on television. Rather than simply going for laughs (and they come in bunches on this hilarious show) the series also provides a reminder of what's wonderful about family rather than just poking fun at the institution's foibles. "Family" is a show with heart rather than just a brain and it's the best show on television right now.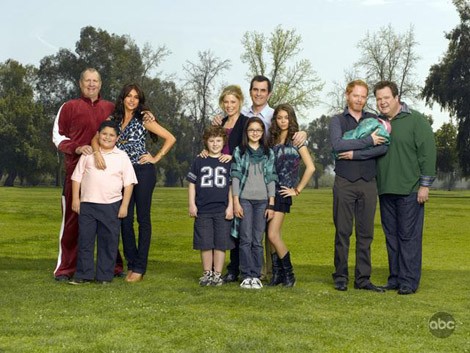 Image © American Broadcasting Companies, Inc.
Best Dramas:
5. "Dexter"
This was the best season yet for this serial killer serial as Dexter finally met a villain worthy to the share his mantle of terror. In fact, the season was so good (with its renewed thematic focus and deep interest in the psychology of its characters) that it almost served like something of rebirth for the series, ushering in a new level of quality that made the previous three seasons seem like preface. And, of course, that final scene made next season yet another new beginning.
4. "Lost"
Okay, so it wasn't as good as the non-stop adrenaline rush of last year, but it was still "LOST" which is pretty damn good no matter how it's served. This year, we were taken on a mind-bending time warp that was somewhat alienating, a little confusing, yet very intriguing at the same time. It left the show fractured for much of the season, but once it came together it really found its rhythm to deliver a finale on par with the legendary "Through the Looking Glass". The only thing bad about that episode? It set up the last season. What will we do without this show?
3. "Breaking Bad"
Well, we may just have to become obsessed with this desert-set meth drama instead. It debuted in a seven episode spat last year that was essentially just a showcase for Bryan Cranston's brilliance and grew this year into a series that matched that level of genius with the rest of its elements. At the same time relentlessly brutal and sickeningly funny this show was a tense vice of entertainment that kept closing in as Walter's world crumbled, leaving the viewer with a sickly satisfied feeling when it was all over. It's hard to think of many shows that could both turn your stomach yet leave you wanting more.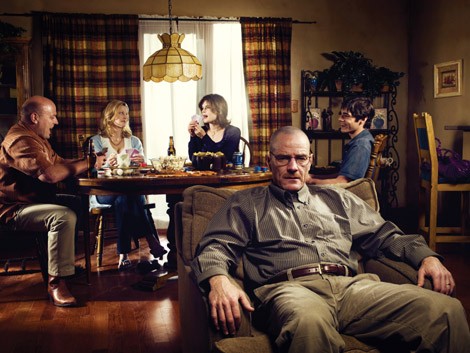 Image © Rainbow Media Holdings LLC
2. "Big Love"
It's hard to be more underrated than "Big Love". All this show does is deliver impeccably written and masterfully acted episodes each week that beautifully deal with themes like faith, family and love without ever being heavy-handed or relying on any sort of trickery. This is especially remarkable given that the show relies on something of a gimmick premise, the polygamy angle. But rather than use that as a ploy, it's used as tool to further the creators message, making for some of the most beautiful and compelling television you'll ever see.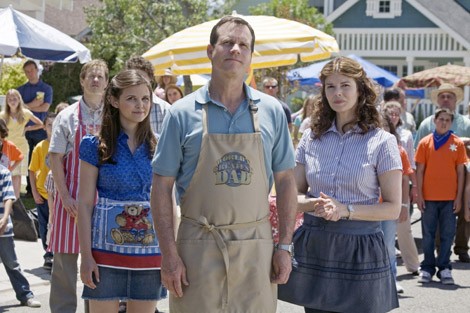 Image © Home Box Office
1. "Friday Night Lights"
For the longest time "Friday Night Lights" was always overrated. Through its first two seasons it was good (though sometimes ludicrous with the killings and all) but never quite what critics made it out to be. Then, this year (with its third season on NBC) it became better than anyone had ever mentioned. Suddenly, this show ditched all its melodrama in favor of real emotion and gritty realism that actually raised stakes higher than an hour full of exaggeration ever could. And the performances are something that really make the show stand out. Nobody is doing better work on television than
Kyle Chandler
and Connie Britton is every bit his equal. The fourth season just started on DirecTV and it's just as good as the third. It's amazing what a back-to-basics approach can do for a series.
The Worst:
"Hank"
The only good thing about this show was that it finally demonstrated that America was sick of lame easy sitcoms. The bad thing about this show was everything else. The worst thing about this show was the fact it was ever made. It showed once and again that networks only are concerned with marketing when they pick up a new show. "Hey, we've got a show with
Kelsey Grammer
. One commercial can probably trick people into watching," they'll say, and anything else is immaterial. This show was pretty much the bottom as far as network comedy is concerned.
Kara DiGuardi on "American Idol"
"Idol" was fine with three judges. Nobody asked for a fourth. Nobody needed a fourth. Then we got a fourth and it was a mess. Simon had less time, Paula took less drugs to provide some competition, and Randy had everything he said repeated. It was all because of Kara who brought nothing to the panel other than clichéd criticisms and annoyance. Plus she penned that awful original song we had to hear which is too horrible to mention because it may send one person off to Youtube in order to listen to it, and no writer should be responsible for such aural carnage.
Scripted Reality Television
It's everywhere now. From the "Real Housewives" of Skanktown to whatever celebreality show is on E! it seems that every single reality show has a team of writers now. The only question is - why do people watch this stuff when it isn't real? The whole appeal of reality television is supposed to be, y'know, that it's real. Now, instead, we're given shows with poorly written dialogue being performed by awful actors traipsing through boring situations. This is what counts for entertainment?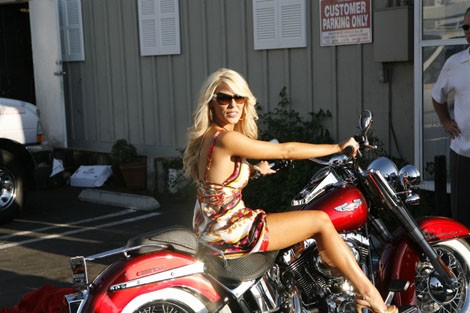 Image © NBC Universal, Inc.
So this is the proposition. If you want to watch something scripted, go to a sitcom or drama. If you want reality, stick with "The Situation", not pre-written situations.
Story by
Andrew Payne
Starpulse contributing writer