TV Stars Who Deserve Emmy Nominations On July 17, Part 1

Last week, I helped the Emmy panelists decide upon
which series
to cast their vote for, and now it's the actors' turn.
The Emmy blue ribbon panel received a group of lists from the Academy of Television Arts & Sciences last week. These were top ten lists from which they were to select the five nominees for the big Emmy show. They will view select episodes from each nominee and base their decision on what they see.
It's nigh on impossible to glean an accurate impression from a small sample, especially when it comes to acting. Many characters are given complex arcs from which they must develop their character over an entire season. Some of their motivations and choices might not make sense from a small sampling.
That's why I'm here to help the panel make choices based on an entire season of viewing. Last week it was
the television series
, this week the dramatic performances. Let's get to it.
Best Actor in a Drama

Gabriel Byrne
- "
In Treatment
"
Kyle Chandler
- "
Friday Night Lights
"
Bryan Cranston
- "
Breaking Bad
"
Patrick Dempsey
- "
Grey's Anatomy
"
Michael C. Hall
- "
Dexter
"
Jon Hamm
- "
Mad Men
"
Eddie Izzard
- "
The Riches
"
Hugh Laurie
- "
House
"
Denis Leary
- "
Rescue Me
"
James Spader
- "
Boston Legal
"
Enough with James Spader already. I get that he's aloof, and smug and kinda funny, but he doesn't warrant a nomination. Same with Patrick Dempsey: He's just a smile and haircut.
A couple of nice performances from good series just don't quite make the cut. Eddie Izzard is good on "The Riches," but the material and his performance just don't quite do enough to get him over the edge. The same goes for Denis Leary, who didn't have his best season just like the series "Rescue Me."
That leaves six for five.
It's a shock that Hugh Laurie has yet to win an Emmy (I'm looking at you, James Spader). There isn't a series on television that relies more on the performance of its main character to turn mediocre scripts into compelling television. Except for maybe "Dexter", which may soon give Michael C. Hall a bad back from carrying the scripts that eschew deep psychology for cheap thrills. It's amazing that Hall gets so much out of a character that the writers refuse to explore at great depths.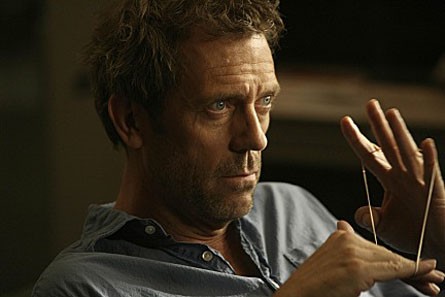 It's insulting that Chandler wasn't nominated last year, and while his program suffered in its second season, his performance never did. This is probably the most realistic performance on television as Chandler tackles the headaches of balancing his suburban coaching life with deft subtlety.
Bryan Cranston's performance on "Breaking Bad" was a visceral revelation. He definitely should be nominated and is most deserving of the win.
That leaves a battle between Jon Hamm and Gabriel Byrne. Both give fine performances in well-written shows with great casts. The edge goes to Hamm whose Don Draper was the most devilishly delightful creation of the last TV season.
Best Actress in a Drama

Patricia Arquette
- "
Medium
"
Glenn Close
- "
Damages
"
Minnie Driver
- "The Riches"
Sally Field
- "
Brothers & Sisters
"
Mariska Hargitay
- "
Law & Order: SVU
"
Holly Hunter
- "Saving Grace"
Elisabeth Moss
- "Mad Men"
Mary McDonnell
- "
Battlestar Galactica
"
Kyra Sedgwick
- "
The Closer
"
Jeanne Tripplehorn
- "
Big Love
"
As a rule, nobody from "Medium" or a "Law & Order" can get nominated. Same goes for supporting roles pushed into the lead category based on the cache of the actress. Sorry, Sally.
The best two performances on the list come in undoubtedly the two least-watched shows. Jeanne Tripplehorn's Barb on "Big Love" is a wonderful portrayal of a suburban housewife's crisis of faith. Minnie Driver's Dahlia centers "The Riches" in its oddball satiric glory. She's the soul of the series. Both women deserve nominations.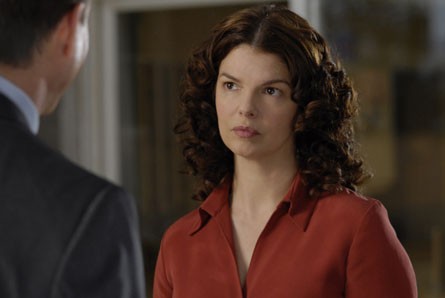 There's simply no way not to nominate Glenn Close. I'm sure she needed to have her stomach pumped after each take after chewing on so much scenery, but there's no way anybody could take their eyes off of her while she was on screen.
I'm sure Elisabeth Moss is a fine actress, but you really can't quite tell from her character on "Mad Men". It was a little too cookie-cutter during the first season, though she shows room for tremendous growth once the new season begins. She's a year away.
Exactly the opposite is Mary McDonnell, who could've been nominated for any of "Battlestar Galactica's" previous seasons, but not its disappointing swan song. I don't believe in make-up noms, so she's out.
That leaves the two TNT girls, and why not? Both are pretty good. Both series are OK. So I guess they should get nominated. We need more female writers and directors soon, so we don't have to delve so deep to find worthy performances anymore.
Best Supporting Actor in a Drama

Naveen Andrews
- "
Lost
"
Bruce Dern
- "Big Love"
Christian Clemenson - "Boston Legal"
Ted Danson - "Damages"
Michael Emerson
- "Lost"
Zeljko Ivanek - "Damages"
T.R. Knight
- "Grey's Anatomy"
William Shatner
- "Boston Legal"
John Slattery
- "Mad Men"
Blair Underwood
- "In Treatment"
Jake Weber
- "Medium"
This is actually a top 11 list (I guess so they could squeeze another actor from "Medium". What is going on with that?), but we can still cut it down quickly.
It's nice to see Emerson on this list. He's consistently the most compelling character on "Lost" even if he's essentially just a creepy version of
Kevin Spacey
. Naveen Andrews should also return to the roll call of nominees. He gives the best performance on the show every season, bringing a complex character to life with incredible skill.
Ted Danson can't not get nominated right? His Arthur Frobisher is the most ridiculously conniving character ever to hit the small screen, and Danson played it to perfection, perfectly combining the camp and sinister elements. He should win and must be nominated.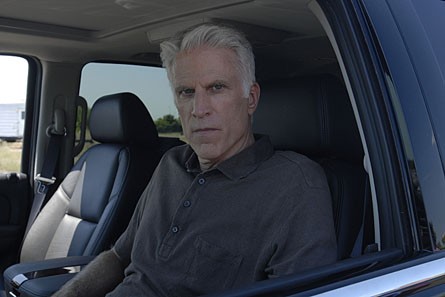 If I may borrow from
Amy Poehler
and
Seth Meyers
for a moment. . .Christian Clemenson? Really? Zeljko Ivanek? Really!? T.R. Knight? REALLY!?
Bruce Dern was very good on "Big Love" but his role was essentially that of a recurring guest star. Too small to be included at all.
John Slattery's Satan-in-a-suit on "Mad Men" was fantastic. A great self-loathing portrait of how attaining success often leaves people empty inside. He's set to take the reigns from Tony Soprano as the best current portrait of the dark side of the American Dream.
Blair Underwood was good, but just kind of there. Not quite enough to get it done, and being in one-fifth of the series' episodes takes him down a few notches.
That leaves William Shatner who continues to be deliriously entertaining as Denny Crane. For somebody who's supposed to be such a bad actor, he sure gives great performances week after week.
Best Supporting Actress in a Drama

Jane Alexander
- "
Tell Me You Love Me
"
Candice Bergen
- "Boston Legal"
Rose Byrne
- "Damages"
Jill Clayburgh
- "
Dirty Sexy Money
"
Sharon Gless
- "
Burn Notice
"
Rachel Griffiths
- "Brothers and Sisters"
Christina Hendricks
- "Mad Men"
S. Epatha Merkerson
- "
Law & Order
"
Sandra Oh
- "Grey's Anatomy"
Dianne Wiest
- "In Treatment
Chandra Wilson
- "Grey's Anatomy"
Remember that rule about nobody from "Law & Order" or "Medium" getting nominated? That applies to "Grey's Anatomy" as well, and "Dirty Sexy Money" while we're at it. That rule cuts this top 11 list down to seven, but still leaves some good performances.
These include Jane Alexander's frustrated marriage counselor on "Tell Me You Love Me". A wonderful character to begin with, Alexander brings great humanism to and older woman dealing with sexual problems that nobody wants to talk about for a woman her age. Also on HBO is Dianne Wiest's therapist giving a therapist therapy on "In Treatment." Her character was the anchor of the first season, serving as a catalyst for the actions of Dr. Weston for the rest of the week. She may have only been in one-fifth of the episodes, but her performance resonated throughout.
The old ladies' club has two more contenders. Sharon Gless as ex-secret agent Michael Westen's mother on "Burn Notice" and Candice Bergen's wicked attorney on "Boston Legal." Gless is a bit too nattering and one-dimensional to warrant a nomination. Bergen, on the other hand, is a delightful battle axe in training with the biggest set of balls on the show. She's in.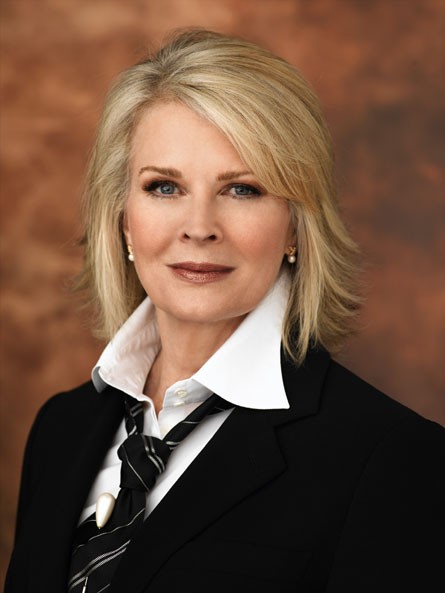 Another office maven also deserves a nomination. Christina Hendricks' Joan Holloway is an excellent portrait of the changing face of womanhood prior to the dawn of feminism. She helps along harassed members of the office while playing the femme fatale herself. A great dynamic character, comfortable with who she is while looking to change it at the same time. She should win.
Rose Byrne has no business in the discussion. If looking sad and scared for an hour each week was the category, she'd be right there with anybody interviewing Gary Busey. It's not, and she's out.
That leaves Rachel Griffiths, who's consistently great in everything she does. Including the dismal "Brothers & Sisters".
Check back next Tuesday for suggestions to the panel for comedy actors.
Related Article:
-
TV Shows That Deserve An Emmy Nomination On July 17
Story by
Andrew Payne
Starpulse contributing writer