TV Spotlight: 'Brothers & Sisters' Producer Greg Berlanti

Dick Wolf,
David E. Kelley
,
Shonda Rhimes
and
Joss Whedon
have all done it. You may be wondering what IT is exactly. They've all at some time point created a spin-off or expanded their TV show into a franchise (see
Law & Order
). They've all done crossovers between their shows, if you count the backdoor
Private Practice
pilot on
Grey's Anatomy
last season.
But those crossovers would not have been possible if they didn't all share one common trait: all of them are showrunners who have, in recent memory, shepherded multiple television shows, sometimes across different channels.
The newest kid to join their club? ABC's latest go-to guy,
Greg Berlanti
, is only 35 years old but already a seasoned television writer and producer. Berlanti first joined the network as an executive producer on
Brothers & Sisters
, transforming a show that had been suffering from behind-the-scenes strife pre-pilot and looked doomed to never see the light of day into a modest hit. Since then, Berlanti has gone on to executive produce
Dirty Sexy Money
and co-create
Eli Stone
, bringing an impressive three shows to the alphabet network. But Berlanti's knack for well-written and sincere human dramedy began on another network, one which no longer exists today.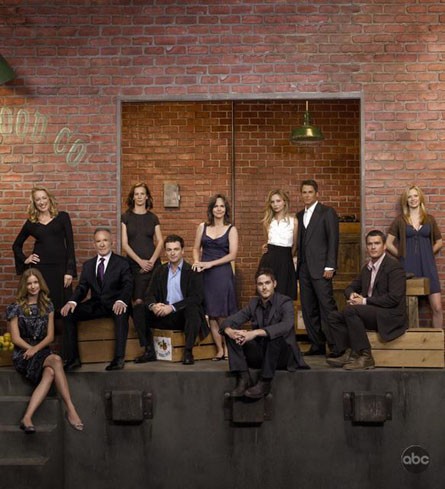 Back in 2000, the openly gay Berlanti wrote and directed
The Broken Hearts Club: A Romantic Comedy
, an indie about six male friends in West Hollywood starring some very familiar faces:
Zach Braff
,
Timothy Olyphant
,
Dean Cain
,
Andrew Keegan
,
Nia Long
,
John Mahoney
and
Justin Theroux
. The film was a collaboration with Berlanti's producing partner, Mickey Liddell. Under the banner of Berlanti/Liddell Prods., the two would bring
Everwood
to The WB, the network where Berlanti got his start as a writer and executive producer on
Dawson's Creek
and its short-lived, summer spin-off,
Young Americans
.
Just as he has at ABC, Berlanti created a string of shows for The WB, including "Everwood" and
Jack & Bobby
, that mixed heartfelt, family drama with just the right amount of humor. In a
USA Today
article, former WB programming chief Jordan Levin described him as a mix of David E. Kelley and
Frank Capra
, pointing out the "humanity to his writing; it's the everyday people who have greatness in them."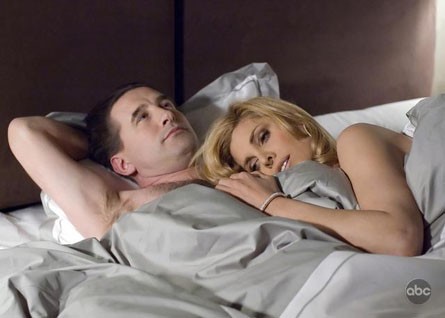 But for all their sincerity and softness, Berlanti's shows aren't afraid to touch upon real, sometimes risky, issues. While at "Dawson's Creek," he oversaw the coming out of
Kerr Smith's
character, who shared the first romantic gay male kiss on prime time television. "Everwood" deftly dealt with serious subjects such as abortion (the first on TV since "Maude" in 1972) and teen depression. The treatment of gay brother Kevin on "Brothers & Sisters" has been widely praised as a major stepping stone.
"Finally, we can do a show where the gay character didn't kiss any more or less than the straight characters. How lame that it took to 2006, but how cool that it's not on our minds anymore? That became one of the more personally rewarding things for me last year," he revealed to
USA Today
.
Berlanti has also been incredibly loyal to the actors he worked with on "Everwood."
Emily VanCamp
is a regular on "Brothers & Sisters," and
Treat Williams
did a guest starring arc on the show.
Tom Amandes
, formerly the cranky Doc Abbott, can currently be seen on "Eli Stone."
A playwriting graduate from Northwestern University, Berlanti has always been a fan of TV, counting
Northern Exposure
,
Cheers
,
Family Ties
, "Picket Fences" and
Ally McBeal
among his favorites.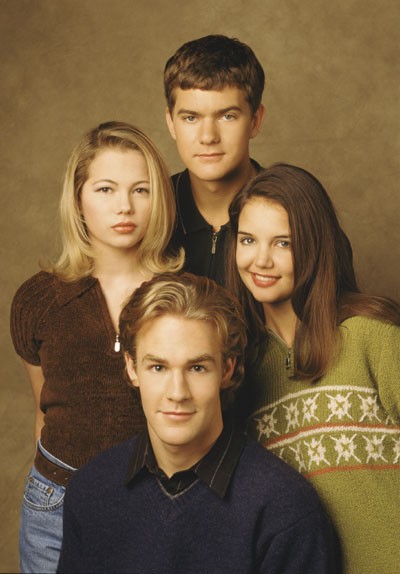 "I can remember watching certain Aaron Spelling shows,
Love Boat
and
Fantasy Island
," he told
USA Today
, "and thinking, 'Wait a minute, this couple is going to get in a fight right after the third commercial break.'"
However, he first set out to become a playwright or screenwriter, moving to Hollywood to be closer to the movie business. But success wasn't instant for the transplant, as he described to
AfterElton.com
: "I lived right underneath the Hollywood sign, and yet I cried myself to sleep because I seemed so far from being 'in' Hollywood. I would work at an insurance company during the day and temped at CBS and soaps and stuff like that.
Two or three years later -- I was, uh, 26, I think -- I sold a pitch for a movie, and I was working on that movie with Kevin Williamson. Kevin was responsible for my break."
That movie deal eventually led to a job working on "Dawson's Creek" and the rest, as they say, is television history. Having put his own stamp on television, Berlanti is preparing to branch back into film production. He is set to write and direct the new Green Lantern film for 2010.
Story by
Vlada Gelman
Starpulse.com contributing writer