TV Shows On The Verge Of Jumping The Shark

The concept of '
jumping the shark
' is a fatal one for many involved in television. It all began in the tragic episode of '
Happy Days
' in which iconic character, The Fonz, literally jumps over a shark, thus placing a death toll on the rest of the series. Decades later, some TV writers have playfully used the term in decidedly ironic tones, both 'The X-Files' and '
Supernatural
' have episodes titled 'Jump the Shark' (Note: a portion of 'Supernatural's' crew are 'X-Files' alum) that tiptoe the line of throwing a series into oblivion.
We will have a few current TV shows that we believe are or have jumped the shark, but we also came across a network with its own above average shark mortality rate. The important thing about labeling a show as having jumped the shark is to make sure you are not just listing out shows that you personally cannot stand. So, while some of these shows are ones we avoid, there are some we absolutely love.
'Heroes'
The beginning of the series had comic diehards and fanboys nervously questioning a superhero show for the public airing on a broadcast network. It ended up succeeding- for awhile. Now ridiculous storylines and backtracking character plots have the series barely treading water trying to stay afloat in their own convoluted narrative.
'NCIS: Los Angeles'
This show, as stated before in our recap of a two parter of last season's 'NCIS', should never even have been greenlighted. While '
NCIS
' was a successful spin-off of '
JAG
', this looks like an abomination. It jumped its own shark when the new cast guest starred on 'NCIS'. All of the characters are two dimensional and extremely bland. While this spin-off universe almost worked for '
CSI
' with '
CSI New York
' and '
CSI Miami
', it is time to give location spin-offs a place in TV graveyards.
'Ghost Whisperer'
There is no specific episode that pinpoints where this series jumped the shark, but instead we find that the fact it stayed so far under the radar, we didn't even know it was still on the air, is a big indicator.
'24'
The problem with '24', as many experts have mentioned, is a reverse issue. The show is television's version of '
Die Hard
' in many ways, and wouldn't work if it didn't jump the shark on an episodic basis. Too much action, and the constant breakage of the suspension of disbelief are concepts that the show thrives upon. When is enough, enough? We would have said this past season. However,
Katee Sackhoff
, formerly of 'Battlestar Galactica' has joined in for the new season, so we have to trudge forward.
'Two and a Half Men'
This show is one of the very few remaining in three-camera production format ('
How I Met Your Mother
' is another) and is a good example of why this particular format is on its deathbed. This show jumped the shark when the funny little kid, the only solid character outside of appearances by
Holland Taylor
,
Jane Lynch
, and
Melanie Lynskey
, stopped being funny. Jane Lynch ('Glee', 'Party Down') is an actress with such a unique sense of comedic timing and humor she typically is the acting version of CPR. Not even she can save this show.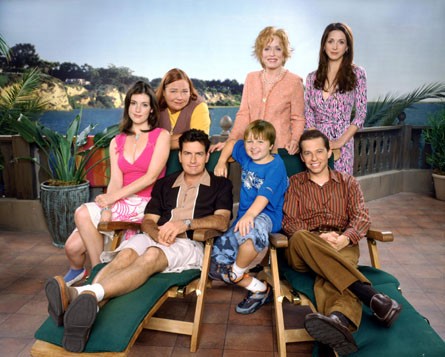 Image © Courtesy Channel 5
'House'
Some fans are afraid 'House' has spent too much time in a shark tank as well. While we agree that the House/Cuddy storyline was no help, we still are on the edge deciding whether or not it managed to tank the series as badly as '
Moonlighting
' did. Having lead characters break sexual tension and engage in a relationship, or just plain sex, typically breaks a show and is one of the top ways to jump the shark. This is also a growing issue for fans of another FOX hit show, '
Bones
'. In short, if you are going to have characters break sexual tension, at least make it salacious enough for people to keep watching.
A Massive Network Shark Jump
The CW itself has jumped the shark. We take that back, it not only jumped it, but with Dawn Ostroff's help, it landed in the water and was devoured by said executive eating shark. The line up only has 2 primetime slots: 8pm and 9pm EST, like FOX, but with decidedly poor content. Outside of 'Supernatural', the ostracized show on the most stereotypical teenaged girl network, the channel needs some heavy duty work…(this is for you, Dawn Ostroff, canceller of one of the best shows on the lineup, '
Veronica Mars
'). '
One Tree Hill
' only jumped the shark by coming back for another season. This past season's finale cleanly wrapped up the storyline of all of its characters. All fans were at peace with its end. And then, all of a sudden, Ostroff decided she could not let go.
She not only said the show could survive without such stars like
Chad Michael Murray
, but compared it to the long running NBC drama, '
ER
', stating, "If you look at shows like 'ER' and [others] that go on for many, many years, a lot of these casts go through different people, and it really helps to keep shows fresh. So we're sad to see [Murray and Burton] go, and grateful for everything they did for the show, but excited about moving on and seeing who else is going to join the cast." Beyond that delusion of grandeur, '
Smallville
', '
90210
', and '
Melrose Place
' are shows that have stayed well past their expiration date. When a network cannot 'find' a good enough pilot to greenlight and instead chooses to resurrect old shows that have moved past their cultural relevancy, there is a big problem in the captain's chair. It's is obviously time for a network coup.
Are there any current shows you believe have jumped the shark?
Story by
Sarah Lafferty
Starpulse contributing writer
Follow Sarah on twitter at
starbuckscout
.