TV Remakes We'd Like To See, Vol. 1: 'Gilligan's Island'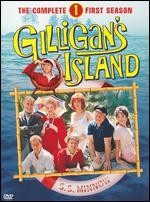 It seems that these days television has been hurting for some new show ideas, and with recent remakes of old shows like
Battlestar Galactica
(
huge hit
!) and
The Bionic Woman
(
tanked
!) we thought we'd come up with some of our own ideas for remakes, complete with new casts but the same 'ol plot lines. Well, maybe we'd update the plots to reflect the times...
Gilligan's Island
The old 60s hit show that critics jeered and audiences cheered would make for great TV viewing these days. With reality shows like
Survivor
and, of course, the short-lived reality series
The Real Gilligan's Island
, and hit films like
Cast Away
, people love the fantasy of being stranded on a desert island.
Our Picks for the new cast:
Gilligan
:
David Spade
.
The Showbiz Show
host would be perfect to play our naive protagonist. Not only would our Gilligan be coming up with endless plots to get Mary Anne & Ginger into a threesome; but when paired with our pick for the Skipper, just think of the antics the two would get into.
Skipper
: Peter Griffin. The
Family Guy
patriarch (voiced by creator
Seth MacFarlane
) may be animated, but he's perfect for the role. Already naming his second son after his "little buddy" (
Stewie's middle name is Gilligan
); Griffin has proved he can sail, yet still be bumbling enough to get lost in a storm and run ashore on a desert isle. With Spade as the lovable Gilligan, there's no telling what kind of trouble these two would find themselves in.
Thurston Howell III
:
Donald Trump
. The famous entrepreneur would be a perfect fit as Mr. Howell; only problem is he wouldn't get to fire anybody.
Mrs. Howell
: We'd love to put Trump's actual wife, hottie
Melania Knauss
, in this role; but a certain 'material' girl would be a much better fit, as "Lovey" cared for the finer things in life. Our pick:
Madonna
.