TV Ratings: 'True Blood' Ends Strong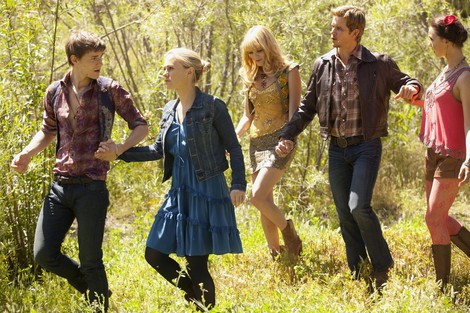 There wasn't much of note on the broadcast networks this ratings week. 'America's Got Talent' was tops in the final summer doldrums, while CBS reruns of 'The Big Bang Theory' and 'NCIS,' among others, did well.
More interesting news was on cable, where HBO's 'True Blood' wrapped up with a healthy 5 million viewers on Sunday. 'The Newsroom' also finished fairly well for the network, netting 2.3 million viewers its season finale.
Over on FX, meanwhile, 'Anger Management' ended its season with 2 million viewers. Its ratings for the season were good enough for FX that it triggered a 90-episode renewal. It looks like Charlie Sheen will be around on the network for a while.
Here's a look at the Top 20:
Rank  Show                         Network      Viewers           Season Average
1.

America's Got Talent (Tue.)

NBC

9.9

11.7

 

2.

NFL: Panthers/Jets

NBC

9.8

--




 

3.

60 Minutes

CBS

8.6

11.4




 




America's Got Talent (Wed.)

NBC

8.6

10.1




 

5.

NCIS

CBS

8.1

16.5




 

6.

Big Bang Theory

CBS

7.4

13.6




 




Big Brother (Sun.)

CBS

7.4

6.6




 

8.

NCIS: Los Angeles

CBS

7.1

13.5




 

9.

Big Brother (Thu.)

CBS

6.3

6.9




 




The Mentalist (Tue.)

CBS

6.3

6.1




 

11.

Hell's Kitchen (Mon.)

Fox

6.2

7.0




 

12.

Masterchef (Tue.)

Fox

6.0

6.5




 




Two and a Half Men (Thu.)

CBS

6.0

--




 

14.

20/20 (10:00)

ABC

5.9

5.5




 




Big Brother (Wed.)

CBS

5.9

6.4




 




NASCAR: Bristol

ABC

5.9

--




 

17.

Criminal Minds

CBS

5.8

11.4




 

18.

CSI

CBS

5.6

10.7




 




The Mentalist (Sun.)

CBS

5.6

4.5




 

20.

2 Broke Girls (9:00)

CBS

5.5

4.7