TV Ratings: NFL Football Is Tops On NBC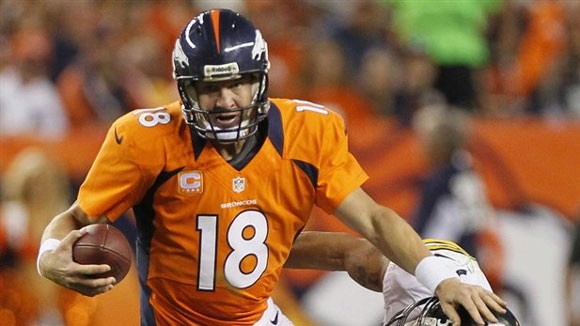 With Sunday Night Football back on NBC's grid, the network claimed more than 27 viewers for the Steelers/Broncos game on Sunday evening. Aside from other NFL festivities, that was more than twice the audience of any other show on Network TV last week.
The Democratic National Convention, meanwhile, fared better than the GOP convention in terms of viewers, but was still down 7 percent compared to the 2008 convention.
On CBS, shows like 'The Big Bang Theory' and 'NCIS' dominated.
Over on cable, the VMAs drew just over 6 million viewers, plunging by half from last year's audience. It was the lowest turnout since 2006.
Here's a look at the Top 20 network shows:
Rank        Name                                                                                       Net        Day        Viewers
1              SUNDAY NIGHT FOOTBALL - STEELERS/BRONCOS                         NBC       Sun        27,567,000
2              NFL WEDNESDAY SPECIAL - COWBOYS/GIANTS                            NBC       Wed       23,886,000
3              SUNDAY NIGHT NFL PRE-KICK                                                    NBC        Sun       20,136,000
4              NFL WEDNESDAY PRE-KICK                                                        NBC       Wed       18,666,000
5              FOOTBALL NIGHT IN AMERICA PT 3                                            NBC       Sun        12,989,000
6              60 MINUTES                                                                            CBS        Sun       12,318,000
7              NFL OPENING KICK-OFF SHOW                                                   NBC       Wed       10,682,000
8              AMERICA'S GOT TALENT-TUESDAY                                              NBC       Tue         8,930,000
9              NCIS                                                                                      CBS        Tue        7,941,000
10           AMERICA'S GOT TALENT-THURSDAY                                             NBC       Thu        7,875,000
11           THE BIG BANG THEORY                                                              CBS        Thu        7,390,000
12           DEMOCRATIC NATIONAL CONVENTION                                          NBC       Thu        7,377,000
13           BIG BROTHER 14-SUNDAY                                                          CBS        Sun        6,898,000
14           MASTERCHEF                                                                            FOX        Tue        6,533,000
15           NCIS: LOS ANGELES                                                                   CBS        Tue        6,399,000
16           TWO AND A HALF MEN                                                                CBS        Thu        6,363,000
17           BIG BROTHER 14-THURSDAY                                                      CBS        Thu        6,198,000
18           HELL'S KITCHEN                                                                        FOX        Tue        6,170,000
19           BIG BROTHER 14-WEDNESDAY                                                    CBS        Wed       6,093,000
20           THE BIG BANG THEORY                                                              CBS        Mon        5,791,000