TV Ratings: Grammys On Top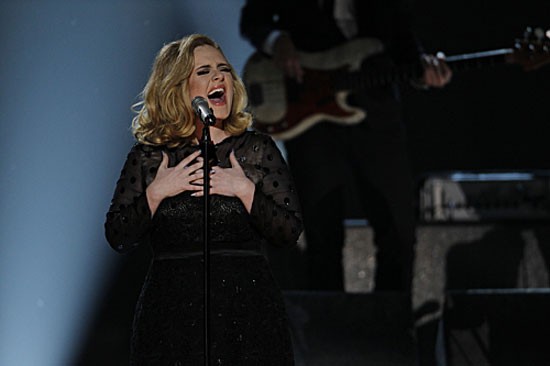 The Grammy Awards attracted a stunning 39.9 million viewers on Sunday, the second-biggest tally in the award show's history. A number of factors likely contributed to this, not the least of which is Whitney Houston's death over the weekend. Jennifer Hudson's soul-stirring rendition of "I Will Always Love You" was a highlight. But that's no discredit to the red-hot Adele, who took home six awards and gave a show-stopping performance of her own.
Nothing came close to the Grammys' ratings territory, but 'American Idol' held fairly steady from last week, capturing the third and fourth slots of the top shows of the week. It was bested in total viewers by 'NCIS,' which is defying all odds by garnering such strong ratings so late in its run. Its viewers skew older, however, and 'American Idol' easily topped it in the ad-friendly adults 18-49 category.
'The Voice' may be closing in on 'Idol.' Naturally, its audience dropped substantially since its plum post-Super Bowl slot, but it still delivered 17.8 million viewers, just a couple million under its chief rival.
'The Big Bang Theory,' which had nearly equaled 'Idol' in the ratings recently, had to settle for second place in its Thursday time slot this week, good for 7th place. And 'Person of Interest' is turning into a bit of a sleeper hit, ranking number 8 for the week.
'Two and a Half Men' seems to be retreating back to Charlie Sheen territory, settling for 12th place, just a tick ahead of the hot 'Modern Family.' And while 'Smash' collected a respectable 11.4 million viewers, good for 17th place, it still shed over 6 million viewers from its 'Voice' lead-in.
Here's a look at the top 20:
| | | | | |
| --- | --- | --- | --- | --- |
| Rank | Show | Network | Day | Viewers |
| 1 | The Grammys | CBS | SUN | 39,909,000 |
| 2 | NCIS | CBS | TUE | 20,976,000 |
| 3 | Americal Idol - Wed | FOX | WED | 19,325,000 |
| 4 | Americal Idol - Thurs | FOX | THURS | 18,132,000 |
| 5 | The Voice | NBC | MON | 17,844,000 |
| 6 | NCIS: Los Angeles | CBS | TUE | 16,266,000 |
| 7 | The Big Bang Theory | CBS | THURS | 16,206,000 |
| 8 | Person of Interest | CBS | THURS | 15,138,000 |
| 9 | The Mentalist | CBS | THURS | 14,678,000 |
| 10 | 60 Minutes | CBS | SUN | 14,254,000 |
| 11 | Criminal Minds | CBS | WED | 13,306,000 |
| 12 | Two and a Half Men | CBS | MON | 13,000,000 |
| 13 | Modern Family | ABC | WED | 12,899,000 |
| 14 | Unforgettable | CBS | TUE | 11,863,000 |
| 15 | Blue Bloods | CBS | FRI | 11,822,000 |
| 16 | 2 Broke Girls | CBS | MON | 11,467,000 |
| 17 | Smash | NBC | MON | 11,443,000 |
| 18 | Mike & Molly | CBS | MON | 10,954,000 |
| 19 | CSI | CBS | WED | 10,884,000 |
| 20 | Rob | CBS | THURS | 10,742,000 |