TV Ratings: Golden Globes Shine, CBS Shows See Series Highs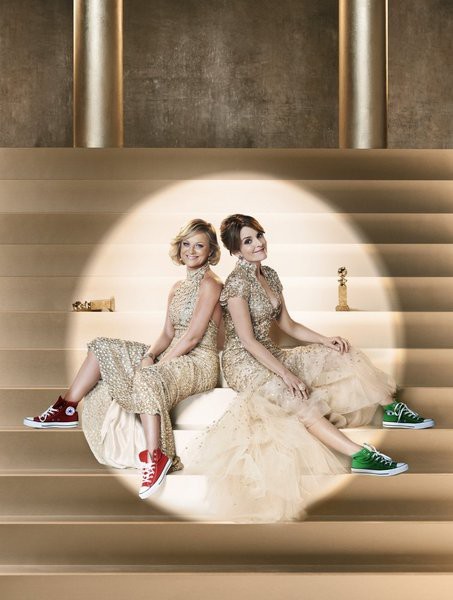 It was quite a ratings week. CBS dominated overall with an impressive average of nearly 13.3 million viewers. FOX handily won the week's top program, the Packers/49ers game, with 30.9 million viewers. Still, that was the network's lone bright spot. No wonder they're heavily promoting 'American Idol''s "fued" between the judges.
CBS' success for the week was largely driven by its top two scripted shows: 'NCIS' and 'The Big Bang Theory,' which hit another series high last week. It marked the first time in nearly six years that a network managed to net more than 20 million viewers from two scripted shows.  See, the sitcom isn't dead!
NBC was quite successful with the Golden Globes Awards on Sunday. Tina Fey and Amy Poehler's much-heralded performance attracted the show's biggest audience in six years. The HFPA seems likely to ask them back, especially considering they stuck with Ricky Gervais for three years.
ABC did well with 'Modern Family' in 9th place, and the Miss America Pageant's return to Network TV. It seems viewers missed the showcase, which had its best showing since 2004.
On cable, Showtime's 'Shameless' returned strong with 2 million viewers, while HBO's Golden Globe-winning 'Girls' was about even with last year's premiere.
Here's a look at the Top 20:
Viewers (in millions)
| | | | |
| --- | --- | --- | --- |
| 1. | Packers/49ers | Fox | 30.9 |
| 2. | NCIS | CBS | 21.1 |
| 3. | Big Bang Theory | CBS | 20.0 |
| 4. | Golden Globe Awards | NBC | 19.7 |
| 5. | NCIS: Los Angeles | CBS | 17.9 |
| 6. | Person of Interest | CBS | 15.7 |
| 7. | Two and a Half Men | CBS | 14.4 |
| 8. | 60 Minutes | CBS | 14.0 |
| 9. | Modern Family | ABC | 12.0 |
| 10. | Elementary | CBS | 11.5 |
| 11. | Blue Bloods | CBS | 11.2 |
| 12. | Vegas | CBS | 10.9 |
| 13. | CSI: NY | CBS | 10.7 |
| 14. | The Menatlist | CBS | 10.6 |
| 15. | The Good Wife | CBS | 10.0 |
| 16. | People's Choice Awards | CBS | 9.7 |
| 17. | Grey's Anatomy | ABC | 9.3 |
| 18. | Undercover Boss | CBS | 9.1 |
| 19. | Castle | ABC | 8.7 |
| 20. | Law & Order: SVU | NBC | 8.4 |
| | Scandal | ABC | 8.4 |
| | The Middle | ABC | 8.4 |