TV Ratings: 'Downton Abbey' Scores New High With Finale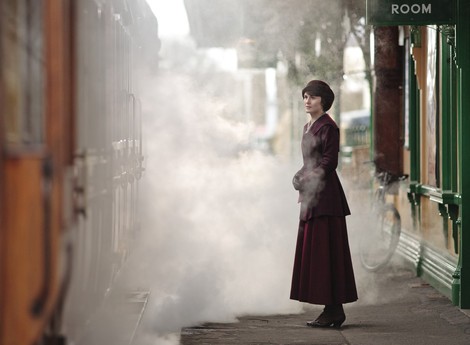 Times, they are a-changing in TV Land. Not only did 'The Big Bang Theory' displace 'American Idol' as the number one Thursday show, it was the number one show on all of TV last week. And on Sunday, the much-talked-about season finale of 'Downton Abbey' did better than most network programs, bringing in 8.2 million viewers. For the season, the PBS series was up an astonishing 66 percent.
'The Walking Dead,' meanwhile, lured more than 11 million viewers on Sunday. Overall, CBS did very well last week, placing 7 shows in the Top 10 and 15 in the Top 20. FOX didn't have much to sing about besides 'American Idol,' which dropped to 13.45 and 12.59 million viewers in its two airings. ABC, meanwhile, only saw 'Modern Family' and 'Castle' hit the Top 20.
Let's not even discuss NBC, which is struggling with shows like 'Do No Harm,' which had such embarrassing ratings that the network canceled it after only two episodes. That's not unheard of, but it's extremely unusual.
Here's a look at the Network Top 20:
1. "The Big Bang Theory," CBS, 17.89 million.
2. "Person of Interest," CBS, 14.87 million.
3. "Two and a Half Men," CBS, 13.69 million.
4. "American Idol" (Wednesday), Fox, 13.45 million.
5. "American Idol" (Thursday), Fox, 12.59 million.
6. "Elementary," CBS, 10.98 million.
7. "2 Broke Girls," CBS, 10.9 million.
8. "Blue Bloods," CBS, 10.73 million.
9. "Mike & Molly," CBS, 10.5 million.
10. "Modern Family, ABC, 10.05 million.
11. "60 Minutes," CBS, 9.73 million.
12. "Hawaii Five-0," CBS, 9.64 million.
13. "Amazing Race 22," CBS, 9.57 million.
14. "The Mentalist," CBS, 9.42 million.
15. "NCIS: Los Angeles," CBS, 9.23 million.
16. "How I Met Your Mother," CBS, 8.98 million.
17. "Castle," ABC, 8.97 million.
18. "Survivor: Caramoan," CBS, 8.94 million.
19. "Bones," Fox, 8.82 million.
20. "CSI: NY," CBS, 8.59 million