TV Ratings: 'Breaking Bad' Breaks Record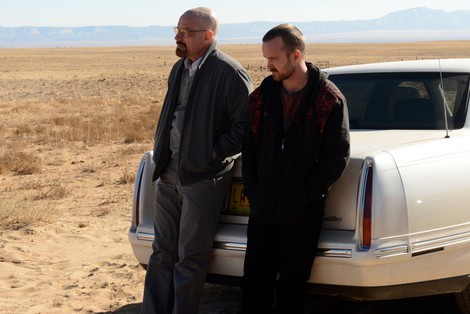 Just a couple of weeks from this fall's big premiere's, the big ratings news was on cable. AMC's 'Breaking Bad,' just a couple of episodes away from the grave, drew a record audience of 6.4 million viewers for Sunday's heart-stopping installment.
Things weren't quite so exciting on the big networks. Football was tops for NBC, which also boasted two entries of 'America's Got Talent' in the Top 10. On FOX, 'The X-Factor' continues to disappoint in 18th place – and that's without a lot of first-run competition coming its way.
Repeats played well on CBS, led by 'NCIS' and 'The Big Bang Theory,' not surprisingly. Who wants to take bets on whether 'The Big Bang Theory' will continue to build into its highest-rated season ever?
Here's a look at the Top 20, including cable:
1. NFL Football: San Francisco at Seattle, NBC, 20.54 million viewers
2. Football Rain Delay, NBC, 17.84 million
3. NFL Football: Philadelphia at Washington, ESPN, 16.52 million
4. Sunday Night NFL Pre-Kick, NBC, 15.22 million
5. 60 Minutes, CBS, 12.45 million
6. Football Night in America, NBC, 11.31 million
7. NFL Football: Houston at San Diego, ESPN, 10.95 million
8. America's Got Talent (Wednesday), NBC, 10.08 million
9. Under the Dome, CBS, 9.72 million
10. America's Got Talent (Tuesday), NBC, 9.24 million
11. Duck Dynasty, A&E, 9.14 million
12. NCIS, CBS, 9.07 million
13. NFL Football: N.Y. Jets at New England, NFLN, 8.79 million
14. Miss America Competition, ABC, 8.59 million
15. The Big Bang Theory, CBS, 8 million
16. The Big Bang Theory (Monday, 9:54 p.m.), CBS, 7.53 million
17. Big Brother 15 (Sunday), CBS, 6.93 million
18. The X-Factor, Fox, 6.87 million
19. Big Brother 15 (Wednesday), CBS, 6.83 million
20. Dateline NBC (Friday), NBC, 6.73 million