TV Ratings: 'Big Bang' Scores Series High, 'Downton Abbey' Stuns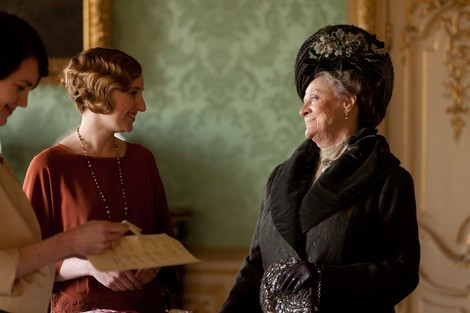 NBC is on a winning streak, but mostly thanks to the Vikings and Packers. That game scored over 30 million viewers over the weekend, prompting the Peacock network to nab a rare win, its third in as many weeks. That record isn't likely to last, especially since 'American Idol' is on the horizon for FOX.
Other big ratings news centers around CBS' 'The Big Bang Theory,' which hit a series-high 19.25 million viewers last week.  The TBS repeats probably only help the show's cause, and with little competition last Thursday, the show blew other programs out of the water.
And let's not forget 'Downton Abbey,' which is sort of a miracle for PBS. The series is attracting a downright huge audience for any PBS program. Season 2 got off to a start with 4.2 million viewers last year, a big number. But Sunday's Season 3 premiere attracted a stunning 7.9 million.
Here's a look at the Top 20 for the week:
1. NFL Playoff: Minnesota at Green Bay, NBC, 30.28 million.
2. NFL Playoff Pre-Kick, NBC, 29.27 million.
3. NFL Wildcard Post Game: Seattle at Washington, Fox, 19.56 million.
4. "The Big Bang Theory," CBS, 19.25 million.
5. "Person of Interest," CBS, 16.23 million.
6. "Two and a Half Men," CBS, 15.41 million.
7. "New Year's Rockin' Eve," ABC, 13.33 million.
8. Cotton Bowl: Texas A&M at Univ. of Okla., Fox, 11.94 million.
9. "Elementary," CBS, 11.44 million.
10. "The Mentalist," CBS, 10.85 million.
11. "NCIS (Special)," CBS, 10.63 million.
12. "Blue Bloods," CBS, 10.18 million.
13. "The Good Wife," CBS, 9.96 million.
14. "60 Minutes," CBS, 9.61 million.
15. "New Year's Rockin' Eve Celebrates Dick Clark," ABC 9.44 million.
16. "NCIS: Los Angeles (Special)," CBS, 9.39 million.
17. "CSI: NY," CBS, 9.13 million.
18. "Once Upon a Time," ABC, 9.10 million.
19. "The Simpsons," Fox, 8.97 million.
20. "Chicago Fire," NBC, 8.54 million.