TV Ratings: 'American Idol' Reclaims Top Spot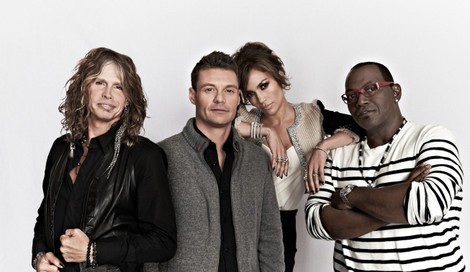 It's like watching Wimbledon. In a back and forth match, 'American Idol' gained last week to take three of the top four spots, outpacing 'The Voice,' albeit by a small margin. The top 'Idol' garnered 18.5 million sets of eyeballs, while 'The Voice' had to settle for 14.9 million. The tables may be turned next week, however. Stay tuned.
FOX could also be pleased with the performance of Nascar Daytona 500, with two placements in the Top 10. NBC had only 'The Voice' to sing about, while ABC saw its fortunes turn with 'Modern Family' in 11th place and the return of 'Once Upon a Time' on Sunday in 16th place. That's an impressive performance for a rookie. FOX's 'Terra Nova,' garnered similar ratings last fall, but then stumbled. It was cancelled today.
CBS, as usual, dominated the Top 20 with 12 shows. 'The Big Bang Theory' was down a bit in 15th place, but 'NCIS' held strong in 2nd, placing ahead of two of the 'Idol' installments.
Here's the rundown:
| | | | | |
| --- | --- | --- | --- | --- |
| Rank | Show | Network | Night | Viewers |
| 1 | AMERICAN IDOL - THURS | FOX | THURS | 18,452,000 |
| 2 | NCIS | CBS | TUE | 18,200,000 |
| 3 | AMERICAN IDOL - WED | FOX | WED | 17,228,000 |
| 4 | AMERICAN IDOL - TUE | FOX | TUE | 16,110,000 |
| 5 | NCIS: LOS ANGELES | CBS | TUE | 15,853,000 |
| 6 | THE VOICE | NBC | MON | 14,894,000 |
| 7 | FOX NASCAR DAYTONA 500 | FOX | MON | 13,669,000 |
| 8 | CRIMINAL MINDS | CBS | WED | 12,539,000 |
| 9 | FOX NASCAR DAYTONA 500 | FOX | MON | 12,471,000 |
| 10 | TWO AND A HALF MEN | CBS | MON | 11,921,000 |
| 11 | MODERN FAMILY | ABC | WED | 11,631,000 |
| 12 | 60 MINUTES | CBS | SUN | 11,508,000 |
| 13 | BLUE BLOODS | CBS | FRI | 11,469,000 |
| 14 | CSI | CBS | WED | 11,298,000 |
| 15 | THE BIG BANG THEORY | CBS | THURS | 11,109,000 |
| 16 | ONCE UPON A TIME | ABC | SUN | 10,667,000 |
| 17 | SURVIVOR | CBS | WED | 10,650,000 |
| 18 | AMAZING RACE | CBS | SUN | 10,304,000 |
| 19 | 2 BROKE GIRLS | CBS | MON | 10,182,000 |
| 20 | CSI: MIAMI | CBS | SUN | 10,139,000 |