TV Ratings: 'American Idol' On Top, But CBS Dominates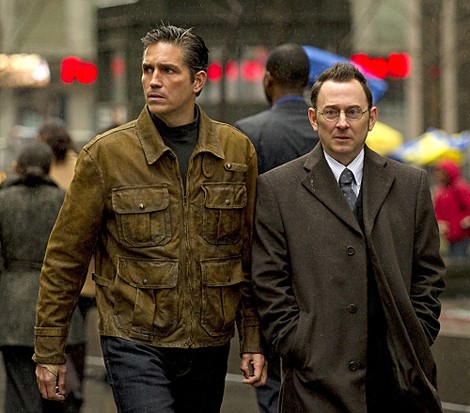 'American Idol' returned to the top two perches on the weekly ratings chart this week. It seems that the live competition may be helping the sagging series, although a lot of programs were in repeats for the week.
Both editions of 'Idol' held off 'The Voice.' Wednesday's 'Idol' placed first with 18.7 million viewers, followed by Thursday's episode with 17.3 million. 'The Voice' followed with 16.8. Not too far behind, folks!
'Person of Interest' is turning into the "little engine that could" for CBS. With 'NCIS' in repeats, 'Person of Interest' ranked in the Number 4 slot, the network's highest-rated program of the week. Despite the repeats, the network dominated with 14 of the Top 20 shows. Even a stale 'NCIS' managed to rank in the Number 6 slot, an impressive feat for a repeat.
ABC and NBC each had something minor to be proud of. ABC's Sunday night dramas, 'Once Upon a Time' and 'Desperate Housewives,' both ranked in the Top 20. 'Housewives,' which is limping to the finish line compared to its glory days, has seen a recent uptick as the show counts down to its final episode. And NBC's 'Harry's Law,' facing little competition in a sleepy week, also managed to crack the Top 20 in total viewers, with 9 million.
Here's the final tally for the week:
| | | | | |
| --- | --- | --- | --- | --- |
| Rank | Show | Network | Day | Viewers |
| 1 | AMERICAN IDOL - WED | FOX | WED | 18,692,000 |
| 2 | AMERICAN IDOL - THURS | FOX | THURS | 17,266,000 |
| 3 | THE VOICE | NBC | MON | 16,848,000 |
| 4 | PERSON OF INTEREST | CBS | THURS | 15,671,000 |
| 5 | THE BIG BANG THEORY | CBS | THURS | 15,045,000 |
| 6 | NCIS | CBS | TUE | 14,494,000 |
| 7 | THE MENTALIST | CBS | THURS | 13,838,000 |
| 8 | THE BIG BANG THEORY | CBS | THURS | 12,412,000 |
| 9 | NCIS: LOS ANGELES | CBS | TUE | 12,102,000 |
| 10 | THE MENTALIST | CBS | FRI | 11,344,000 |
| 11 | BLUE BLOODS | CBS | FRI | 11,014,000 |
| 12 | SURVIVOR | CBS | WED | 10,783,000 |
| 13 | CSI: MIAMI | CBS | SUN | 10,724,000 |
| 14 | 60 MINUTES | CBS | SUN | 10,528,000 |
| 15 | THE GOOD WIFE | CBS | SUN | 9,884,000 |
| 16 | AMAZING RACE | CBS | SUN | 9,648,000 |
| 17 | UNDERCOVER BOSS | CBS | FRI | 9,395,000 |
| 18 | ONCE UPON A TIME | ABC | SUN | 9,289,000 |
| 19 | HARRY'S LAW | NBC | SUN | 9,047,000 |
| 20 | DESPERATE HOUSEWIVES | ABC | SUN | 8,390,000 |