TV Preview: 'Hell's Kitchen' Season 11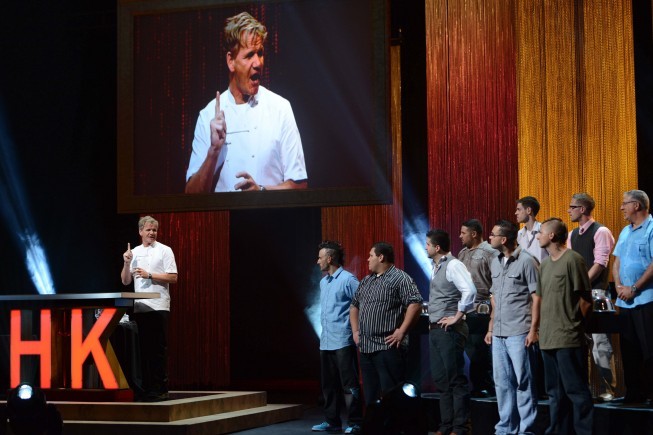 FOX's Hell's Kitchen has more seasons to its name than any other cooking competition on the airwaves. That's no surprise, because it appeals to fans of cooking and reality TV alike. It's always been one-part food, one-part utter mayhem. It's not just about what happens in the kitchen, but also who can handle the various outlandish challenges and their fellow competitors. Tonight, Chef Gordon Ramsay welcomes a whopping 20 new chefs into his kitchen to see who can stand the heat.
As is usual for Hell's Kitchen, Season 11 opens with the competing chefs singing their own praises as they wait to come face-to-face with what they've just gotten themselves into. They're all smiles when they hear that Chef Ramsay is waiting for them not in Hell's Kitchen itself, but in Las Vegas. One of the contestants thinks they'll be doing "serious partying" in Sin City. But there's no time for that: the show launches right into its usual "signature dish" challenge. Some succeed but many fail spectacularly, including one chef who makes the mistake of serving Ramsay raw meat.
There's plenty of room for improvement, which is really what Hell's Kitchen is about. It's a long game, where early favorites often end up sent home and other standouts emerge as the season progresses. Keeping that in mind, Season 11 seems to be perhaps just a step or two behind the level of talent in the previous cycles.
Cooking aside, this is still television, which means there's no shortage of people with big personalities, too. 49-year-old line cook Gina establishes herself early on as the most talkative of the group, and she's brought a friend along with her that will raise a few eyebrows. 26-year-old chef tournant Jessica boldly declares that she doesn't think anyone is competition for her. And 35-year-old head chef Barret decided to get himself a Hell's Kitchen haircut. Tensions start to flare within the first fifteen minutes of the premiere. For those who watch the series purely for the drama, there will be plenty of entertainment value amongst this cast.
The centerpiece of Hell's Kitchen remains Chef Ramsay, who handles the missteps and quirks of this new brigade with his usual mixture of bluntness and humor. He remains unafraid to tell the chefs how badly they've screwed up, but he's also able to laugh when something deserves a good chuckle. Ramsay is one of the best in the business as well as a bona fide television personality, and the most watchable chef on television. His passion for his profession, and for helping other aspiring chefs around him to improve, is obvious.
But if you're expecting the Ramsay of Kitchen Nightmares or MasterChef, you're in for a surprise. In Hell's Kitchen, he has to play the role of the taskmaster; that's what the format demands. (Show promos are even centered around his legendary temper.) There are plenty of reasons for Ramsay to blow up in Season 11 - and to be fair, if the professional cooks around you were screwing up something they should know how to do, you'd probably be short-tempered, too.
Ramsay's support staff has had a bit of a shakeup this season. Andi van Willigan returns as sous chef for the women's team, with James Avery replacing show staple Scott Leibfried, who's left to focus on opening his own restaurant. Making up for losing Scott, though, is the return of original maitre'd Jean-Phillippe Susilovic. His comeback is like getting to see a long-lost family member again.
The prize this season is the position of head chef - underneath executive chef Jeremy Berlin - at the newly established Gordon Ramsay Pub & Grille at Caesars Palace in Las Vegas. The ultimate success of Hell's Kitchen Season 11 will depend on seeing how the talent emerges, but it's set to be one entertaining trial by fire.
Hell's Kitchen has its two-hour premiere tonight at 8 PM ET/PT on FOX.
(c)2013 Brittany Frederick. Appears at Starpulse with permission. All rights reserved. No reproduction permitted. Visit my official website and follow me on Twitter at @tvbrittanyf.