TV on DVD: 'Who Do You Think You Are?: Season 1' (US)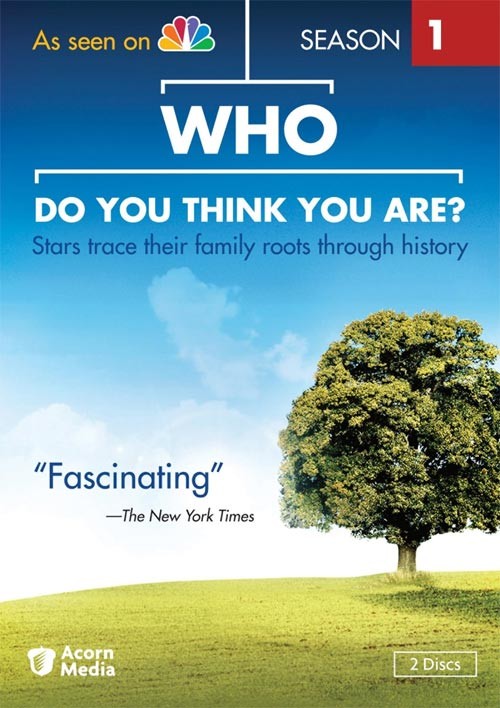 Today, just in time for the NBC show's second season (isn't that how it always works?), Acorn Media is releasing Season 1 of the American edition of Who Do You Think You Are?, executive produced by Lisa Kudrow (Friends, The Comeback) and featuring celebrities - including Matthew Broderick, Sarah Jessica Parker, and Brooke Shields - tracing their family histories. Here's a look at what you can expect from the two-disc set.
The Show
Who Do You Think You Are? is yet another American adaptation of a successful British series. The UK version of the show is still running; I got turned onto it almost seven years ago, when an episode featured Top Gear's Jeremy Clarkson. Even if you're not into genealogy - and I am very much not - it's an interesting show, certainly a curiosity with the potential to be emotionally moving.
There's no one quite as interesting to me in the American version, though all of them would qualify as recognizable names to people who are not quite as nerdish as me: Lisa Kudrow, Sarah Jessica Parker, Matthew Broderick, Brooke Shields, Susan Sarandon, Emmitt Smith and Spike Lee are featured here. At least in my eyes, you really either have to be a fan of any of the celebrities or interested in history to enjoy this series, because there's - obviously - a lot of talking and a lot of background information given. This isn't a show for people who slept through parts of their history classes, because it sometimes plays like one, just focused on a specific family tree.
If you're into genealogy, history, or any of the participants, you'll enjoy this show - it really is interesting. (At least in the UK, shows were abandoned if celebs' family history was found to be uninteresting; having not watched all of the US episodes I can only assume this is true for the US edition as well.) Each episode has a real story to tell. Having said that, this really does work for that specific audience and might strike out with those who have less than a significant interest in history. It's a unique show but after a few episodes I'd watched enough.
Is it a good show? Yes, but I don't think it's the type of show that I'd need to own.
The DVDs
The packaging for this two-disc set is pretty simple: one plastic case with a cardboard slipcover that goes over the top. Unlike some releases, I had no problem getting the cover on and off. Menus are easy to navigate, which is always a plus.
Acorn Media usually puts together good presentations of their shows, and this one is no exception: it's 16:9 widescreen with a stereo audio track. Not the best I've ever seen or heard (particularly in the audio department when most releases tend to come with a Digital 5.1 track) but it's more than watchable. You're certainly getting a decent transfer here if nothing else.
The Special Features
There are no special features on this set. In all fairness, I'm not exactly sure what special features they could have added to this one. Maybe a primer on researching your family history, as the show is sponsored by Ancestry.com? I would've liked to see something, as I am generally wary of dishing out for sets that don't have any.
The Bottom Line
At $27.99, this is a little pricey for a blind buy, and without special features, I don't know if it's necessarily worth adding to your collection unless you happen to be a fan of one of the celebrities. I'd recommend checking out an episode or two before you buy.