TV On DVD: 'White Collar: Season Two'
With White Collar premiering its third season last Tuesday, Fox Home Entertainment released White Collar: Season Two on DVD on the same date. Here's my review.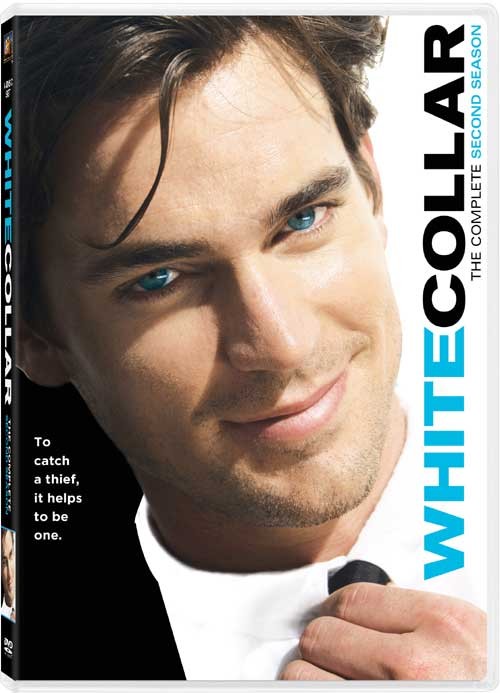 The Show
I fell in love with White Collar almost right out of the gate. Ever since I saw Matt Bomer in ABC's Traveler, I knew he was going to be a star someday, and the show found a perfect match for him in veteran actor Tim DeKay. There was smart writing that balanced a case of the week with character development and an ongoing mythology, moving along each in equal measures. Great acting serviced well by strong writing - well, that's a recipe for success and so it didn't surprise me when White Collar became another breakout hit for USA.
Having said that, I have mixed feelings about season two. The show did one great thing in wrapping up the "who killed Kate Moreau?" storyline within the season and not dragging it out forever. This allowed the character of Neal Caffrey (Bomer, who's award-worthy in my eyes) to grieve and the audience to not be strung along in perpetuity. It also opened the door to show us huge chunks of Neal's past in the brilliantly done flashback episode "Forging Bonds," which showed us that the big bad behind it all was Neal's ruthless mentor Vincent Adler (Andrew McCarthy, who's never on TV enough for my taste). I was glad that the show put Kate to rest and did so well.
Unfortunately, it also did a few things this season to spoil my goodwill. The first is that, predictably, once the Kate mystery was over the show opened up a new one with Adler's stolen loot. I know that mysteries are in vogue now, but I maintain some shows are strong enough to do without them, and White Collar is one that is that good. I'll see how season three plays out (you can read my review of the season premiere here) but hopefully it won't keep moving from one season-long subplot to the next each year.
Where White Collar really left me shaking my head was in the introduction of Sara Ellis (Hilarie Burton) in a "sexy arc" (their words, not mine), an insurance investigator with a healthy dislike of Neal...until, of course, they fell for each other. Been there, done that and I've seen it done better. It left me just a bit more confused on this show, which had seemed like it was going to pair Neal with Alex Hunter (Gloria Votsis). Burton, however, got the nod and a series regular gig in season three to boot. Personally, it's not a decision that I agreed with (you can read my initial take from after the announcement was made).
Having said that, one misstep - even if it is a considerable one - is not enough to dissuade me from recommending this season of White Collar. The heart of the show is the chemistry between Bomer and DeKay, and they continue to do wonderful work each week, even in some of the season's weaker episodes. It's worth checking out if only to watch these two alone. Everything else is just icing on the cake - fun, funny, sometimes surprisingly poignant icing.
The DVDs
FOX Home Entertainment has put together a simple release for White Collar: Season Two, not unlike what they did for Burn Notice: Season Four (which dropped on the same date). The set is contained entirely within one hard case, the discs arranged flipbook-style therein. It's easy to handle - free of any packaging issues or clutter. This also means no booklet, but episode titles and locations of special features can be found on the inside front cover. Just make sure you know your episode titles or you might be a bit lost!
The menus are simple and easy to navigate, but the music gets a little annoying after awhile. There's a "play all" option but no scene selection.
Specs-wise, this almost resembles Burn Notice. Almost. You get the same video and audio (1:78:1 widescreen, English-only 5.1 Dolby Digital), but less subtitles. White Collar offers only English SDH, Spanish and French - no Portuguese on this set.
I had some initial problems getting the first disc to play in my DVD drive, but taking it out and putting it back in seemed to solve them. You'll also get four forced trailers: one for Burn Notice (season three?!?), one for other 2oth Century Fox shows (Burn Notice, The Unit, 24, Lie To Me, Bones, Dollhouse), one for FX shows (including Justified and the late Terriers), and a separate FX trailer for Sons of Anarchy.
The Special Features
The packaging for this set is a little misleading. A sticker on the front advertises "behind-the-scenes with Matt Bomer," which might lead you to think there's some sort of featurette with Bomer giving a set tour, or something of that nature. No such thing exists. You'll see plenty of Bomer interviewed in the other featurettes - and he is on the set in the "Anatomy of an Episode" one - but don't get your hopes up for a Bomer-centric special feature.
Having said that, there's a really nice array of bonuses on this set. Here's what's included:
Commentaries: There are three commentary tracks on this set - on "Point Blank" (with creator Jeff Eastin and stars Bomer and DeKay), the flashback episode "Forging Bonds" (with Eastin, Bomer, DeKay, Willie Garson and Tiffani Thiessen) and the season finale, "Under The Radar" (with Eastin, Bomer, DeKay, Garson and Thiessen). These are all great tracks, not unlike the ones for season one, but I would've loved to have seen some others particularly with some of the guest stars. I can't help but think Diahann Carroll on a track for "Countermeasures" would have been great, or that hearing from Gloria Votsis or Andrew McCarthy on "Under The Radar" would have been a treat. Still, these are wonderful additions to the set.
Deleted Scenes: The usual array of cut scenes.
Gag Reel: Last season's White Collar gag reel was hilarious, and so is this one. It's four and a half minutes of hilarity, particularly on the parts of Matt Bomer and Tim DeKay. A word of warning to the more sensitive among us - it does get a little blue, and includes a clip of a dog going to the bathroom. But I was laughing pretty hard at this particular set of bloopers.
Slick Willie: Though by the title you'd think the featurette is devoted to actor Willie Garson, it's actually focused on his character Mozzie. Garson and his fellow cast members speculate on who Mozzie is and what makes him tick. This runs just over five minutes and it's a fun little piece, if only to see what everyone else thinks about the enigmatic "criminal operative."
So Here's The Deal: Anatomy of an Episode: The biggest feature on the set. Nearly thirteen minutes focusing on the making of the season finale. Don't watch this until you've seen the finale, because it gives away most of the episode including the cliffhanger, but it is very cool to see some of the sets, how some of the bigger sequences came together, and all the people that make the show happen.
This set also features the same White Collar Roasts Burn Notice/Burn Notice Roasts White Collar featurettes that are part of the Burn Notice: Season Four set. Amusingly, though, while the White Collar pilot was on that release, there's no Burn Notice episode here.
The Bottom Line
Not quite as good as season one, but White Collar is still on my "to-watch" list every week, and this set contains a fair amount of fun extras. It's worth a pickup, especially since Amazon has both seasons available for the wonderfully low price of $34. If you've been waiting to jump in, now is the time.