TV On DVD: 'Treme: The Complete First Season' [Blu-Ray]
Today, HBO Home Entertainment releases the first season of the critically acclaimed Treme on both DVD and Blu-Ray. Here's a look at what's inside the four-disc Blu-Ray edition.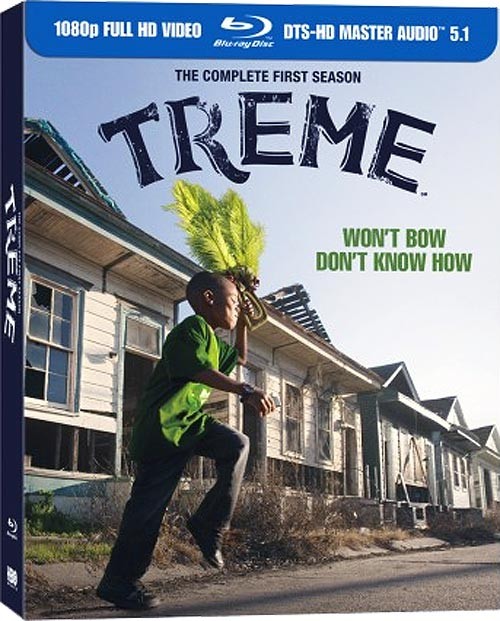 The Show
I've been a fan of David Simon's work since he was a Baltimore Sun beat writer who penned the book Homicide: A Year on the Killing Streets. Everything he's done for TV - Homicide: Life on the Street, The Wire, The Corner - has been fantastic, and Treme is no exception.
This series, set in New Orleans post-Hurricane Katrina, boasts an impressive cast. There's Khandi Alexander (The Corner, CSI: Miami, NewsRadio), John Goodman, recent award winner Melissa Leo (Homicide, The Fighter), Wendell Pierce (The Wire), and Steve Zahn amongst the lineup. There's not a weak performance in the bunch.
If you don't get choked up at some point during this story of ordinary people trying to survive in extraordinary circumstances, I venture to say that you might not have a heart. After all, as we've recently been reminded of with the tragedy in Japan, their story is a lot more universal than we might think. The specific disaster might change, but wherever you live, something devastating could happen to any of us at any time. And that's what makes Treme so compelling. It's not that hard to identify with one or more of the characters, and in turn, take stock of our own lives. Much like The Wire had its own messages about Baltimore and the people who lived there, Treme does the same thing for New Orleans.
The Blu-Ray Discs
The packaging for Treme resembles a DVD set more than a Blu-Ray set. It slides out from inside a cardboard case and the interior set folds out to reveal all four discs. The interior container has episode titles and credits, but no summaries and more importantly, no references as to which episodes the commentary tracks are on. (There are music commentaries within each episode, but only five standard commentary tracks.)
Also, the back panel - which details all the specs and special features - is just a cardboard overlay that comes off very easily. The only thing holding it in place is a small bit of adhesive on the front, under the Blu-Ray banner. The information on that panel is not duplicated on the physical back of the box, though, so you can either live with the cardboard flap, or get rid of it and look at a map of New Orleans. It depends on how much you need that list of special features and technical specs.
The disc menus also seem to be built more for looking good (and they do look good) than for functionality. Navigating them can be mildly difficult. The actual menu options reside in a small box in the lower left hand corner. Upon selecting "Episodes," you can choose either "Play All" or "Episode Index." But unlike most releases, choosing "Episode Index" doesn't give you a full menu of episodes on the disc - instead, you get the summary and options for the first episode on that disc and must use the arrows on your remote to navigate back and forth. There's no scene selection, but you can access a recap and commentaries, if any, from the episode menu.
It gets a little more confusing when you can access summaries for all ten episodes on each disc menu, not just the ones available on that disc. Once you've poked at it for a minute or two, you'll figure it out, but it's not the most user-friendly interface I've ever seen.
Technically speaking, however, this is an impressive release. It has the largest selection of available audio I've seen on any home release (for the episodes only, however). Audio tracks consist of English, French, and both Latin American and Castilian Spanish, all of which are at least surround sound (the English audio is HD). The subtitles are just as plentiful, with English, French, the two kinds of Spanish, Dutch, Brazilian Portuguese, Finnish, Norwegian, and Swedish. HBO has really made an effort to make this set accessible to the widest possible audience. The video comes home in widescreen hi-def. It's readily apparent, too: the musical performances sound great, especially if you crank the volume a few notches, and Treme is shot beautifully. If you have the option to do so, I would recommend the Blu-Ray upgrade.
One caution: this set comes with an insert that warns optimal performance may require you to have the latest software for your Blu-Ray player. Obviously, such a thing wouldn't be included if it wasn't important, so those of you who don't have the latest software might have to do some upgrading before this set will play.
The Special Features
Treme has an impressive array of special features. Two of them are Blu-Ray exclusive in-episode features (similar in function to the U-Control feature found on some Universal films):
Down In The Treme: A Look At The Music and Culture of New Orleans - An in-episode viewing option that sheds light on all aspects of New Orleans culture, from the landmarks to the cuisine. As someone who's never been to New Orleans personally, I found this particularly informative, because it helps fill in small details that enrich the viewing experience.
The Music of Treme - Another interactive viewing option which focuses specifically on the musical performances within the series. Music is a huge part of this show, and it's great to learn more about the truly beautiful songs and artists that we get to listen to.
Here are the features which are available on both DVD and Blu-Ray. As I don't have HBO myself, I can't say for certain, but I suspect that the first two are the two specials which aired on the network in March and April of 2010. (At least, they have the exact same titles, and it wouldn't make sense not to include them, to me anyway.)
The Making of Treme - This is the fairly standard "making of" feature that includes interviews with the cast, crew, and historians. It's one of the better such featurettes that I've seen when it comes to a TV series release.
Treme: Beyond Bourbon Street - Focusing on the specific neighborhood in question, you'll get a primer on the area's history, and why music and dance are so important. If you're not familiar with the music featured in the series, it might help to watch this one before you use the "Music of Treme" feature.
Five audio commentary tracks - A pretty neat gathering of people over five of the show's ten episodes. (Episodes 1, 3, 8, 9, and 10.) You'll hear from Simon, fellow producers Eric Overmyer, Nina Kostroff Noble and Anthony Hemingway, writer George Pelecanos (yes, the same one that's a successful novelist), actors Wendell Pierce, Khandi Alexander and John Goodman, and TV critic Alan Sepinwall. The inclusion of a critic on the set is a bit different (at least I've never seen it on any other sets I own), and I'm not sure that it was totally necessary, but at least it brings a more outside perspective to the table. Personally, I could listen to the actors talk about this show all day. There's something about John Goodman that's calming to me. Probably since I grew up watching Roseanne.
Music commentaries - Within each episode, two music personalities (WBGO's Josh Jackson and NPR Music's Patrick Jarenwattananon, who wins for one of the longest single last names ever) talk about select musical performances. Since we also have the "Music of Treme" feature, this is a bit of content overlap (if you're like me and not musically inclined, these may not be of particular interest to you), but it's nice to get a different perspective.
All in all, this is a very thorough set of special features, that not only provide insight into the series and how it was created, but the real New Orleans and its culture. If you're like me and you consider television an experience that goes beyond your entertainment, you'll really sink your teeth into this set.
The Bottom Line
Highly recommended. This is a great show, and the special features are both interesting and educational. Not only did I feel like I'd watched a piece of great drama, I felt like I'd learned something about American culture that I didn't know before. If you love TV that makes you think, this is worth the blind buy.