TV on DVD: 'Top Gear: The Complete Season 15'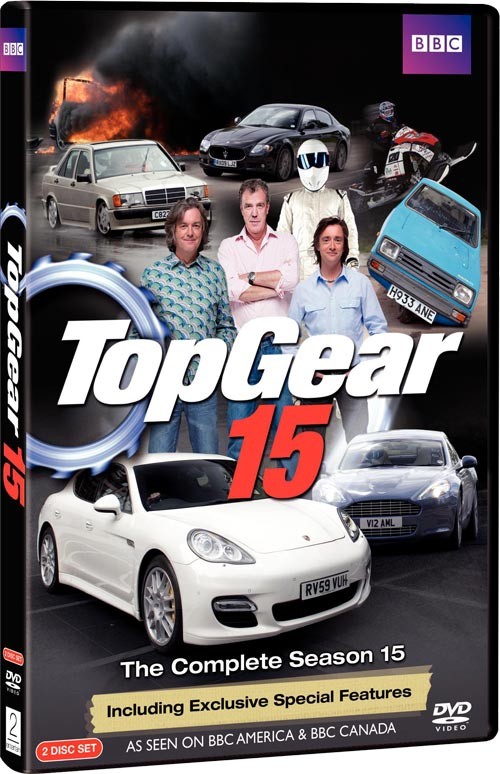 On the same day that BBC Home Entertainment released the complete Season 14, they're also giving us Top Gear: The Complete Season 15 (catching viewers up with what's currently airing on BBC America). Here's a look at what's inside the two-disc, six-episode set.
The Show
There isn't much more that I can say about Top Gear that I haven't already said in the previous review of season 14. It's a uniquely awesome show that is unlike anything else on TV, and there are reasons that it's now become a global phenomenon with several copies (including the US version aired by History).
Season 15 is another fun season; my favorite episode is 15.04, in which Jeremy makes the most ridiculous motorhome I've ever seen in my life. Top Gear + caravans = instant classic in my book. After that, Tom Cruise and Cameron Diaz arrive in 15.05, and in the season finale, there's a poignant moment as Jeremy, Richard and James set out to prove that British sports cars aren't terrible. Top Gear doesn't really have a bad season; every series is peppered with fun challenges, outrageous mayhem and of course, The Stig. (This is the final series for Ben Collins as White Stig 1.0, if you're keeping score.)
Also, Formula One driver Rubens Barrichello turns up - which is funny if only because it's said in 15.05 that the Stig "spent all week pushing an effigy of Rubens Barrichello through his desk fan." You have to love the timing.
If you're a Top Gear fan, then you know what to expect from this set. If you're not, it's as good as any other to jump on board with.
The DVDs
This set is comparable to the Season 14 set, for both good and evil. The discs - amusingly, disc one sits on a separate panel instead of in Season 14, where it was set on the inside front of the case - still say merely "Episodes 1-3" and "Episodes 4-6," and there's no insert to help you recall which is which. The box text is a little sloppy again, too; the celebrity laps extra is referred to as "Celebs In A Reasonably Priced Car Behind The Scenes," when the segment title on the show is "Star In A Reasonably Priced Car," and on the DVD menu itself, it's listed just as "Celebrity Laps." Especially without an insert to consult, having a consistent name would help with finding features.
As with previous releases, there is a note on the back of the case that says "For clearance reasons, certain edits have been made." Since I saw these episodes in the US and not UK broadcast, I can't say what those edits specifically are for sure, but they didn't dampen my enjoyment of the show. Allegedly, the Blu-Ray versions have been rumored to be uncut, but I haven't been able to verify that and it wouldn't seem to make sense to release one format edited and the other one not edited. I certainly wouldn't let the edits hold you back from owning at least the majority of the episodes.
There's the usual forced trailers here that come with every BBC release, but they can be skipped over.
Presentation-wise, this is another solid release from BBCHE. Video is in 16:9 enhanced widescreen, and looks good; I have no complaints about the audio either.
The Special Features
We're finally getting special features on Top Gear DVDs. There are less individual features here than Season 14, but there's more overall content. Here's what you get:
James May's Journey (Disc 1): James takes us with him as he drives to the Top Gear studios. We all know how fun driving with James May is.
Celebrity Laps (Disc 2): Similar to Season 14, these are glimpses on the track as the celebrity guests do their laps. These are still fun.
Featurettes (Disc 2): There aren't, strictly speaking, any "featurettes" on the last disc. It's more a collection of clips and outtakes from throughout the series (things like "Bubble Car," "James Cooks Volcano Lunch," and "Motor Homes - Bees Outtake"). Not only did I have fun watching these deleted scenes, I think most of them are longer than the featurettes on the last set.
There is still that weird glitch where the subtitles like to come on at the very end of some of the deleted scenes. It's not all of them this time, but it does happen and I still have no idea why.
The Bottom Line
Recommended. You can't go wrong with Top Gear, ever. If you watch the show, you probably already own this. If you haven't, it's going to be the best $14.99 you've ever spent.