TV on DVD: 'Top Gear: The Complete Season 14'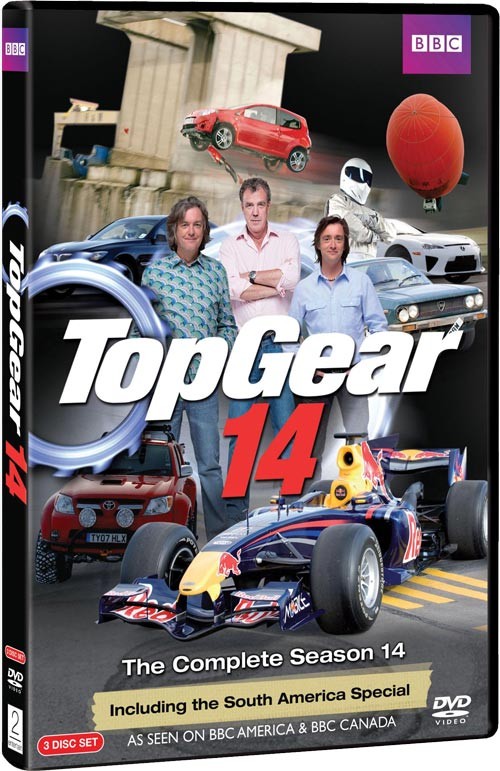 The boys are back. BBC Home Entertainment has released Top Gear Seasons 14 and 15, just as Season 16 begins airing on BBC America. Jeremy Clarkson, Richard Hammond and James May return to show us how great cars are - and how much trouble they can get in with them - in the seven-episode, three-disc set for Season 14. I've got the rundown on what's inside.
The Show
Top Gear is one of the best things to ever have come out of the United Kingdom. Even if you don't know anything about cars, you should watch this series, because it is so much more than a motoring show: it's a wild and crazy adventure that cars just happen to be at the center of.
The show boasts a trio of hosts who cannot be duplicated - the loud and power-hungry Jeremy Clarkson, the directionally challenged former pianist James May, and Richard Hammond, the former radio DJ who is ridiculously adorable. The three of them love cars, and they also all like each other, in the way that family members constantly rib on you and plot horrible things to do to you. Half the fun is watching the three of them interact with and plot against each other, making each other laugh and curse in equal measure.
When they're not bantering with each other, Jeremy, Richard and James are causing vehicular mayhem in the world at large. To show us why they love cars so much, and what they can do, they're often participating in larger-than-life races and challenges. In this series, for example, Richard decides to speed up your time at the airport by introducing "airport vehicle motorsports," the team takes some used cars in a journey through South America in the "Bolivia Special," and we learn how not to make and test your own car.
In addition to that, the series features interviews with various celebrities, who are then nudged out onto the Top Gear track in a segment called "Star In A Reasonably Priced Car."
If you like cars, British humor, or just people seeing what kind of trouble they can get into, you'll love Top Gear. There's a reason it's lasted almost a decade and is still going strong: it's unbelievably brilliant.
The DVDs
The packaging for this set borders on infuriating me, because it seems like it was thrown together very quickly without much forethought. What do I mean by this? For one, it's one of the more annoying as a consumer. The episodes are listed on the discs and menus as "Episodes 1-7," so if you don't know the episode numbers, you're out of luck. It's a big flaw, considering that episodes are probably best remembered by a particular challenge or celebrity appearance (in my TV listings, for example, they're listed with the celebrity's name as the title) - so a little insert could have gone a long way here.
In addition, the packaging has disc 2 sitting half on top of disc 3, so you have to remove disc 2 in order to do anything with disc 3 - a minor inconvenience, but one nonetheless.
Furthermore, there are a few errors that make me think someone didn't quite proofread what text there is. The Bolivia Special is referred to as the "South America Special" on the box, but "Episode 6" on the disc menu - especially annoying considering that's the one with the commentary track. In the special features listing, it says "Celebrity Lap Behind The Scenes," when they are actually two separate things - "Celebrity Laps" and "Behind The Scenes." These things just make the packaging look sloppy.
Having said that, the actual DVD content is great. It's just as fun as I remember from the original broadcasts. The presentation for Top Gear looks wonderful - 16:9 widescreen, with considerable detail visible on my HDTV, down to the pores on Richard Hammond's forehead. I can only imagine that it looks even better in Blu-Ray.
The Special Features
There's finally a selection of special features on the Top Gear DVDs - now if they weren't mostly brief clips. It's a bit of a disappointment; if you read the back of the box, you might think it comes rather loaded, but that's not the case. There are some great features here, but many are just scraps from the cutting room floor. All of them, with the exception of the commentary, are on the third disc.
Here are the substantive features:
Polar Special: The entire "Polar Special," in which our team decides to go to the North Pole.
Commentary Track: James May leads a group of staffers, including TG boss Andy Wilman, in commenting on the Bolivia Special (Episode 6). Sorry, no Clarkson or Hammond to be had. Yet it's still the best feature on the set in my opinion. (For some reason, this is labeled as "South America Special" on the box and "Episode 6" on the DVD menu, but is noted as "Bolivia Special" everywhere else I've seen it.)
Celebrity Laps: Little pieces behind the scenes with the celebrities who appeared in this series (Eric Bana, Michael Sheen, Chris Evans, Guy Ritchie, Jenson Button and Seasick Steve) as they get out on the Top Gear track. This is some fun stuff, especially if you're a fan of any of the celebrities.
Then there's a selection of "featurettes" which aren't more than a minute or two long apiece. They're not bad, but they only serve to make me wish that they were longer.
Behind The Scenes: For some reason, this is mislabeled on the DVD case as "Celebrity Lap Behind The Scenes." This is a more general BTS clip, led by director Brian Klein. It's brief, involves an appearance from Jeremy being his usual self, and there are no celebrities to be had aside from a mention of Eric Bana.
Electric Wind Tunnel: A clip from when the boys tried to put the Hammerhead Eagle I-Thrust into a wind tunnel.
James' Jumpers: If you've ever raised an eyebrow at James' wardrobe, you can check out this brief clip of his latest ridiculous sweater.
James On Caravans: James gives a very brief explanation of why people hate caravans.
Lancia Breakdown: Jeremy and Richard try to salvage a broken-down Lancia. Longer than "James On Caravans," but not by much.
There's also a weird quirk: at least on my copy, right near the end of every one of the aforementioned featurettes, the subtitles come on by themselves. I've tinkered with this and can't seem to rectify the problem. With the clips being so brief, though, it's a minor inconvenience.
The Bottom Line
Top Gear the program is brilliant, but Top Gear the DVD sets have a long way to go. Recommended for the series itself, but I'd like to see better special features and someone taking a harder look at the packaging.