Take a trip back in time with BBC's The Hour, as the 1950's era news drama has now arrived on DVD and Blu-Ray.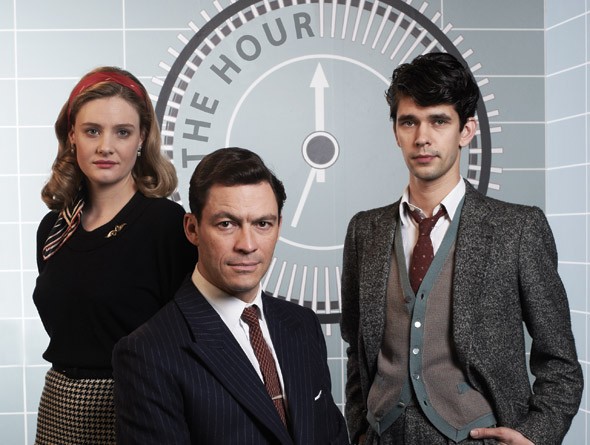 Starring Romola Garai, Dominic West (The Wire) and Ben Wishaw (Brideshead Revisited), The Hour is a period drama following the establishment of a new current affairs program at the venerable broadcaster. A second series has already been ordered.
I must admit that I was not sold on The Hour as were many other critics. Though I had high hopes from the critical buzz, I found the first hour to be slow and muddled, and there was nothing in it that made me want to come back for more. Not when it also veered into the predictable - another love triangle, really? I know I'm not alone; ratings slid every week, except for a slight bump up for the finale. This is not a show for people who aren't prepared to get into it for the long haul.
It's a shame, too, because the lead actors are decent (although I admit to having a hard time seeing West without thinking of The Wire), and there's a supporting cast here full of familiar faces. There's Anna Chancellor (Spooks, Fortysomething), Julian Rhind-Tutt (Keen Eddie), and Burn Gorman (Torchwood). Gorman, in particular, does unnerving very, very well. That's one plus for The Hour: even if it's not your cup of tea, fans of British television in general will spot a face or two.
The DVD version comes with only two bonus featurettes: one predictably devoted to the style of the series, and a "behind the scenes" piece - the things that you'd expect on a set of this nature. They're interesting enough, but not features that I would consider watching repeatedly. The latter, in particular, I wouldn't watch until you've seen the whole series.
I'd love to have heard some commentaries, especially since writer Abi Morgan has admitted in press that some parts of the scripts "haven't worked"; that's a refreshing honesty, and I'd love to hear more about why she thinks that and what she might do instead. If I can't grasp the final product, I'd at least be interested in understanding her process. Alas, it's not to be.
Presentation on the DVD is decent. It does the job, which is enough, but I would not call it a remarkable transfer. I didn't get to see the Blu-Ray, but owning other Blu titles from the same studio, I'd say the Blu would be worth the upgrade - particularly since in The Hour there are quite a few dark rooms and shots.
All in all, The Hour is best left as a rental. If you've got the time to really sit down and attempt to engage it, perhaps you'll find the acclaimed drama that others have buzzed about. If you do, I'm glad to hear it. But for me, it just didn't come together.