TV on DVD: 'The Glades: The Complete First Season'
With season two upon us, FOX Home Entertainment brought home A&E's The Glades: The Complete First Season in a four-disc, thirteen-episode set. Here's my review.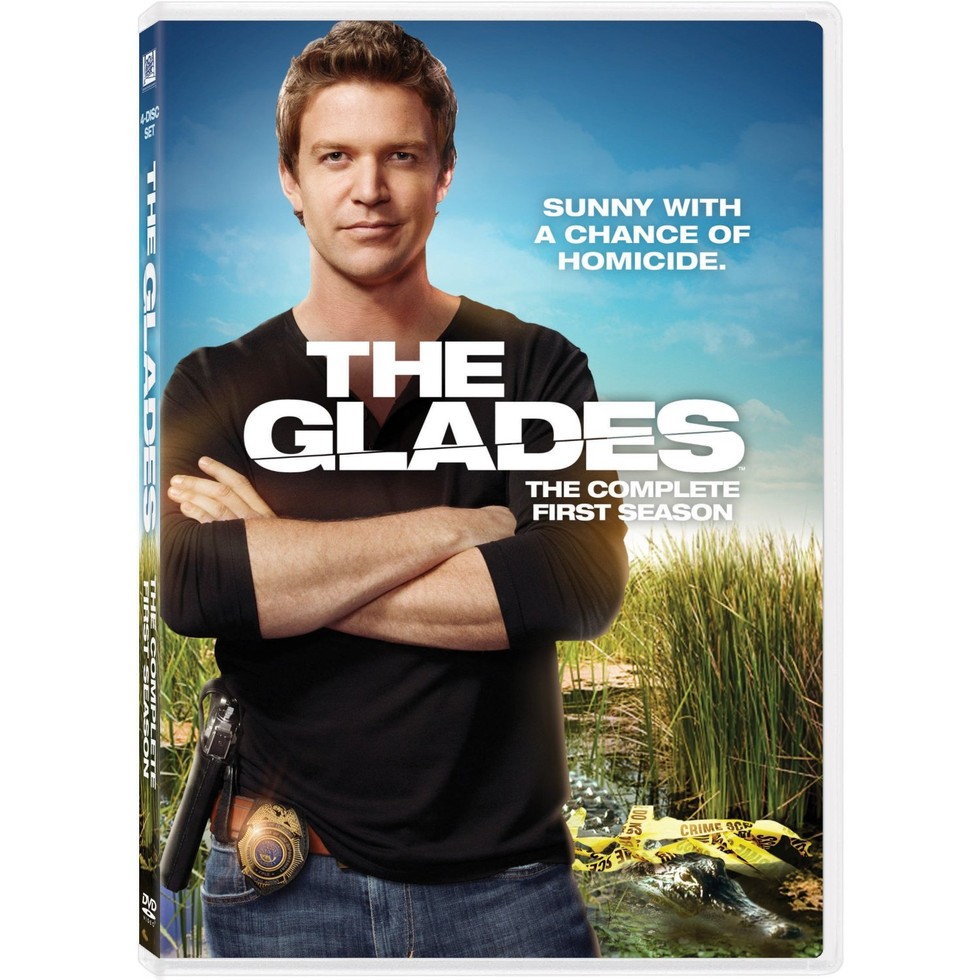 The Show
I have to admit that The Glades started a bit behind the eight-ball with me since two other shows I love are already set in Florida: Showtime's Dexter and USA's Burn Notice. Plus, main character Jim Longworth is a former Chicago detective, and I just saw a great crew of Chicago detectives on FOX's The Chicago Code. If it wanted to impress me, The Glades had to get past the familiar elements that reminded me of other shows.
Unfortunately, it didn't quite get there. I never warmed to Longworth (no offense to Matt Passmore, hiding an Australian accent pretty well...which only served to remind me of Jason Clarke from Chicago Code), who rubbed me the wrong way. My friend Gord Lacey described him as a "cocky ass" and I agree. I tend to look at my characters as I do my friends, and ask myself if I really want to spend time with this person each week. With Longworth, the answer was no, not really. The show did gain some brownie points back with the casting of former Law & Order: SVU star Michelle Hurd, though. I appreciated seeing her.
Characters aside, what I found here wasn't too much different from other cop shows that I've seen past and present, and that added up to me looking for a little more. It certainly improved as the season went on, but having seen almost every cop show for the past twenty years, I've found that I'm really hard to impress when it comes to that genre, just because I've become saturated with them. What it all comes down to is personal preference, and The Glades just isn't for me.
The DVDs
The show might have left me wanting, but these DVD's are the usual solid release from FOX. One colorful plastic case holds four discs arranged flipbook-style. You don't get a booklet - you'll refer to the episode titles printed on the inside front cover. Hopefully, you know which episode is which, because this release isn't helping you.
The bright packaging reflects the look of the show. It's very pretty on-screen (there's no mistaking that the show is actually filmed in Florida, except for the pilot, which was shot in Georgia) with plenty of views, and as such, this series looks great in home release, particularly on my HDTV. If I just watched the backdrops it might pass for a travel documentary of some sort. I can't say the same for the audio, though; at points I had to flick the volume up to hear dialogue over other things like music and background effects. It's not often enough to be a problem, but it is an annoyance.
Here come the specs: 1:78:1 widescreen video, with English 5.1 Dolby Digital audio. There are subtitles for English SDH, Spanish and French, but there's no additional language support. It's a reliable set and at least the foreign-language viewers aren't totally left out in the cold.
The Special Features
Fairly standard set of special features on this set - the kinds of things you'd expect from a first-season release, which do a general covering of all the bases.
Commentaries: Two of them. Creator Clifton Campbell is joined by Matt Passmore on "Pilot" and by Gary Randall on "Exposed." These aren't bad, but I've heard a lot better as well. I can't imagine that they're the kind of tracks you'd want to play more than once.
Deleted Scenes: Most of the deleted scenes are fairly substantive with this set. The shortest group is from "Breaking 80" at a minute and a half. But you get almost four minutes from "Bird In Hand," five-plus from "Doppleganger" and a whopping eleven from "Pilot," which also has commentary on said deletions. It's intriguing to see a set where there's a more substantive amount of bonus footage and not just a "blink and you missed it" type thing.
Casting The Glades: Pretty self-explanatory. Fourteen-plus minutes of cast and crew talking about how they got there. This is as close to a standard "making-of" as you're going to get.
Filming In The Glades: Again, self-explanatory. If you're a fan of any show that shoots in the Florida area (like the aforementioned ones), this eight-minute piece is worth a look for curiosity's sake alone. Pretty fun to see them do what they do in a location that isn't New York or Los Angeles.
Gag Reel: About five minutes of screwups and failures.
The Bottom Line
I can't bring myself to recommend this DVD set simply because it's just not that great of a show in my opinion. Having said that, fans of the show should be satisfied with the release. It could improve a few things but there's enough here to keep them entertained. Hopefully with the second-season set they'll be treated to a better audio mix and some more in-depth features. And for less than $30 it's hardly breaking the bank.