TV on DVD: 'Star Trek: The Next Generation' Returns to Blu-Ray with Season 2
Star Trek: The Next Generation continues its transition onto Blu-Ray with the release of Season 2. Just a few months after the release of Season 1 on Blu, the sophomore year of the classic sci-fi series arrived Tuesday with more episodes and fresh extras that will once again delight any Star Trek fan.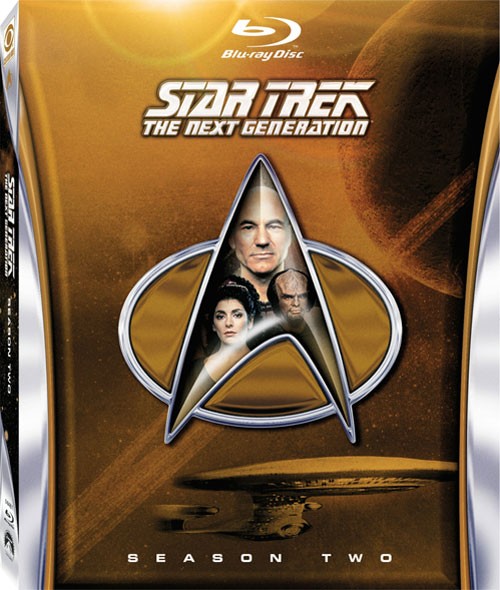 The major selling point of the TNG re-release (as the complete series has been available on DVD for some time) is the improved transfer available with Blu-Ray, which is worth every word of the promotion it has received. The episodes come to Blu with brighter colors and sharper clarity. Sound is likewise impressive.
Season 2 is put together with the same respect for the legions of TNG fans as the previous Blu-Ray release. There aren't a lot of extras on the set, but the ones that are included are quality bonuses. There is a longer version of 'Measure of a Man' featuring considerable additional minutes that didn't make it to air (more on that follows), which is accompanied by an audio commentary track.
Bits and pieces of other footage are included, such as a blooper reel, various deleted scenes, the behind-the-scenes segment that aired on Reading Rainbow, episode promos and more than an hour featurettes ported over from the DVD release - which consist of mostly cast and crew reflecting on the season as a whole and specific episodes therein.
New for Blu-Ray are two high-definition featurettes that should be prized by any TNG lover. 'Making It So' is an overview piece which discusses continuing  the series after its successful first season, including discussion of the producers' decision to replace Gates McFadden with Diana Muldaur. 'Reunification' is a cast reunion with Patrick Stewart, Jonathan Frakes, Marina Sirtis, Michael Dorn, LeVar Burton, McFadden and Wil Wheaton, where the actors are largely left alone to riff on one another and reflect on being a part of the Star Trek franchise. Both films are substantive and well worth watching more than once.
The set has audio tracks in English, French, German, Castilian Spanish, Italian and Japanese. Subtitles are in those languages plus Danish, Dutch, Finnish, Norwegian and Swedish.
It's an expensive collection - currently just shy of $70 - but certainly worth the purchase price if you held off buying the DVD edition, and possibly for a double-dip if you're a die-hard TNG fans who wants to see the series at its best. This is the definitive release for Season 2.
To celebrate the release of the Season 2 Blu-Ray, Fathom Events recently held a one-night engagement entitled Star Trek: The Next Generation - A Celebration of Season 2, which presented two episodes from the season in theaters, in their restored versions, as well as sneak peeks at several of the Blu-Ray's bonus features.
The Fathom event was the first chance for fans to see Season 2 in its restored format, with an extended cut of the 'Measure of a Man' boasting more than 10 minutes of new footage, in addition to 'Q Who?', the installment which introduced The Borg to the Star Trek universe. Both episodes featured introductory comments by key personnel, including 'Measure of a Man' writer Melinda Snodgrass and 'Q Who?' director Rob Bowman.
Fans can rest assured the Enterprise-D will continue its new mission: the evening closed with a promotional spot for Star Trek - The Next Generation: Season 3, which will be available on Blu-Ray in 2013.
Star Trek: The Next Generation - Season 2 is available now. You can order your copy by clicking this link.
For more from Brittany Frederick, visit Digital Airwaves and follow me on Twitter (@tvbrittanyf).
(c)2012 Brittany Frederick/Digital Airwaves. Appears at Starpulse with permission. All rights reserved. No reproduction permitted.