TV on DVD: 'Star Trek: The Next Generation,' 'Burn Notice,' 'White Collar,' 'Leverage' & 'Boss'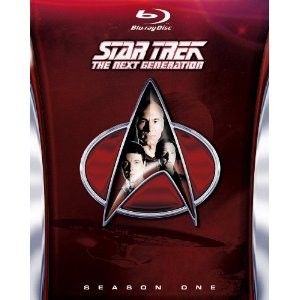 July has been a great month for TV home-video releases, from the eagerly anticipated Star Trek: The Next Generation Blu-Ray to fan favorites like Burn Notice, White Collar and Leverage. Here's an inside look at all those titles, as well as Starz's Boss and Acorn Media's James May's 20th Century.
Star Trek: The Next Generation - Season One [Blu-Ray]: This is the release that Star Trek fans have been waiting for. As we celebrate Next Generation's 25th anniversary, its inaugural season looks near-perfect on Blu-Ray, down to astonishing levels of detail in special-effects shots. There's clearly been great care taken with this collection, which also includes new material such as an almost two-hour featurette with plenty of interviews and another that explains the show's transition to Blu-Ray. The icing on the cake is that the special features from the DVD release have been ported over plus the $59.99 price isn't much more expensive than the going rate for some other TV seasons. This is one of the rare times I'd advocate double-dipping. (Buy it on Amazon.)
Burn Notice: Season Five: USA's most consistent series gets a workmanlike DVD release for its fifth season: not a must-own, but with enough bonus features to satisfy fans. In season five, the reliable cast has plenty of material to chew as Michael Westen (Jeffrey Donovan) gets back in with the CIA but finds out it's not all it's cracked up to be. Not every episode is great, but there's still plenty to watch. All eighteen episodes are included in four discs, with the standard deleted scenes and a gag reel. The two major bonuses are a featurette on the show's many colorful villains and one commentary on the episode "Fail Safe," which is entertaining. (Buy it on Amazon.)
White Collar: Season Three: Much like its network sibling Burn Notice, White Collar gets a home-video treatment that isn't packed but isn't bare-bones. Its third season is the show's weakest, but still has some bright spots, namely the continued chemistry between the cast, star Tim DeKay's directorial debut with the installment "Stealing Home," and the Mozzie (Willie Garson) centered episode "Dentist of Detroit." The set comes with deleted scenes, a gag reel, a commentary on the season finale, a feature on series creator Jeff Eastin and Twitter, and an amusing trivia challenge with the cast. (Buy it on Amazon.)
Leverage: The Fourth Season: Season four of TNT's Leverage has some of the show's best episodes ("The 10 Li'l Grifters Job," "The Van Gogh Job" and "The Office Job"), and the DVD release is chock-full of bonus material that will keep fans happy for awhile. FOX Home Video has included commentary on every episode of the season, plus a look inside the Leverage writers' room, a parody and the usual deleted scenes and gag reel. There's plenty of material to dig through here, all of it with the same light-hearted irreverence as the show. Particularly as TV on DVD sets feature less and less commentary tracks, it's great to see a TV season that has more than enough of them, and good ones besides. (Buy it on Amazon.)
James May's 20th Century: Fans of the BBC's Top Gear or those who are just die-hard geeks will enjoy presenter James May's exploration of how various technological advancements shaped our lives. May's deadpan wit makes watching 20th Century much more entertaining than your typical documentary program, and the six parts will seem to go by a lot faster than they actually do. This set is refreshingly geared toward not just entertainment but education. There's an hour and a half-long bonus program, plus a twelve-page viewer's guide and the studio's website has learning questions available for educators. This is exactly the kind of program I wish they'd have shown during my school days, because it's purely joyful learning. (Buy it on Amazon.)
Boss: Season One: The Starz original series isn't for everyone, as none of the characters are all that likeable, least of all the protagonist, Chicago mayor Tom Kane (Kelsey Grammer). Yet if you can get past that, there's an interesting, thorny political yarn here, including a breakout performance by Jeff Hephner (Hellcats) as Ben Zajac, the state treasurer angling to become Governor. Grammer is downright villainous and Hephner provides a necessary contrast with his charisma. The shame here is that the attitude of Boss the show is also reflected in the special features of the DVD set; both revolve around Grammer, with only a bonus feature about his character and some crew commentaries as extras. (Buy it on Amazon.)
Stay tuned for more TV on DVD and Blu-Ray releases!
For more from Brittany Frederick, visit my Starpulse writer page and follow me on Twitter (@tvbrittanyf).
(c)2012 Brittany Frederick/Digital Airwaves. Appears at Starpulse with permission. All rights reserved. No reproduction permitted.