TV On DVD: 'Royal Pains: Season 2'
Universal Studios Home Entertainment recently released the sophomore season of USA's Royal Pains on DVD (just in time for the premiere of season three, of course!) The four-disc set contains all eighteen episodes from season two plus a handful of bonus features. Here's my review.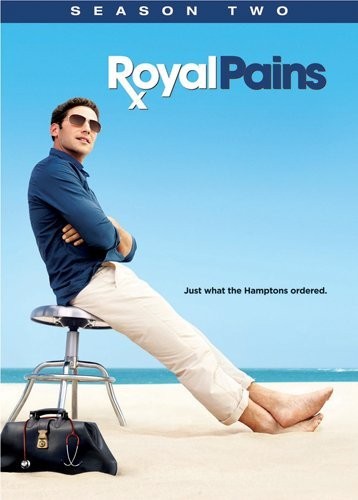 The Show
I checked out Royal Pains when it first premiered, and it was the first USA original series that didn't catch on with me. It wasn't necessarily bad, but not a strong enough show to grab my attention. Digging into season two, that's still the case. It's not a misfire, just not my cup of tea. (I know a friend of mine who loves the show.)
If you haven't seen it before, the series revolves around Dr. Hank Lawson (Mark Feuerstein, who will always be Cliff from The West Wing to me) who works in the pricey Hamptons as a "concierge doctor" to the rich, handling their predictably strange maladies. For example, there's an episode where everyone on a reality show falls ill and it's Hank to the rescue. In that sense, it's kind of a kinder, gentler, better-looking House where no one is bringing up lupus. Having watched the early years of House I felt like that show sort of ruined Royal Pains for me; there had to be some weird issue and then an equally unconventional solution. This isn't the fault of Royal Pains - if Hank was treating colds and scrapes all season, it'd be a radically different show - but it still gave me feelings of deja vu.
Hank's surrounded by his predictably not-so-straight-laced brother Evan (Paulo Costanzo), and a pair of lovely but also capable women in Jill (Jill Flint, The Good Wife) and Divya (Reshma Shetty). Jill is the obvious love interest, the way that it was clear Juliet would eventually get together with Shawn from the early episodes of Psych. Hank and Evan also have an obviously estranged father (Henry Winkler). That brings me to one of the things about Royal Pains I can't shake: while all the characters are watchable, I can't help but feel like they fit too easily into stereotypical little boxes, or at best, character archetypes I've seen before on other shows.
That's not to totally condemn the series. It's harmless fun, with the occasional touching moment, and it's set in against a beautiful backdrop in a world most of us probably will never experience. If you're looking for something to relax with (not unlike you would with, say, a good novel at the beach), this is a show that would work perfectly for that. But in my book, there's not that one unique thing that reaches out, grabs me and makes me want to watch it - and that's what I'm looking for.
The DVDs
If you saw the promo art for this season of Royal Pains, you know what to expect from the box art - it's the same thing. That seems standard for most releases of USA series. The box itself is pretty functional: one cardboard slipcover contains two hard cases, with two discs each. Basic? Yes, but it does the trick.
All the information that would be in a booklet is on the back of the individual cases. You'll find episode titles and brief summaries, as well as lists of what special features are on which disc - without worrying about misplacing any inserts. It's a pretty great job except for one thing - it doesn't mention which episodes the commentaries are on, or who's on the tracks. Neither does the back of the box. You're going to have to pop in the discs and find out for yourself. Minor inconvenience, but it is an inconvenience.
The menus are easy to navigate, and simply designed. For example, I can get to said episode commentary either through the special features menu, or through the episode index. The episode index also shows which episodes have deleted scenes and/or commentary. (Somewhat similar to how Friday Night Lights was done.) There's one hitch: if you access the commentary on disc one through the special features menu, you'll get a screen that will tell you who is on that commentary track; if you access it through the episode index, the episode will just start playing and you'll have to wait until they introduce themselves. Again, it's minor but it's another little thing that might annoy some people.
There's a "play all" episode option, but no scene selection. There's also a forced trailer for The Office on disc one that can be skipped. (Like many USHE releases, there's a "previews" batch of ads you can access from the disc menu.)
Stats-wise, you're getting 1:78:1 widescreen video, with Dolby Digital 5.1 audio and English SDH subtitles. Here comes another pet peeve: English is the only language supported with this set - and not even entirely, as the box notes that some of the special features aren't subtitled. I don't know what it would take to subtitle all of the bonus features, or to add another language track, so I can't really say if it would be plausible to change the specs, but it's unfortunate for the viewers who are hard of hearing or for whom English is not their first language.
The Special Features
There's a decent array of special features here, but most of the featurettes are fairly short in length and there are only three commentary tracks. I definitely would have liked to have seen more - as it is, they're the kind of things that you watch once and probably don't need to see again.
Commentaries: For "Medusa," "Open Up Your Yenta Mouth and Say Ah," and "Fight or Flight." These feature EP's Michael Rauch and Andrew Lenchewski, and series star Mark Feuerstein. (Lenchewski is not on the "Fight or Flight" track.) They're interesting enough - Feuerstein is funnier than I expected - but they're not outstanding commentaries. It would've also been nice to see some different participants as well.
Deleted Scenes: There are deleted scenes for 13 of the 18 episodes. They range from actually long (the ones from "Open Up Your Yenta Mouth And Say Ah" clock in at over four minutes) to amusingly way too short ("The Hankover" comes in at a mere nineteen seconds). As with most deleted scenes, well...they were deleted for a reason.
Gag Reel: I love gag reels. I really do. This one, at just under two minutes, is a little on the short side.
Guest Starring: Seven minutes of the cast talking about the season's guest stars, who include Mary Lynn Rajskub (24) and Peter Jacobson (House).
Location, Location, Location: Four minutes on the Hampton homes the series shoots in. In particular, I would've liked this one to be a bit longer as it seems there's a lot more that could have been talked about.
Q&A: The one really long special feature, this is over twenty minutes of the cast and crew answering assorted questions. If you've been to the USA site and seen the Q&A videos they post for some of their shows throughout the season, this is reminiscent of those.
The Bottom Line
If you're a fan of Royal Pains wondering whether or not the DVD's beat your DVR recordings, the answer is yes, though not overwhelmingly - the special features are nice, but they're not memorable. If you haven't seen the show and are considering a blind buy, I'd rent first. Not unlike the DVD set, the show's not bad, but it might not grab your attention either.