TV On DVD Roundup: The International Edition
There's another British program that arrives on DVD today, and it's Acorn Media's
Northern Lights: The Complete Collection.
when this aired on BBC America years ago, it became an instant family favorite for me and mine, so I'm glad to finally have it to own.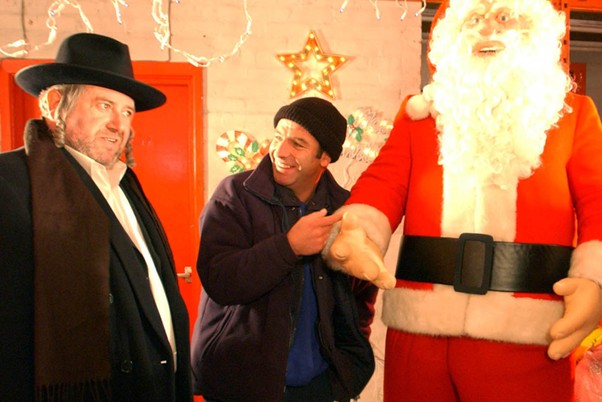 For those of you who missed it, the show stars Robson Green (Wire In The Blood, Touching Evil) and Mark Benton as two guys who were competitive when they grew up together and are still that way as adults. The gist of the original special was the two of them trying to outdo each other's Christmas light displays much to the chagrin of their long-suffering wives (who also happen to be sisters). It seems like a cutesy idea, but it really is fun and funny, and the subsequent outings keep that good humor, although they do start to get a little ridiculous with the premises.
If you only know Robson Green from his dramatic work, you'd be well advised to pick this one up, because he gets to show his comedic talents off. Benton makes a good foil for him, and they play off each other quite well. This is one of those shows that's just a simple good time, and even if it gets a little ridiculous, it's always charming.
The title is a bit unintentionally misleading, because the series started with the one-off special Christmas Lights, and then the two series Northern Lights and City Lights, but they're all included here as is the other special, Clash of the Santas. The only bonus is a behind-the-scenes piece for Northern Lights, but it runs about 45 minutes so at least it's sizeable bonus. The transfer is another solid one from Acorn, the people who have brought you the likes of Rebus, Bonekickers and Midsomer Murders, to name a few.
Right now, this set is priced at $41, which isn't bad considering that you're getting two specials and 12 episodes (which amounts to about 12 hours of programming) plus the bonus, and we're talking about a series that you probably won't see on television again. If you're looking for something light and funny, or something you can watch with your family, Northern Lights is a series you'll be interested in. You can purchase your copy of Northern Lights: The Complete Collection here.
Read on as we go into space...