TV on DVD Roundup: 'Blue Mountain State,' 'The Real L Word' And More
Here's what's new in the world of TV on DVD: college mayhem, archaeologists, starship captains and lots of sex. Read on for looks at Blue Mountain State, The Captains, The Real L Word, Queer as Folk UK and more...
Blue Mountain State: Season Two (Lionsgate)
Spike's original series Blue Mountain State is one of my guilty pleasures. It's vastly inappropriate and doesn't always make sense, but it doesn't pretend to be anything other than a hilariously good time. In season two, slacker QB Alex Moran (Daytime Emmy winner Darin Brooks) is stuck trying to keep egotistical "star player" Radon Randell (Page Kennedy) out of all kinds of trouble in order to ensure the success of the BMS football team on the field. Meanwhile, team captain Thad Castle (Smallville's Alan Ritchson) continues to yell, throttle and sometimes cry his way through things.
The important thing about BMS the series is that you have to take it for exactly what it is, nothing more and nothing less. Some episodes don't even have much of a story, and the characters and circumstances are often exaggerated - but this is broad college humor at its best, not your traditional sitcom. My favorite episode, the season finale "Riot," basically throws everything out the window not unlike the final chaotic scenes of National Lampoon's Animal House. Season two especially benefits from the arrival of Denise Richards as Coach Daniels' (Ed Marinaro) ex-wife, Debra, who's moved on to sleeping with the coach's boss. Richards and Marinaro have a great love-hate relationship and she antagonizes everyone else for good measure.
Season two's set is slim when it comes to accessibility (only closed-captioning and no additional language support) but the transfer is pretty good. I'd normally wince at any set that only includes a gag reel and deleted scenes, but because this is Blue Mountain State, those normally basic bonuses are pretty awesome - and even more outrageous at points than the stuff that did make it on the air.
If you haven't discovered Blue Mountain State yet and are looking for some shameless laughter, definitely pick this set up. Don't miss season three either, which is currently airing on Spike Wednesday nights at 11 PM ET/PT.
Bonekickers [Blu-Ray] (Acorn Media)
If you're into the Indiana Jones franchise, or even just have a love of British television in general, you'll want to take a peek at Bonekickers - a six-episode series from ITV about a team of archaeologists. It was not commissioned for a second series, so these six are the entire run.
While the writing deserves some of the broad criticism it received, I found the show to be a fun diversion. It's got a cast of familiar faces, including Adrian Lester (Hustle) and Gugu Mbatha-Raw (Doctor Who, Undercovers), and guest spots by Eamonn Walker (Oz) and Burn Gorman (Torchwood, The Hour). As someone who still wishes Gorman hadn't been killed off Torchwood, I'm always happy to see him, and the others aren't slouches either. I can see why the show got axed, but that doesn't mean it isn't worth checking out if you're looking to be entertained.
Bonekickers actually came out on DVD awhile back, but Acorn Media has re-released it now as a Blu-Ray set. There's a distinct improvement in picture and sound quality as a result. The sole bonus feature here is some behind-the-scenes material, so I wouldn't say that anyone who owns the DVD version should worry about upgrading to Blu - but if you haven't bought it yet, Blu is the way to go here. There's no foreign-language accessibility, but you do get SDH subtitles, and the improved picture helps with some of the darker scenes and intricate details.
The Captains (Entertainment One)

William Shatner's film about the commanding officers of the Star Trek franchise generated a lot of buzz when I was at this year's San Diego Comic-Con. It's easy to see why, as he has pulled together this documentary that sees him interviewing almost all the people who have gotten to sit in the big chair, including the most recent, Chris Pine. (I say "almost" because die-hard Trek fans will remember that Jeffrey Hunter was actually the first captain - in the original series' first pilot before being replaced by Shatner.) Even the production company's name is a nod to that prestigious role: "Le Big Boss Productions."
Admittedly, I have never been the biggest Shatner fan - and as someone who grew up with The Next Generation, I always preferred Picard, and later Janeway, to Kirk. Having said that, whatever your opinion on Shatner is, this is still a really fun documentary to watch. It's informative in that we get to see all these actors and what they're up to well after their Trek experiences have ended. But as a Trek fan, or even if you're not, it's fascinating because all of these people are part of a small group that has been immortalized forever. They will always be the captains, no matter how much distance they put between themselves and those roles (just ask Leonard Nimoy, who once wrote a book bluntly titled I Am Not Spock). It's a reminder of how much of an impact pop culture can have on our world.
The only bonus feature is a "making-of" featurette - which is in itself fun to watch - and there's no foreign language accessibility (but there are SDH subtitles). Still, this is something all Trek fans should pick up...and so should anyone who's interested in what makes a cultural phenomenon and how it touches the people who are involved in it.
Gigolos: The First Season (CBS DVD)

Showtime brings out two different reality titles this week, the first being Gigolos. When I reviewed the first three episodes prior to its debut, I wasn't that impressed with this show about male escorts. Having now seen all eight episodes included on this set, I'm still not that interested. It's not about the obviously explicit sex - you can't say you weren't warned by the title. My major issue with Gigolos is that, outside of a moment here or there, I just can't get invested in.
There are points where I kind of get them (there's a touching subplot about Steven being a single father, and another when Jimmy seems to have found a girl who finally understands his job), but they're largely washed out by the oftentimes ridiculous things that make up the bulk of episodes. There are so many "are you kidding me?" things that people have started to wonder if the show is actually scripted. I don't know one way or the other, but I do know it just doesn't stick for me.
That probably has to do with the fact that, bottom line, this show is about sex, not necessarily about the guys as people. It seems like at times it wants to be that kind of show, and then we end up showing more sex and the most distracting fake tan in the history of TV.  I was expecting more heart and less...other parts of the human anatomy, and that's where Gigolos loses me.
The set is pretty much bare-bones as well. You have cast biographies as the only bonus, with the only support for a language beyond English being a Spanish mono audio track; there are no foreign subtitles. While the presentation is decent, especially in those shots of the glitzy Las Vegas strip, there's just not enough here - set or show-wise - for me to recommend you do more than rent it if you're curious.

The Real L Word: The Second Season (CBS DVD)

This is another Showtime reality series - and one that I was less interested in than Gigolos, because I found the participants even less relatable. At least with Gigolos, the guys are sleeping around because they're paid to do so. With The Real L Word, everyone seems to be sleeping around because they don't have a clue. In the first episode, there were so many references to people's girlfriends, ex-girlfriends, best friends, friends of friends, etc. that I would have had to break out a flowchart - if I had cared enough to do so, but I didn't.
My major complaint about The Real L Word is that if I didn't know it was reality, I'd swear it was bad scripted television. It's a mass of underdeveloped stories that all look the same. You can read my particular thoughts in my summer preview of this season, but the short version is that I'd spend time with the guys from Gigolos before most of the women on The Real L Word. At least the guys seem to have a grip on their lives and aren't so self-involved. I have quite a few lesbian friends, and some of them just laughed when they watched the first few episodes.
There are no special features on this disc, at least not any that have anything remotely to do with the show. CBS DVD has included the first two episodes of The Borgias, which I can only guess they included because it also has convoluted relationships and nudity. The specs for this are the same as Gigolos, including that Spanish mono audio track.
The fictional series that spawned this one, The L Word, is being re-released as a complete series set next month. If you haven't seen that yet, you're better off saving your money and investing it into that set instead. The performances from the likes of Jennifer Beals (The Chicago Code) and Katherine Moennig (Three Rivers) are more worth your time in my opinion.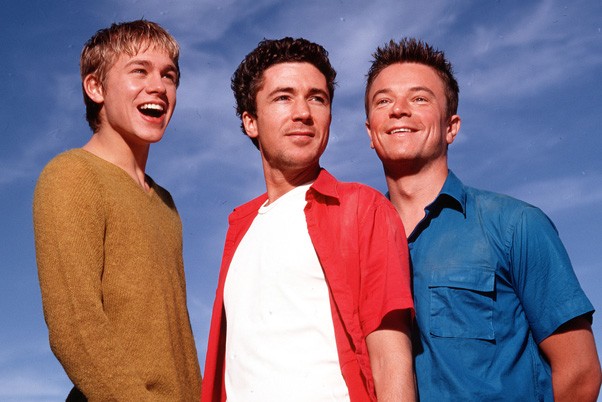 Queer as Folk [UK]: The Complete Collection (Acorn Media)

Speaking of Queer as Folk, Acorn Media has released the complete set of the British series that spawned the Showtime hit, starring Aiden Gillen (The Wire) and a young Charlie Hunnam (Sons of Anarchy), and created by Russell T. Davies (Doctor Who). If that alone doesn't get you to check this one out, let me tell you that it's worth the look.
Don't go into this version expecting the US edition with accents, though. The stories of Stuart, Vince and Nathan are at times similar to those of Brian, Michael and Justin, but they also differ a great deal at other times. For Doctor Who and Torchwood fans like myself, it's interesting to see what Davies was doing before he re-launched the iconic franchise...and you can see some aspects of his work that clearly carried over into the latter shows. Before The L Word, before the US Queer as Folk, this is the show that truly broke that ground and that makes it worth watching if only for its significance in television history.
This set is also incredibly loaded with extras. There are deleted and extended scenes with additional commentary, various interviews, trailers, a photo gallery and one featurette (spoilers!). My favorite bonus, though, is the twenty-page booklet that comes with some of Davies' notes, which gives the audience plenty to chew on. If you enjoyed any of the American spinoffs, you should check out the British series that started it all. You won't be disappointed.
(c)2011 Brittany Frederick/Digital Airwaves. All rights reserved. No reproduction permitted.