TV on DVD: 'Robot Chicken: Star Wars III'
This week, Warner Home Video brings you the next installment in Robot Chicken's successful line of Star Wars parodies: Star Wars III. Join Emperor Palpatine as he narrates another volume in utter craziness across the galaxy. Here's my review.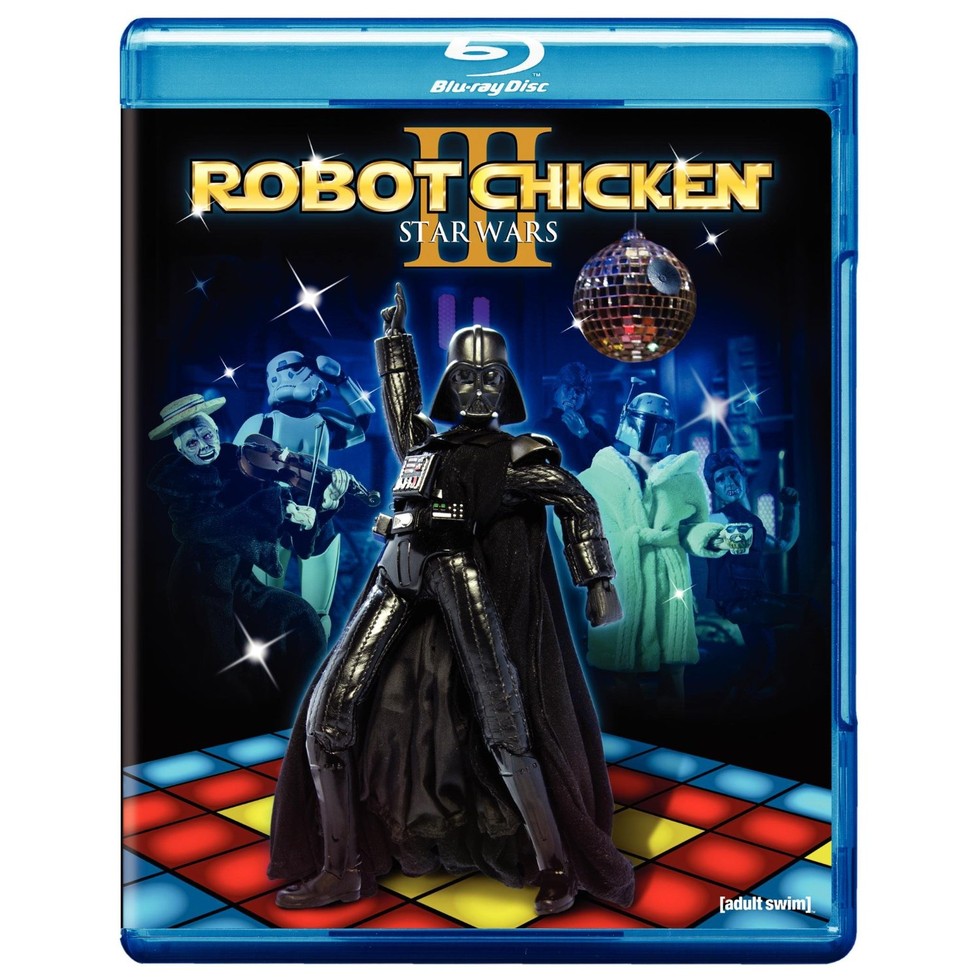 The Show
I have to admit that before I saw Star Wars III, Robot Chicken had never interested me. The few minutes I saw of it on Adult Swim only confused me. Star Wars III, however, is hilarious. It's head and shoulders above Family Guy: It's A Trap! (which is funny considering that Seth Green was involved in both projects). Both are equally inappropriate and sometimes random, but at least Star Wars III is actually amusing, whereas much of It's A Trap! felt either played out or as if the writers weren't even trying anymore.
There are quite a few bits that had me laughing out loud, from the opening mention of the Death Star's omelet bar (complete with cut to said breakfast bar), to Emperor Palpatine on the world's longest escalator, to C-3PO and R2-D2 in a Spanish class. A lot of it is random, but when it's funny, the randomness doesn't matter quite so much.
Of course, there are a few that fall flat - the sketch with the one-armed alien trying unsuccessfully to refuel his space cruiser seemed more sad to me than anything (although given my personal experience I probably reacted more sensitively to it than others might). For the most part, though, this is a great outing. It's not just a regular parody; there are references and in-jokes here that you can tell come from real Star Wars fans, like wondering who the heck the seemingly random characters are that still manage to get action figures.
Needless to say, I'll never look at my action figures and Lego people quite the same way after watching this.
The Blu-Ray Disc
Star Wars III looks great in Blu-Ray, making movements appear more fluid and colors brighter. It's an even better presentation than I remember watching on the night it aired. I have no complaints whatsoever; in fact, I'm impressed.
The menu is basic which also makes it easy to navigate. You have three options: play, special features, and setup. There's no scene selection.
There's one quirk: at the commercial breaks, you're going to get a few seconds of black screen. It's a bit jarring and unexpected; the first time it happened I thought perhaps the disc was defective.
Specs-wise, you have 1080p HD video (2.4:1) with a Dolby Digital 5.1 audio track. The accessibility is poor, however. You only have English subtitles, and only on the main presentation. There are no subtitles for the special features (a big shame considering there's a ton of them) and no other languages.
The Special Features
This set is loaded with special features, which is more remarkable to me given how short the actual feature is. I didn't think they could get quite so many bonuses out of a release where the actual presentation is 44 minutes long. But you can tell these guys are fans as much as they are the creative team, because they documented just about everything they possibly could and then put it on this set.
Chicken Nuggets: Sketch-by-sketch video commentary.

Featurettes: There are six here, divided into two groups: the "for the love of" set (toys, Star Wars and filmmaking) and "behind the scenes" (writing, voice acting and VFX). I played the "behind the scenes: voice acting" one and really enjoyed it; you get to see Billy Dee Williams recording the voice of Lando, and find out that Donald Faison (an African-American actor) voices Gary the Stormtrooper (a white guy). Unfortunately, you get to hear Seth MacFarlane voice Emperor Palpatine, but you don't get to see him doing it. Listening to Seth Green coach the voice actors pretty much makes up for it, though. He's hilarious.

Robot Chicken Skate Tour '09: Seth Green brings us to Comic-Con to preview the "Robot Chicken Skate Party Bus Tour." Ever want to see Darth Vader roller skate? You'll find that here. Things only get more nonsensical from that point forward as we get a glimpse at the fan gatherings.

Deleted Scenes/Animatics: Exactly what it says on the tin. Scenes that were cut, plus animatics (simplified mock-ups).

Time Lapse: Sped-up footage of how the animators move each piece of every scene so it all comes together. Not much going on here but it clues you in to just how much work has to be done to get the finished product out.

Skywalker Ranch Premiere: Self-descriptive - footage from the Skywalker Ranch premiere of Star Wars III. If anything, it's just great to see how much fun these guys are having at debuting their film in such a legendary spot. Whether or not you're interested in watching the footage of speeches and the screening is one thing, but you can't blame them for having a blast.

Commentaries: There are four - two with two different groups of actors as well as co-creators Green and Matthew Senreich, then one with the writers and another with the crew. All of these are pretty fun to listen to; it's like listening to your college buddies poke fun at their own student film. Good times.

Animation Reference: Find out how footage of Seth Green translates into the facial expressions of one of the characters. Seth also explains how he wants the character to look in said footage, so you get a really good idea of what they're going for and how it ends up becoming the final product.

Star Wars Celebration V Robot Chicken Panels: More panel footage, this time from Star Wars Celebration V.

Gag Reel: Everyone from the voice actors to the animators screwing around. Check out Zac Efron trying to rap while voicing Anakin Skywalker.
Trailers: These are not trailers for other shows - no, they're trailers for Star Wars III! My favorite is Sitcom, which makes it look like exactly that, complete with cheesy music.

Sunday In The Boardroom With George Lucas: The Robot Chicken guys visit George Lucas so they can be, in the words of Seth Green, "awkwardly conversing into camera." There's no real point or direction, but it's interesting to see these overgrown fanboys (and I mean that in a good way) come face-to-face with the guy responsible for something they love so much.

The Bottom Line
If you enjoyed the Family Guy parodies of Star Wars, you'll love Robot Chicken's version - and this Blu-Ray could not be loaded with any more special features. Not only will you have fun, but you'll learn a lot about how animated shows like this one get made, too. And all for under $20. Definitely recommended.