TV on DVD: Reviewing the Childhood Favorites (and a Giveaway!)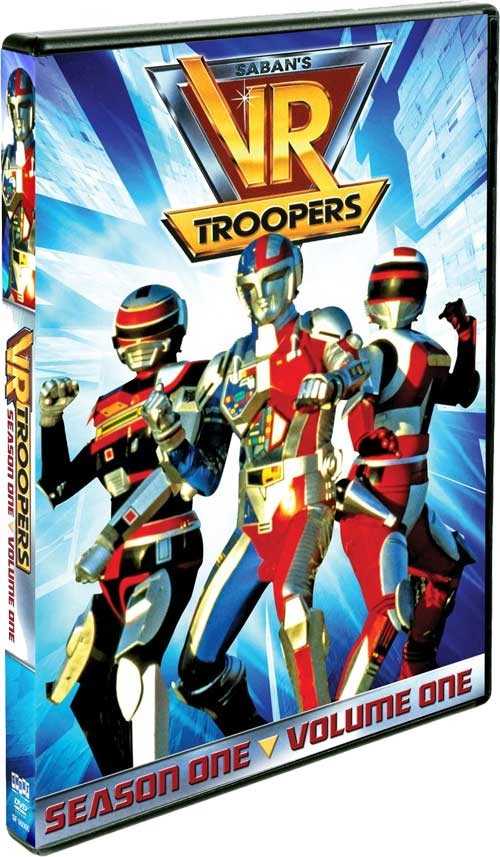 Some of the Saban-produced series have begun to hit DVD as well. The cult favorite VR Troopers, which ran from 1994 to 1996 and co-starred General Hospital's Sarah Brown, has come out in 'Season 1, Volume 1.' There are no special features included, but the transfer of the episodes is an improvement over the VHS tapes that were put out when the show was airing. The second half, 'Season 1, Volume 2' will arrive in January. You can pick up Volume 1 by clicking this link and pre-order Volume 2 here, for under $20 each.
The Saban series that followed VR Troopers on Fox Kids, 1996-1998's Big Bad Beetleborgs, has also been released via half-season sets. Click here to pick up the first volume of that show.
A copy of Mighty Morphin Power Rangers: The Complete Series was requested but did not arrive in time for publication of this article.
In a similar vein, my friends over at TV Shows on DVD report that Superhuman Samurai Syber-Squad is on track for a 2013 release through Mill Creek. No other information or pre-order listing is yet available, but at least it's in the works!
Another childhood favorite for me was David E. Kelley's medical drama Chicago Hope, which first aired in 1994. I'm happy to report that the Mandy Patinkin/Adam Arkin-led series has finally surfaced on DVD...if you have a Region 2 DVD player. Amazon UK now has the first three seasons of Chicago Hope available to order. There are no special features, but fans will no doubt be happy to at least have the episodes in your collection.
And for my fellow sci-fi fans, Warner Brothers has released 1993-1994's sci-fi TV series Time Trax on DVD through their Warner Archive website and also through Amazon. You can pick up season one of the Dale Midkiff-led show by clicking here.
While we're talking about the holidays, here's my gift to you, dear TV on DVD readers: I have one copy of Teenage Mutant Ninja Turtles: The Complete Classic Series available to give away to one lucky reader! Just click on over to my official website and tell me why you think you should be the one to win the set. Entry closes next Sunday, December 2. Winner will be contacted via email for prizing information.
For more from Brittany Frederick, visit Digital Airwaves and follow me on Twitter (@tvbrittanyf).
(c)2012 Brittany Frederick/Digital Airwaves. Appears at Starpulse with permission. All rights reserved. No reproduction permitted.