TV on DVD: Reviewing the Childhood Favorites (and a Giveaway!)
This year, a number of favorite TV series have been released (or re-released) onto DVD just in time for holiday gift-giving. Teenage Mutant Ninja Turtles, VR Troopers and more have arrived..but are they worth taking home and putting under your tree?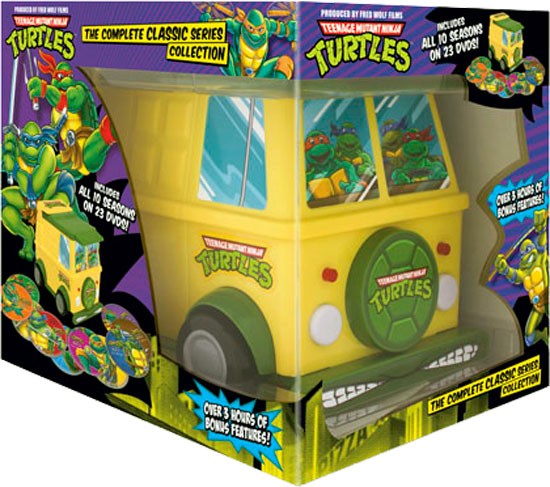 After years of releasing partial volumes and seasons, Lionsgate has finally compiled Teenage Mutant Ninja Turtles: The Complete Classic Series, which contains all ten seasons of the 1987 animated series across more than twenty DVDs. It's great that fans can now definitely get the whole series, though those who have been buying the earlier releases don't need to shell out (ha) for this set.
Given the age of the material, the DVD transfer is pretty good. It's not demo-quality by any standard, but it's better than the original broadcasts, and should satisfy fans of the show. A handy booklet included with the set explains which episodes are on which disc, so there's no hunting around.
(Note: the two "missing episodes" from season five, 'Once Upon a Time Machine' and 'Planet of the Turtleoids,' are in this set but oddly not on the season five discs...instead, they're listed as 'bonus episodes' on the season ten discs, presumably because that's how Lionsgate released them when they put out season ten earlier this year.)
The special features are here, but not new: they're the same ones that were included on Lionsgate's previous releases (assorted character profiles and a multi-part 'Shell-abration' series of features on the show's fans, toys and history) - though if you have those, you probably don't need this anyway. The real appeal of this set is finally having the entire show in one place and in good condition.
The packaging for the set leaves a lot to be desired for collectors. While the outside looks fantastic - a replica of the Turtles' van - it's very flimsy on the inside. The van itself looks great, but it's just plastic, and the discs simply rest upright in the bottom half of the van, in a plastic tray, without any individual sleeves or protection. Without any additional support, they fall over very easily, and it's not hard to see how they could become scratched or damaged. Keep the van as a wonderful collectible, but you'll want to look for an alternative method of storing the DVDs.
You can pick up TMNT: The Complete Classic Series for roughly $89, or less than $10 per season, at Amazon by clicking here.
If you enjoyed the live-action Turtles, you can also get Ninja Turtles: The Next Mutation in two volumes. Each will cost you $14.99. Click here for that.