TV On DVD Recommendation: 'Twin Peaks'

After a week off for Oscar madness it's time to get back into the TV on DVD recommendations. This week I'd like to invite you to check out one of the strangest worlds ever created for television. The small town of
Twin Peaks
, Washington holds many small mysteries and one very large one that holds the town captive.
That large story revolves around the brutal murder of the town's homecoming queen, Laura Palmer, and the attempted murder of her friend Ronette Polaski. The crime brings FBI agent Dale Cooper (
Kyle McLachlan
in one of the most sublime performances you'll ever see) to the tree-lined town, and he instantly makes an impression on local law enforcement with his Sherlock Holmesian ways and his adoration of pie and coffee.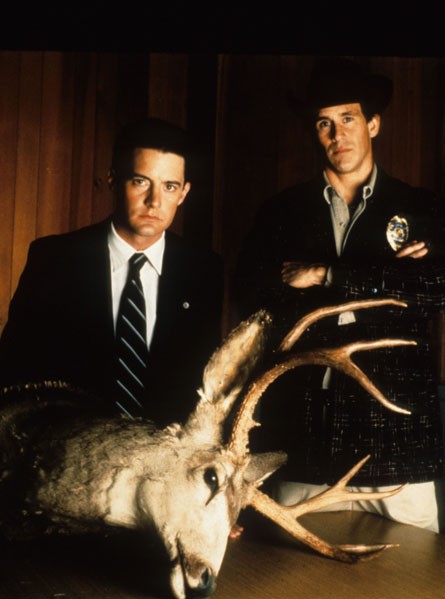 He immediately takes on the task of solving Palmer's murder with the help of Sheriff Harry S. Truman (
Michael Ontkean
) and a variety of odd methods including meditation, backwards-talking dreams and a very helpful giant.
It shouldn't come as a surprise that this bizarre series sprang from the mind of eccentric director
David Lynch
. He and co-creator Mark Frost populate the town with more odd characters than "Newhart" and "
Gilmore Girls
" combined and more unanswered questions than an entire season of "
Lost
."
Other storylines involve a drug-smuggling ring from across the Canadian border, a sabotage of the town's sawmill and many trips to the infamous One-Eyed Jacks. All these subplots relate in some way to the murder of Laura Palmer and reveal small clues during each episode.
"Peaks" was a cultural phenomenon at the time of its premiere, exceeding the buzz presently enjoyed by "Lost" and "
Heroes
." Watching the two-hour pilot (originally a one-off TV movie) makes it easy to see why this series had everyone gripped so quickly. It may seem commonplace in a world where cable and premium channels have raised the bar for quality and shock value. But in 1990, it's hard to imagine a more shocking image than a half-dead and half-naked Ronette wandering her way off a mountain after escaping from her brutal captors.
Unfortunately for the series, the buzz disappeared as quickly as it came, and the show was cancelled after a mere 30 episodes. Many fans grew disillusioned with the series' extremely deliberate examination of the Palmer mystery, leaving the frustrated viewers to just want the mystery solved. The creators acquiesced and attempted to create a new mystery thereafter, but it never held the same appeal and the series met with a quick demise.
"Twin Peaks" was completely ahead of its time and is perfect for modern-day fans of series with seasons-long story arcs that don't mind a long wait for resolution. The series never lost viewers because the episodes became mundane or uninteresting; it was simply a case of the audience's unwillingness to wait for an answer.
The modern-day patient TV watcher is certain to enjoy this series even more than their predecessors, and while "Lost" is now the gold standard for the serialized and enigmatic drama series, "Twin Peaks" shows that it never got much better than where it all began.
"Twin Peaks" (ABC) - 2 Seasons - 30 Episodes Total
Perfect for Fans of:
The X-Files
, Lost, Heroes,
Without a Trace
, David Lynch movies
Story by Andrew Payne
Starpulse contributing writer