TV On DVD Recommendation: 'Six Feet Under'

A very eclectic recommendation for a very eclectic series that those without premium channels have only heard about.
Alan Ball's
("
American Beauty
") landmark HBO series "
Six Feet Under
" seamlessly blended family drama and whimsical fantasy into the morose confines of a funeral home.
"Six Feet Under" tells the story of the Fisher family. They are a Southern California clan no more dysfunctional than the usual 21st Century family with a few wrinkles: they run a funeral home and their patriarch, Nathan Fisher, Sr., (
Richard Jenkins
) is hit by a bus in the series premiere.
As the family struggles to muddle through life after its father's death, secrets are revealed and broken bonds are rebuilt. We soon discover that funeral director and de facto patriarch David ("
Dexter
's"
Michael C. Hall
) is a homosexual, Nathan, Jr. ("
Dirty Sexy Money
's"
Peter Krause
) has a seriously negative outlook on life and their mother Ruth (
Frances Conroy
) has been having an affair with her hairdresser for the past several years.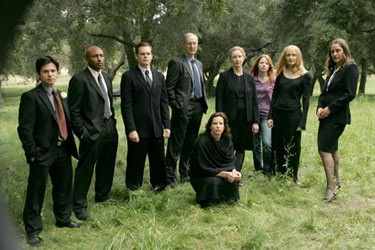 The family rounds out with typical disaffected teenager Claire (
Lauren Ambrose
) and David's co-worker Rico (
Freddy Rodriguez
), a Hispanic who Nathan, Sr. took under his wing and has become a part of the Fisher's extended family. Rico's home life is a complete contrast to the uneasiness of the Fisher household with a loving wife and two young children. Also enter Brenda (
Rachel Griffiths
), Nate's massage therapist girlfriend.
The hook of the series is that one person dies at the beginning of every episode. Sometimes the deaths are very elaborate, and as the series progresses the writers develop a fondness for putting one character in the opening scene in peril while having a character in their periphery actually become the victim. The deceased usually serves as a mirror for the main story of each episode and allows the characters to view their current situation in a different light. Often we see the main characters conversing with dead people. This is part of many elaborate fantasy sequences that are a trademark of the show and included musical numbers, dream sequences and many conversations with the dead Nathan, Sr.
The result is an incredibly addictive family drama that almost plays out like "American Beauty": The Series. Episodes are funny, filled with tension, and the funeral home aspect makes them completely unique.
Word of warning: This show does jump the shark. The fourth season is incredibly uneven with nonsensical situations and characters that do not fit the feel of the show. Stick it out though; it rebounds with a fine fifth season and a stunning finale.
We'll keep the recommendations coming every Friday, but fear not. Rumors of a writers' strike resolution are rampant, and it looks like many of our favorite shows will return to the airwaves sometime in early April!
"Six Feet Under" (HBO) - 5 Seasons - 63 Episodes
Perfect for Fans of:
Brothers & Sisters
,
Dirty Sexy Money
,
Pushing Daisies
Story by Andrew Payne
Starpulse contributing writer