TV On DVD Recommendation: 'Newsradio'

The third-best comedy of the 1990s (behind "
The Simpsons
" and "
Seinfeld
"), "
Newsradio
" is also one of its least-remembered and lowest-rated despite being granted a lengthy five-season run. This is mostly due to the fact that the show had its airtime or airdate changed a staggering 11 times during its run. But now that all the episodes are available on DVD, you won't have to worry about not knowing when it's on.
Set in the offices of fictional New York radio station WNYX, "Newsradio" details the wacky goings-on among the staff. The cast is filled with comedic stars led by
Dave Foley
("The Kids in the Hall") and
Maura Tierney
("
ER
") as the couple who run the station.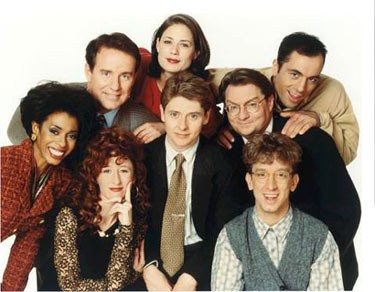 Their boss is eccentric billionaire Jimmy James (
Stephen Root
, "
Office Space
") who enjoys making odd bets and crazy demands of his staff. This staff includes
Andy Dick
as a news reporter,
Joe Rogan
("
Fear Factor
") as the station's electrician, Vicki Lewis as Dave's secretary and
Khandi Alexander
as a news anchor.
Her co-anchor is played by the inimitable
Phil Hartman
("
Saturday Night Live
") whose character, Bill McNeal, is an abrasive and arrogant personality who often confounds the rest of the staff. Hartman's was a comedic performance for the ages; on par with his work on "SNL" and "The Simpsons".
The impeccable cast allows the show to flourish alongside the incredibly bizarre storylines that often dominated the series' run. These included a funeral for a rat, an air conditioning malfunction resulting in a completely hallucinatory episode, one season finale taking place on a space station and another aboard the Titanic.
Episodes rarely flow into one another with story lines that are mostly limited to one episode. There are many instances when the writers added runners at the insistence of studio executives but they are usually abandoned without explanation, adding to the absurdity of the show.
The only constant throughout the series is incredible comedy. The fast-paced dialogue is extremely well-written, and the characters are so well-defined and portrayed that any incongruous moment is afforded heightened hilarity. There are no poor episodes throughout the first four seasons, and each one has its own unique hook.
Unfortunately, the final season really isn't worth watching at all. Phil Hartman's untimely death during the prior summer resulted in the Bill McNeal's character's being killed off as well. Hartman was replaced by
Jon Lovitz
who does not give a poor performance, but this massive replacement destroys the chemistry and leads to an inconsistent final season.
My recommendation: watch the fifth season premiere (a funeral for McNeal) and pretend it was the series finale. You'll be happy you did.
"Newsradio"(NBC) - 5 Seasons, 97 Episodes Total
Perfect for fans of: "
The Office
", "
30 Rock
", "
Scrubs
"
Story by Andrew Payne
Starpulse contributing writer