TV On DVD: 'Off The Map: The Complete Series'
This week, ABC Home Entertainment released the complete series of Off The Map, the next show from the people who brought you Grey's Anatomy. Here's my review of the three-disc set.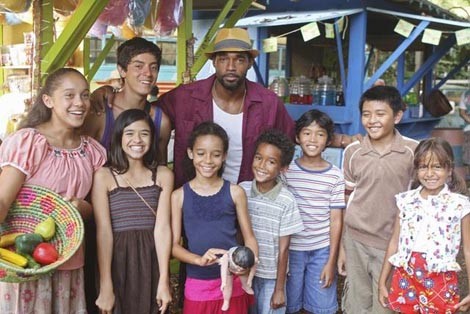 The Show
I'm going to be bluntly honest here: I don't like Grey's Anatomy. As such, I never watched its spinoff Private Practice. And knowing that it came from the same creative team, I didn't have high hopes for Off The Map.
Having watched the show now, I can see why it only lasted one season. It feels more like a shell of a program than a fully fleshed out one, even if you allow for it being a new series. The dialogue doesn't much evolve beyond the cliched stuff we're used to TV doctors spewing, and it doesn't help that said doctors are pretty people who find excuses to be without clothes. The characters never evolve beyond various molds - Mina is haunted by the death of a patient, Lily deals with the loss of her fiancee. The plots aren't much better, some of which we've seen before - for example, there's the allegedly casual relationship between Cole and Zita, and Tommy's pining for Mina, both relationship stories many other shows have tackled.
This leads to the same reason I never warmed to Grey's: when I'm watching a medical series, I'm there for the medicine, not the messy lives and abs of the doctors. I'm not saying that they don't have their place (I was a longtime Chicago Hope fan, and there were hospital romances throughout that show), but I prefer that they don't overtake the reason why all the doctors are really there. This is not the case with Off The Map. It's only driven home by the fact that there's not enough there in terms of characters to even get me invested in said relationships. It feels like half a show, and half a show pointed in the wrong direction.
There are some talented actors on this series, which makes it only a larger disappointment. Three of the regulars are Jason George (who gave a much better performance on Eli Stone), Valerie Cruz (who played off Paul Blackthorne so well in the short-lived The Dresden Files), and Zach Gilford (Friday Night Lights). It's great to see them in a new project; unfortunately, I think they've all given better performances in their earlier roles.
So, too, can you find much better medical dramas.
The DVDs
Packaging-wise, Off The Map: The Complete Series is exactly like Brothers & Sisters: The Complete Fifth Season - in the good aspects and the bad aspects. The cardboard slipcase doesn't hold together at all; like the B&S set, it collapsed not long after I picked it up. Yet the plastic case inside is easy to work with and visually appealing.
The menus, graced with some picturesque views of the Hawaiian landscape (where the series was shot), have a "play all" option and episode selection, but no scene selection or episode summaries.
Episodes themselves transfer pretty well. They're presented in widescreen, and the bright colors and scenic views are very nice to look at. If you happen to have an HDTV, you'll be able to enjoy some pretty impressive clarity. I had no problems with the video across multiple platforms, but the audio was a little quiet at times - nothing to worry too much about, but you might have to adjust up now and then.
Speaking of that, there's only English audio, but subtitles in English, English SDH, Spanish, French and Portuguese.
The Special Features
Off The Map is a bit lacking in special features (though that's not surprising, given that it's a cancelled series). Aside from the standard deleted scenes and outtakes - neither of which are that remarkable - you get only two featurettes. All the special features are located on disc three.
The first is "On Set At Off The Map" (8:18). This is a fairly standard "making-of," with clips from episodes interspersed between interviews with cast and producers, and on-set footage. If you didn't believe me earlier, there's a whole part of this where the producers make light of the show's various hookups, complete with clips, and actor Martin Henderson commenting on the nakedness.
There's also "Jungle Medicine" (4:56), which seems like it's just extra footage pulled from the previous interviews. Here, producers and cast want to tell us how much of their stories are based on real third-world medicine. Some of it is less that and more people talking about how cool the various stories are. I would've loved to have seen more actual discussion of the medicine.
The Bottom Line
This is a fair DVD set for a show that just isn't very good. Save your money -  and if medical shows are really your thing, consider taking a look at shows like Chicago Hope, ER or St. Elsewhere.