TV on DVD: New 'CSI,' 'CSI: Miami' and 'CSI: NY'
The CSI franchise has become a mainstay on CBS - and likewise it's a fixture on DVD shelves. With the new seasons underway, the previous years of CSI: Crime Scene Investigation, CSI: Miami and CSI: NY have arrived for you to add to your collection. Here's a look at all three new releases.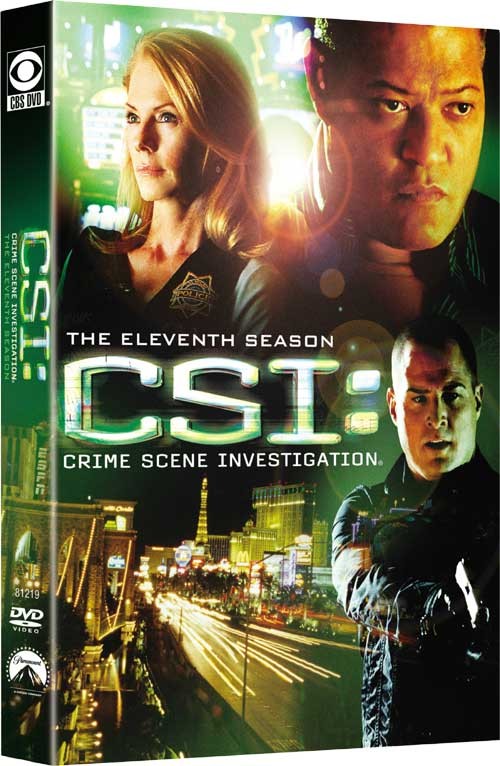 CSI: Crime Scene Investigation - Season 11
The Show: Season 11 is Laurence Fishburne's third and last as Dr. Raymond Langston. I'm pretty sure that I'm in the minority here, but I liked Fishburne and thought he did a decent job while facing an audience that was and still is incredibly attached to his predecessor William Petersen. He gets plenty of material on his way out, though, as he continues to tangle with serial killer Nate Haskell and the two finally have their showdown. We also meet Grissom's mom in "The Two Mrs. Grissoms," and Katee Sackhoff (24, Battlestar Galactica) begins her recurring stint as an LVPD detective.
It's more of the same for CSI this season; like many procedurals, it's fallen into a comfortable routine. If you're looking for something groundbreaking in this set, you won't find it, but if you've seen the show before, you won't be disappointed either. This is also the season with Justin Bieber's much hyped guest spot. Whether that's a positive thing or a negative thing is entirely up to you, but I could have done without it.
The DVDs: Seven features, deleted scenes and two audio commentaries. As is standard on these sets, the first bonus is a featurette devoted to looking back at the season as a whole (spoilers!). "Las Vegas Headliners" focuses on many of the season's 'name' guest stars and there's extended footage from Dita Von Teese's burlesque performance (in "A Kiss Before Frying"). The commentaries include one cast member apiece - George Eads on "House of Hoarders" and Eric Szmanda on "A Kiss Before Frying."
One flaw here is the packaging; it looks great, but the first disc obstructs the table of contents inside the packaging. I'm also really disappointed in the accessibility for this set. For a show as popular and long-running as this, you'd think it would have more than two audio languages (English and Spanish) and one set of subtitles (English).
At least the transfer is decent, comparable to watching in broadcast HD with the occasional dark scene that gets a bit muddled.
Verdict: Consider it. CSI is definitely starting to show its age by now (give me one show that's lasted as long that didn't), but if nothing else, it's a reliable diversion for an hour or two. This set has enough bonus features to justify a purchase, though there's room for improvement - I'd liked to have seen more commentaries, and more cast members represented on said commentaries.
The Show: I've never been all that impressed with CSI: Miami (as I mentioned during my review of the eighth season DVD set). Season nine picks up minus Eddie Cibrian, who joined the cast as a regular in season eight and promptly exited in the season premiere. Adam Rodriguez, whom Cibrian replaced, comes back, however, so it's essentially a wash. None of the characters on this show really grab me; I certainly don't believe the members of the crime lab are the "unstoppable force" the back of the box has labeled them. There's just something missing.
Season nine isn't really stellar in the writing department, either. Two characters go undercover in two separate episodes, as if doing the plot once wasn't enough. One character is kidnapped and then possibly killed four episodes later. And the killer of Horatio (David Caruso)'s wife pops up not once but twice. This kind of sensational stuff might slide for an episode or two, but the whole season feels as if it's just grabbing for attention constantly. Maybe it's running out of time, though I don't see CBS axing this one as long as the franchise continues to pull in ratings.
The DVDs: Four features, deleted scenes, and two audio commentaries. The bonus features on this set are particularly spoiler-heavy compared to your standard box set. There's one that speaks for itself in "The Whole Nine Years," talking about the show's run and in particular season nine, then there's a separate featurette about the season finale and another about the show's 200th episode ("Blood Sugar"). If you're not totally caught up, I would strongly advise you not to crack any of the bonus features until you are.
Like the Vegas set, the commentaries aren't remarkable; Jonathan Togo and Rex Linn appear on one ("Sleepless In Miami"), and Rex Linn appears on another ("Happy Birthday"), but they're not the big names fans were probably hoping for. Considering the former is about Natalia going undercover, it would seem more appropriate to have Eva La Rue on that commentary, but perhaps she was unavailable. Once you've watched the rest of the special features, they're not the kind that you'd want to watch over and over again.
The Miami set also suffers from the same packaging and accessibility problems as the Vegas set. The first disc obstructs the table of box contents, and there's only two audio tracks (English and Spanish) and one set of subtitles (English). The transfer is the same as well - decent but not outstanding.
Verdict: Avoid it. The show itself hasn't gotten any better, and the bonus features aren't too remarkable. As far as procedurals go, I'd stick with either of the two other shows in the franchise, which have better DVD releases besides.
The Show: Sela Ward (Once & Again) replaces Melina Kanakaredes this year, and with no offense intended to the departing, CSI: NY definitely benefits from the addition of Ward, who works well with Gary Sinise. We also meet Mac's former partner (Peter Fonda) near season's end. You'll also see Ne-Yo and Edward James Olmos. The season opens resolving the previous season's cliffhanger, so if you're a newbie, you might be a bit lost.
Between this and the events of the CSI: Miami premiere, one begins to believe that crime labs are about the unsafest place to work ever, or at least that CSI's have horrible luck. The New York version continues to mix the personal and professional as Sheldon (Hill Harper)'s girlfriend and Jo's daughter are witnesses to crimes. While that sometimes strains credibility, the show is anchored by the always dependable Sinise, and the characters are at least decently charismatic. Of the three series, I'd say this one has the most life left in it, based on its cast and the fact that it hasn't run quite as long as Las Vegas.
The DVDs: Four features, deleted scenes, a gag reel and blogs. You have a featurette devoted to the season as a whole (spoilers!) and another to exploring Ward's character, Jo Danville. The other two are really more about guest stars Peter Fonda and John Larroquette. Longtime fans might be disappointed there's so much focus on guest stars and new characters, but it's nice to get a little more insight about Jo's character if nothing else, and Peter Fonda is fun to watch.
Verdict: Consider it. It's a decent set for a show that's equally decent - not something I'd consider appointment television, but one I'd watch if it happened to be on. It's a solid procedural and that's enough for me.
All three CSI titles are now available at your local retailers. You can also purchase them at a discount at Amazon.