TV on DVD: 'NCIS: Los Angeles: The Second Season'
This week, CBS DVD released NCIS: Los Angeles - The Second Season. Here's my review of the six-disc set.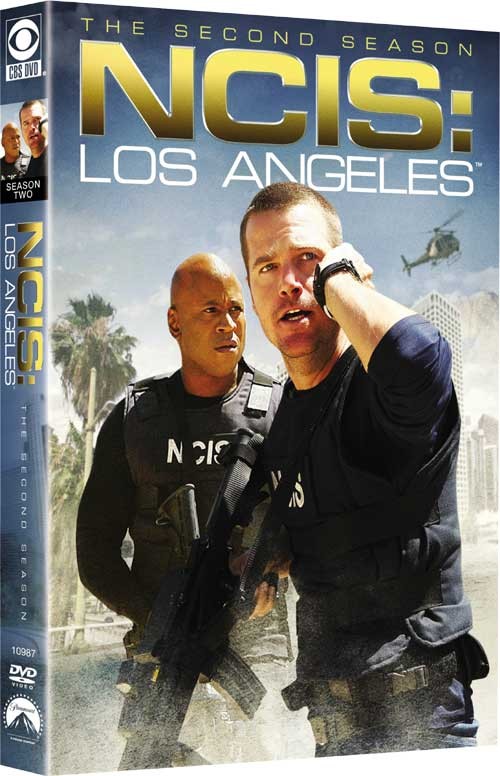 The Show
NCIS: Los Angeles has the potential to be something rare - the successful spinoff of a wildly successful spinoff of a successful TV series. While it hasn't quite caught my attention the way NCIS did, it's got a solid core in its two leads, James Todd Smith (aka LL Cool J) and Chris O'Donnell (who will always be Robin in Batman Forever to me), and recent Teen Choice Award winner Linda Hunt (The Unit). It's not reinventing the wheel, but I believe there's a place on television for a well-written procedural.
This season of NCIS: LA saw a few cast changes. Nate (Peter Cambor) was demoted from regular to recurring status, and the show added two new regulars in LAPD officer Deeks (Eric Christian Olsen) and analyst Nell (Renee Felice Smith). I didn't really warm to either of the new additions, although the banter between Deeks and Kensi (Daniela Ruah) has potential, and I admit that there are moments where I miss Nate. It felt, at times, like this season of NCIS: LA was the show trying to figure out what direction it really wanted to go in, and that led to a bit of unevenness in my opinion.
There were some great episodes and guest stars, though. Alan Ruck (Spin City) turned up in the premiere. I enjoyed seeing 24's Marisol Nichols as Callen's ex-partner/ex-spouse Tracy Keller in the episode "Standoff." Claire Forlani (CSI: NY) also arrives near season's end, as there's one of those drastic decisions that one knows doesn't work for the show's long-term viability but is entertaining to watch nonetheless. It mirrors my thoughts on NCIS: LA as a whole: while the production side of my brain knows it's not novel, I can count on the show to be a reliable hour of entertainment, not unlike a Law & Order or a CSI.
The DVDs
Firstly, I like the box art for season two a lot better than the art for season one, which looked almost like it had been played around with in Photoshop a bit too much. No such worries this time around. CBS has also chosen to do with this set what WB did with Human Target, which is to put the back of the cardboard box on the front of the plastic case inside, so you can see both sides when you slide the case out.
I'm not as sold on the case itself. The first and sixth discs rest against the insides of the case - so to read the episode summaries and which special features are where, you're going to have to remove the discs, which is an annoyance. The episode summaries are decent, however, and at least the packaging tells you where each of the special features are. There's no disc art.
The menus are easy to navigate, with some video in the backgrounds, and the show's catchy opening theme as underscore. The episode transfer is pretty good - comparable to broadcast and with no major flaws to my eyes or ears.
Video is 16:9 widescreen. Audio choices include English Dolby 5.1, English stereo and French stereo. Subtitles come in English SDH, French, Spanish and Portuguese. I had some problems with discs two and three in my computer's DVD drive - they would play audio but without picture. I had to restart my DVD player software before the discs would play normally. Other than that, though, this is a fine presentation.
The Special Features
NCIS: Los Angeles has a few featurettes and one commentary track. The latter is with actors Daniela Ruah and Eric Christian Olsen on "Anonymous." It makes me wish that there had been others - I remember LL Cool J being on the commentary for the film S.W.A.T. and loving that track. You'll find it on disc two.
A table read for the episode "Absolution" is on disc three. It's just over 27 minutes, and you'll see footage from the final episode, but most importantly you get plenty of it from the actual table read. As a writer, I loved getting to see this part of the process. For my fellow production geeks, disc four boasts "Shooting Up L.A.," which focuses on the cinematography of the show.
Disc five has "Location, Location, Location" which is exactly what it says it is - eleven minutes talking about the various locations the show has filmed at. I am amused that we need an entire special features menu on the disc when there's only one special feature available.
On disc six, "Uncovering Season 2" is over 24 minutes long, with producers and cast talking about the season and its differences from the first one. It is a thorough retrospective - though because it is a retrospective, there are spoilers and I wouldn't recommend that you watch it until you've seen all the episode.
"There's Something About Hetty" runs 15 and a half minutes, and is obviously devoted to Linda Hunt's character. It's great fun to hear the veteran actress's own thoughts about her role; fittingly, she does most of the talking, though you'll hear contributions from producers and her fellow cast members as well.
The Bottom Line
This is a good show with an impressive array of special features. Fans will be quite pleased, and casual fans should consider taking a look at it as well. If you're curious, even if you haven't seen the first season, this is a reliable blind buy - there's a lot more here than on many TV on DVD sets of recent.