TV on DVD: 'Mighty Morphin Power Rangers: The Complete Series' Reviewed
As previously mentioned in the last TV on DVD column, Shout! Factory has widely released Mighty Morphin Power Rangers: The Complete Series on DVD this holiday season, after a limited debut earlier this summer. Here's a review of the nineteen-disc collection.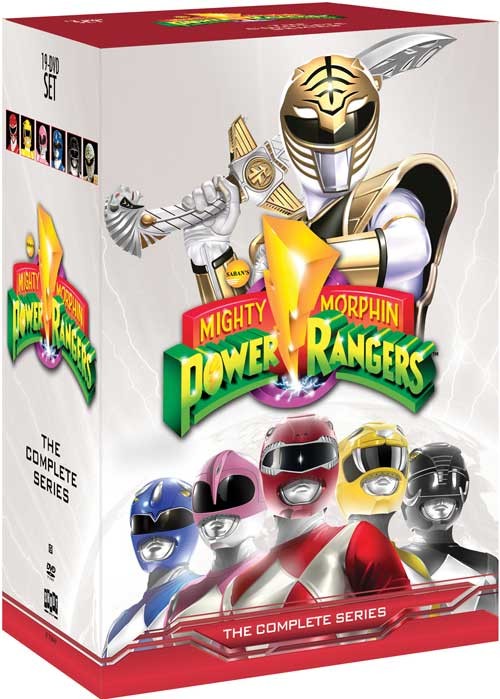 It's a plus that the set is made by Shout! Factory, which has made its name on providing top-quality releases of cult hits to their fan bases (such as the definitive '10th Anniversary Edition' re-release of Aaron Sorkin's Sports Night and complete series boxes for Garry Shandling's The Larry Sanders Show and It's Garry Shandling's Show). MMPR is no different in that respect. This release is clearly made for the many devoted fans of the Saban franchise.
The biggest part of the collection is, of course, having all 145 Power Ranger episodes. The video and audio quality here is about average: the show looks and sounds very much as it did when the shows first aired from 1993-1995. There's a fair amount of grain in the picture throughout and colors are muted compared to what you'd expect today. But it's still good enough that fans of the show will be satisfied, and it's certainly much more convenient to have the installments on DVD rather than in their previous VHS format.
The set comes with a booklet containing an episode guide and biographies, which is great for refreshing your memory, especially since it lists not just the Rangers, but also supporting characters and the major villains.
One quirk of this release is that while it divides both of the first two seasons into three-disc collections labeled 'Volume 1' and 'Volume 2,' season three is presented all together as one five-disc group. The two discs of bonus features get their own separate case as well.
Those bonus features include a 'look back' featurette with series creator Haim Saban, who admits that he 'still [doesn't] understand a word' of the Japanese shows he once watched that led to the adaptation we know as Power Rangers, and members of the cast and creative team. It's interesting to hear how hard it was to get the show on the air, and see how the actors have aged in the years since it ended. Some of them don't look that much different!
However, there are some notable omissions from the new special features: the original Pink Ranger, Amy Jo Johnson, is not interviewed in a separate casting retrospective, and neither is the first Red Ranger, Austin St. John, although both are spoken highly of by their colleagues. (The original Yellow Ranger, Thuy Trang, passed away in 2001, and is remembered here.)
Some of the other extras are the inclusion of the episodes that made up the Alien Rangers miniseries which took place between MMPR and Power Rangers Zeo, the 'Alpha's Magical Christmas' special episode and 'Lord Zedd's Monster Heads,' which is another installment themed for Halloween. Much of the older footage included seems cheesy now, and might not have a lot of replay value, but the newer material contains a wealth of behind the scenes information that die-hard MMPR fans and TV buffs alike will really enjoy.
All in all, this is a release that isn't for the casual fan, but is instead geared toward somebody who really wants to enjoy the complete series as well as discover the ins and outs of how Power Rangers came to be a worldwide phenomenon. If you want to know how the Rangers were cast or tricks from behind the camera, this is a set worth plunking down the dough for. And that theme song is still catchy.

Mighty Morphin Power Rangers: The Complete Series is now available on DVD. You can purchase your copy by clicking this link.
For more from Brittany Frederick, visit Digital Airwaves and follow me on Twitter (@tvbrittanyf).
(c)2012 Brittany Frederick/Digital Airwaves. Appears at Starpulse with permission. All rights reserved. No reproduction permitted.