TV on DVD: 'Melrose Place: Sixth Season, Volume 1'
Here's a blast from the past. Today CBS DVD releases the first half of the sixth season of the original Melrose Place. It's thirteen episodes from 1997 over three discs, and I have a look inside the set for you.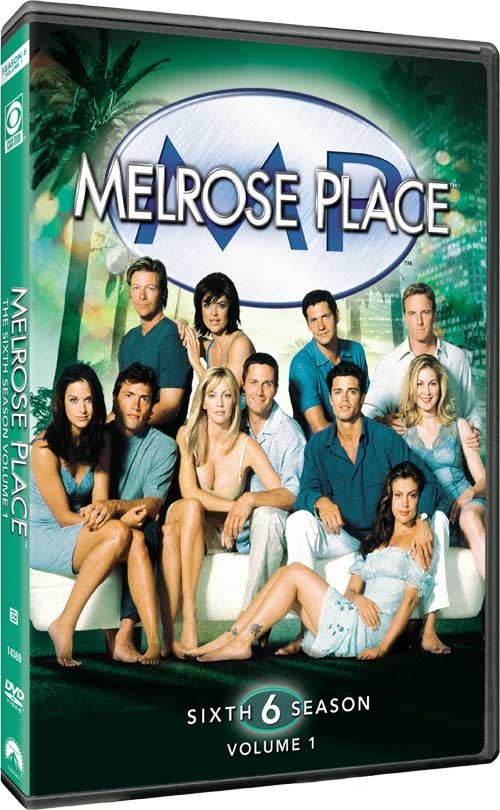 The Show
Full disclosure: soap operas and I do not mix. I'm just not a fan. That said, I actually watched parts of this season of Melrose, because it's the year that one of my favorite actors of my youth (that's Linden Ashby) joined the cast. If you've seen Beverly Hills, 90210, of which this show was a spinoff, you know what to expect...just with a focus on adults instead of a younger cast. It's pretty wild and sometimes convoluted, but that's the genre.
It's a trip to watch this show knowing that many of the actors have gone on to other projects. This is the last season for Doug Savant, who of course is now on a similar series with ABC's Desperate Housewives. Lisa Rinna was on this season of Celebrity Apprentice and just had her own reality show. Rob Estes was on the remake of Beverly Hills, 90210 for The CW. And of course, one cannot ignore Heather Locklear. It's always fun to look back and see what actors did before we may have come across them. If you're a fan of any of the cast - which also includes Jamie Luner, Andrew Shue, Brooke Langton and Charmed star Alyssa Milano - and somehow haven't seen this, you might want to pick it up for that alone.
The sixth season was Melrose's next to last. I've heard it said that it wasn't as good as some of the earlier seasons but not as bad as the one before it. I can't testify to that since I wasn't a regular viewer, but I can say that if you're into soaps and somehow didn't catch this, it's worth a look. It's pretty much everything you'd want from a soap opera.
The DVDs
First things first, this set does one thing that infuriates me: it's only a half season. I have a strenuous objection to half-season sets, which seem to exist only to charge consumers twice over. This is a little more annoying in this case, as it's the first season of this show to be released in this fashion.
The three discs are arranged flipbook-style - the first two are flippable and the third is actually in the back of the case. This is a little irritating as the episode guide is printed in the case, so to read the back portion of it, you'll have to remove disc three. But at least you know which episodes are on which disc, which is more than I can say for some sets.
Since this is a show from the late 90's, presentation is reflective of its time. This is 4:3 full frame (not widescreen) presentation, with only an English stereo audio track (no additional languages or subtitles). For DVD, the presentation isn't bad; it's about on par with the 90210 set, which is to say it's about broadcast-level. Not necessarily improved for DVD but it does the job. Menus are pretty simple and easy to navigate. There's not much flair to this release.
The Special Features
There are no special features on this DVD set.
The Bottom Line
Without special features and with only half a season for $30, I find this one hard to recommend. Die-hard fans will pick it up, of course, but casual fans might be better served waiting until the price goes down - maybe when "Volume 2" comes out in July.