TV on DVD: 'Medium: The Final Season'
Recently, CBS Home Entertainment released season seven of Medium on DVD - the show's last. It comes home with four discs and thirteen episodes. Here's my review of the final set for the cult favorite.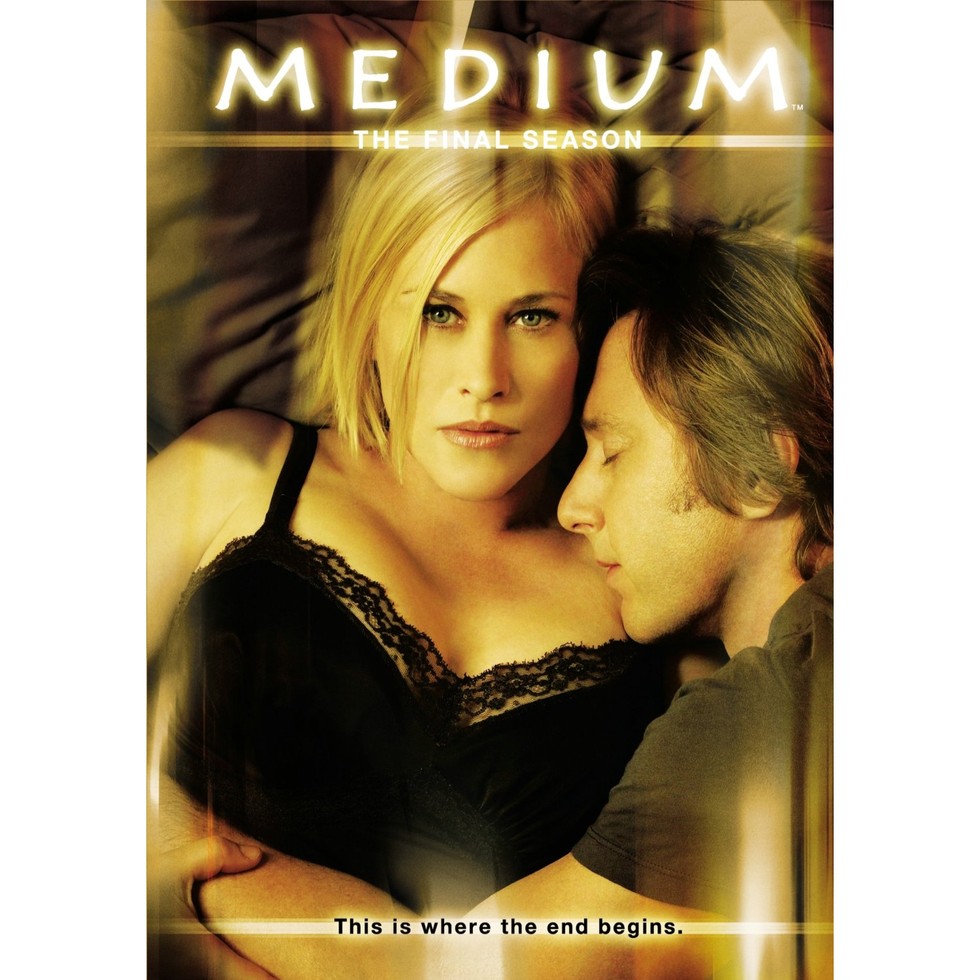 The Show
I've never been interested in the paranormal-type shows; I watched a few episodes of Ghost Whisperer and never really got into it, so when I got my hands on Medium (another CBS show with the same general concept of a woman who has a connection to the dead) I didn't have high hopes. I have to say, though, that once I cracked this set open I could see why the show lasted over two networks and seven seasons.
For me, the real interest in Medium was the characters. As far as the plots-of-the-week went, some were stronger than others and it was hard not to draw comparisons to other shows with similar themes like Ghost Whisperer and Tru Calling. But what Medium has that those shows didn't is a heart. (Let's not get me started on Ghost Whisperer's weird Jim/Sam scenario.) It has the Dubois family. It's very rare to find a realistic TV family - let alone one that remains that way for seven seasons! When much of what is in vogue on TV is single characters and their love affairs, or children who exist but are not necessarily written for, the Dubois clan is so refreshing. We see Allison (Patricia Arquette) and husband Joe (Jake Weber) fight like real people, but these are real fights with an underlying love for one another and not just cheap arguments for dramatic tension. We see that they both love their kids, who are a significant part of their lives, not just accessories in the series. It's great to see any show that gives us protagonists who are not just young, sexy and single.
Since this is the last season and I'm a newbie to the show, I can't speak to how it's held up over time or to the loyal fans of the show. That's not something I have experience with. I can say that as a fan of TV shows, period, I appreciate how the series seems to have had at least some chance to conclude itself properly. (Its episode order was cut from 22 to 13 by CBS in October.) So many shows are hanging on until the last second and we're left with final episodes or arcs that end up being unavoidable letdowns. From what I saw it seems like the Medium creative team were aware that this was possibly the end, and they did their best to service the show and its fans. I find that very admirable.
The DVDs
CBS has created a really simple, beautiful box for Medium. On the back of the cardboard box that holds the plastic case, you can easily read the box text and a handy list of special features. There's nothing too flashy and it's all well organized. The case itself duplicates this, except that it slides out so what was the back of the cardboard box is the front of the plastic one. In essence, when you open the package and slid out the plastic case you get the back of the box right in front of you. It's a bit weird but it's also useful.
Inside, you don't get a booklet but you get episode titles and very brief summaries. The episode titles are also printed on each disc. The four-disc set is arranged flipbook style, though mine did tend to stick instead of naturally flipping through.
Menus are easily navigable; you have the episode titles on screen as well as a setup menu. There's no scene section. What is most distracting, though, is the music. I don't know if it's the same on all the previous seasons, but this music sounds like something melodramatic out of a bad horror movie. Not only that, but it's loud and obvious. Since Medium the show is trying to be taken seriously and not as a gimmicky show, it seems a really bad choice of audio.
Specs-wise, you're standard here but light on accessibility. You get 16:9 widescreen with two audio tracks: English Dolby 5.1 and English stereo. There are also English subtitles. If you speak any other language, you're out of luck. The show itself looks good, if a bit muted at times (that may be intentional; again, I have no frame of reference), but the special features look a little grainy sometimes. It'll do the job for fans, but I've also seen better.
The Special Features
Remember what I said about the creative team servicing the fans? That's particularly true in the special features, which say goodbye in addition to just providing fun bonus material.
The Making of Medium Season 7: Not quite your standard making-of featurette, this takes you in large part behind the scenes of the season finale. So large that CBS was nice enough to slap a giant SPOILER ALERT warning on the front of it. Do not watch this until you've seen the whole season. I didn't watch the whole thing, but what I saw seemed more geared toward the finale than an overview of the whole season.
Memories of Medium: Everyone looks back on the making of the show for over twenty minutes. This is a more standard retrospective, covering how the show got started and moving forward. It also includes cast and crew talking about what they'll remember, including the real Allison DuBois (note the different spelling). This is great, but there's some really loud score music that sticks out like a sore thumb at points.
Shadows and Light: A few minutes for you to get to know the show's Director of Photography and his job description. I nerded out a bit, but regular viewers might be bored.
Meet Detective Lee Scanlon: Seven minutes with actor David Cubitt, who plays Detective Scanlon, and his character. Did you know Scanlon was the network's idea? And that Cubitt originally balked at the idea of being involved with the show? Yep. Learn that and more here.
Medium Around The World: Check out the show's reach into various foreign countries. The sample of the foreign-language dubbing at the beginning would be more interesting if the score music wasn't so awfully intrusive.
Gag Reel: Your usual flubs and stumbles.
The Bottom Line
As of this writing, this set is only $25 on Amazon (see link below). Fans of Medium will no doubt snap this one up and you should rest assured that the set sends the show out in pretty good fashion. If not for the repeated instances of intrusive music I would like it more, but that distraction knocks a few points off in my eyes. I'd recommend it for fans, but you're looking at it as a blind buy, I'd say it's only worthy of consideration - if only because you shouldn't really start with the last part first.