Not to be confused with the John Cusack movie of the same name, Identity is the UK drama series that stars Keeley Hawes (last week's new release Upstairs Downstairs and the early seasons of Spooks/MI-5) and Aiden Gillen (HBO's current Game of Thrones and Tommy Carcetti on The Wire). Acorn Media has released the six-episode series on a two-disc set, and I have a look inside that set for you.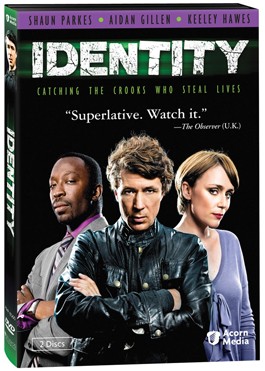 The Show
Identity reminds me of a cross between the Sandra Bullock film The Net and the long-running British drama series Waking The Dead. (That's no surprise: it was created by Ed Whitmore, who worked on Waking The Dead.) Like The Net, it deals with the concept of identity theft, this time from the perspective of a "crack team of investigators" - I'm waiting for the day a team is described as anything less than "crack" or "elite" - put together to probe and stop such cases. The team is led by Detective Superintendent Martha Lawson (Hawes), who presides over DI John Bloom (Gillen), DS Anthony Wareing (Shaun Parkes), DC Jose Rodriguez (Elyes Gabel), and Tessa Stein (Waking The Dead's Holly Aird). It's a gritty, fairly complex procedural, next in the long line of those that British drama has turned out so well.
This won't go down as one of my favorite British cop shows, but it's not too bad, either. Keeley Hawes gives one of her better performances as Martha Lawson, though the show really belongs to Gillen as Bloom, the ex-undercover cop whose past assignments inevitably catch up to him. The other characters are fairly interchangeable - it always amuses me somewhat when a show seems like it aims to fill every conceivable demographic lest it offend someone by omission - but are at least competent and not just wallpaper. It's really a two-lead series in my opinion.
What's unique about the show is that it explores all the different possible reasons for wanting to take on a new identity, and while there are the basic ones - witness protection, for example - there's some unique ones in there too. All sorts of story angles are explored, though by the end of the series I wondered how many more tales could be wrung out of a show with such a specialized premise. Maybe I wasn't alone:  Identity was cut by ITV so this set is the complete series. (Unsurprisingly, ABC is trying to develop an American edition with Angela Bassett and Prison Break's Wentworth Miller.)
This is worth a look if you're into British cop shows, or enjoyed The Net, or want a show that you don't have to be too heavily invested in. At six episodes, the show doesn't get too deep into its own characters (outside of Bloom) and as a result, neither do we. But perhaps this is one of those instances where a show just runs its course.
The DVDs
This is a fairly basic release. You have a cardboard slipcover that fits over a single plastic case with one disc on each side. There is no booklet insert - which is a bit unfortunate as the discs are labeled just "Episodes 1-3" and "Episodes 4-6." Not even a mention of which disc the special features appear on, though at least with a two-disc set it's not that hard to discuss. Both box and disc art aren't great (I'm not a fan of the combination of purple and green).
Video is presented in 16:9 widescreen with an English stereo audio track and English subtitles. There's no additional language support or foreign-language subtitles. Everything looks and sounds reliable, and the menus are functional. If you own any other Acorn titles, you know what to expect here. It's not the best set ever, it's not the best presentation ever, and it lacks bells and whistles, but it does its job and that's the most important part.
The Special Features
There are text interviews with the cast and filmographies of the cast. Honestly, text interviews drive me nuts. I have to wonder why they don't just film them and put them on the DVD's. There's something about sitting in front of my TV scrolling through screens of text that sucks all the interest out of it.
The Bottom Line
For $26.99 (as of this writing), I'm on the fence with this one. That's over $4 an episode for six episodes and little else. Then again, you're probably not likely to be able to catch this on BBC America anytime soon (at least, not as of this writing), and $27 is relatively cheap for a TV on DVD release of any sort. This one will be worth the blind buy to fans of the lead actors or die-hard British cop show fans, but those who are more just curious might want to wait and see if the price drops.